White Mage
:
Life's refreshing breeze, blow in energy! Cure!
This article can be improved in areas such as grammar, style, formatting, and spelling.
Please refer to the
Manual of Style
or
Editing Help
to get started.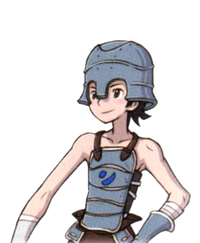 The best defense is a good offense. So's the best offense.
—Description
The Warrior is a hume Sky Pirate job class from Final Fantasy XII: Revenant Wings.
The Warrior is a Melee unit with several hard-hitting skills. True to its job description, several of these abilities favor power over protection. The best way to deal with Warriors is to ambush them with Flying units, before they gain the upper hand.
| Skill | Effect |
| --- | --- |
| Attack | Deal melee damage to one foe. |
| Rush | Deal damage to one foe. |
| Cripple | Inflict Immobilize and deal damage to one foe. |
| Riot | Inflict Berserk on group. Berserk units cannot use magic or abilities. |
| Backdraft | Consume HP to deal Fire damage to one foe. |
| Raid | Increases strength of group's attacks at the cost of defense. |
Missions
Edit
Final Fantasy XII: Revenant Wings Enemy
Sharp-Nosed Mauler, Dutiful Lookout
({{{japan}}},

{{{romaji}}}

?)
Level
HP
10
440
Str
Mag
Stm
Mnd
123
69
71
69
Atk
MAtk
Def
MDef
60
32
44
35
Speed
AtkSpd
MvSpd
Sight
80
62
0.714
None
| | |
| --- | --- |
| Location | {{{Location}}} |
| Type | Melee |
| Nature | Thunder |
| Weak Against | None |
| Resistant to | None |
| Immune to | None |
Final Fantasy XII: Revenant Wings Enemy
Faithful Warrior
({{{japan}}},

{{{romaji}}}

?)
Level
HP
15
480
Str
Mag
Stm
Mnd
165
89
93
89
Atk
MAtk
Def
MDef
71
37
50
40
Speed
AtkSpd
MvSpd
Sight
105
63
0.714
3.5
| | |
| --- | --- |
| Location | {{{Location}}} |
| Type | Melee |
| Nature | Thunder |
| Weak Against | None |
| Resistant to | None |
| Immune to | None |
Final Fantasy XII: Revenant Wings Enemy
Naive Sky Pirate
({{{japan}}},

{{{romaji}}}

?)
Level
HP
12
456
Str
Mag
Stm
Mnd
140
77
80
77
Atk
MAtk
Def
MDef
65
34
47
37
Speed
AtkSpd
MvSpd
Sight
90
63
0.714
3.5
| | |
| --- | --- |
| Location | {{{Location}}} |
| Type | Melee |
| Nature | Thunder |
| Weak Against | None |
| Resistant to | None |
| Immune to | None |
Final Fantasy XII: Revenant Wings Enemy
Venturesome Veteran
({{{japan}}},

{{{romaji}}}

?)
Level
HP
18
504
Str
Mag
Stm
Mnd
190
101
107
101
Atk
MAtk
Def
MDef
87
45
62
49
Speed
AtkSpd
MvSpd
Sight
120
63
0.714
3.5
| | |
| --- | --- |
| Location | {{{Location}}} |
| Type | Melee |
| Nature | Water |
| Weak Against | None |
| Resistant to | Fire |
| Immune to | None |
Final Fantasy XII: Revenant Wings Enemy
Auracite Wastrel
({{{japan}}},

{{{romaji}}}

?)
Level
HP
39
672
Str
Mag
Stm
Mnd
391
185
210
185
Atk
MAtk
Def
MDef
172
81
124
94
Speed
AtkSpd
MvSpd
Sight
235
67
0.714
3.5
| | |
| --- | --- |
| Location | {{{Location}}} |
| Type | Melee |
| Nature | None |
| Weak Against | None |
| Resistant to | Fire |
| Immune to | None |
Final Fantasy XII: Revenant Wings Enemy
Unsavory Warrior
({{{japan}}},

{{{romaji}}}

?)
Level
HP
20
520
Str
Mag
Stm
Mnd
207
109
116
109
Atk
MAtk
Def
MDef
91
47
65
51
Speed
AtkSpd
MvSpd
Sight
135
64
0.714
3.5
| | |
| --- | --- |
| Location | {{{Location}}} |
| Type | Melee |
| Nature | Water |
| Weak Against | None |
| Resistant to | None |
| Immune to | None |
Final Fantasy XII: Revenant Wings Enemy
Sellsword Sky Pirate
({{{japan}}},

{{{romaji}}}

?)
Level
HP
42
696
Str
Mag
Stm
Mnd
416
197
224
197
Atk
MAtk
Def
MDef
179
84
128
97
Speed
AtkSpd
MvSpd
Sight
250
67
0.714
3.5
| | |
| --- | --- |
| Location | {{{Location}}} |
| Type | Melee |
| Nature | None |
| Weak Against | Fire |
| Resistant to | None |
| Immune to | None |
Final Fantasy XII: Revenant Wings Enemy
Warrior
({{{japan}}},

{{{romaji}}}

?)
Level
HP
Varies
360 - 1,152
Str
Mag
Stm
Mnd
33 - 726
39 - 435
29 - 524
29 - 425
Atk
MAtk
Def
MDef
48 - 221
29 - 128
34 - 158
25 - 124
Speed
AtkSpd
MvSpd
Sight
35 - 530
61
0.714
3.5
| | |
| --- | --- |
| Location | {{{Location}}} |
| Type | Melee |
| Nature | Varies |
| Weak Against | Varies |
| Resistant to | Varies |
| Immune to | None |