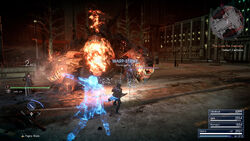 Warp-strike (シフトブレイク, Shifuto Bureiku?, lit. Shift Break), also known as Warp Break and Shift Break, is a recurring ability in the Final Fantasy series, originating in Final Fantasy XV. It is exclusively used by Noctis Lucis Caelum.
Appearances
Edit
Warping to enemies and subsequently dealing damage to them is called warp-strike. The farther away from his target Noctis is, the greater damage he deals to it when using this ability. Noctis can further increase his damage output through the Ascension grid. Some battles that offer extra AP require Noctis to perform a warp-strike that deals double damage. Warp-striking to enemy appendages from afar can be a good way to break them off. If the player is using character swap, a confused and AI-controlled Noctis will try to warp-strike into the sky and then fall onto the ground.
The player can't warp-strike with machinery weapons.
Warp-enhancing abilities
The player can unlock abilities that enhance Warp from the Ascension.
| Name | Category | Effect | AP |
| --- | --- | --- | --- |
| Daemon Destroyer | Combat | Warp-Strike can break daemon appendages. | 24 |
| Death Drop | Combat | From afar, use the attack button in midair to warp above the enemy and strike down with a sword or polearm. | 28 |
| Point-Blank Warp-Strike | Combat | Eliminate the damage modifier penalty of close-range warp-strikes. | 333 |
| Warp Decoy | Combat | Leave a hologram to divert enemies after warping. | 48 |
| Warp Factor | Combat | Warp-Strike damage increased by 25%. | 24 |
| Warp Factor II | Combat | Warp-Strike damage now increased by 50%. | 52 |
| Hang In | Recovery | Increase HP recovery rate while hanging from a warp-point position. | 12 |
| Warp-Ambush | Wait Mode | During Wait Mode, warp-strike an enemy not targeting Noctis to increase the likelihood of breaking its appendage. | 18 |
| Warp-Punish | Wait Mode | During Wait Mode, warp-strike an enemy with half or less of its HP remaining to increase damage inflicted. | 99 |
In Armiger Unleashed, warp-strikes vary depending on the distance to the target with farther distances dealing more complex combos and damage, but take longer to execute.
Warp-strike is used by Noctis.