Ad blocker interference detected!
Wikia is a free-to-use site that makes money from advertising. We have a modified experience for viewers using ad blockers

Wikia is not accessible if you've made further modifications. Remove the custom ad blocker rule(s) and the page will load as expected.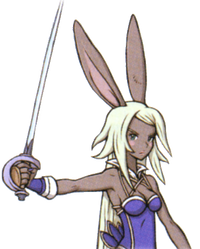 This warrior's magicked blade seeks out the weakness of its target.
—Description
Warmage is the name of an enemy Job class held by viera in Final Fantasy XII: Revenant Wings. Their appearance and abilities are based on the Fencer class in Final Fantasy Tactics Advance.
Warmages are speedy units, but have low Defense and Magick Defense stats, but can remedy this deficiency by using their Mighty Guard ability. Warmages' other abilities center around exploiting an enemy's elemental weakness.
| Skill | Effect |
| --- | --- |
| Attack | Deal melee damage to one foe. |
| Firaga Sword | Deal Fire damage to all foes in range. |
| Blizzaga Sword | Deal Ice damage to all foes in range. |
| Thundaga Sword | Deal Thunder damage to all foes in range. |
| Stonega Sword | Deal Earth damage to all foes in range. |
| Mighty Guard | Increase Defense and Magick Resist of all allies in range. |
| Piercing Blow | Deal damage to foes in a line extending from the user. |
| Rejuvenate | Passive - Increases group's Speed. |
Missions
Edit
Final Fantasy XII: Revenant Wings Enemy
Affected Sky Pirate
({{{japan}}},

{{{romaji}}}

?)
Level
HP
17
496
Str
Mag
Stm
Mnd
97
97
115
115
Atk
MAtk
Def
MDef
64
44
50
50
Speed
AtkSpd
MvSpd
Sight
166
65
0.714
3.5
| | |
| --- | --- |
| Location | {{{Location}}} |
| Type | Melee |
| Nature | Water |
| Weak Against | Water |
| Resistant to | Fire |
| Immune to | None |
Final Fantasy XII: Revenant Wings Enemy
Altea, Aviator
({{{japan}}},

{{{romaji}}}

?)
Level
HP
19
512
Str
Mag
Stm
Mnd
105
105
130
125
Atk
MAtk
Def
MDef
66
46
62
61
Speed
AtkSpd
MvSpd
Sight
181
65
0.774
3.5
Location
{{{Location}}}
Type
Melee
Nature
Water
Weak Against
-
Resistant to
Immune to
None
Final Fantasy XII: Revenant Wings Enemy
Lovelorn Warmage
({{{japan}}},

{{{romaji}}}

?)
Level
HP
28
584
Str
Mag
Stm
Mnd
141
141
170
180
Atk
MAtk
Def
MDef
95
65
87
90
Speed
AtkSpd
MvSpd
Sight
250
45
0.774
3.5
Location
{{{Location}}}
Type
Melee
Nature
Earth
Weak Against
-
Resistant to
Immune to
None
Final Fantasy XII: Revenant Wings Enemy
Warmage
({{{japan}}},

{{{romaji}}}

?)
Level
HP
Allied Party Average -1
360 - 1,152
Str
Mag
Stm
Mnd
29 - 425
29 - 524
30 - 525
35 - 530
Atk
MAtk
Def
MDef
27 - 116
17 - 141
22 - 146
23 - 147
Speed
AtkSpd
MvSpd
Sight
32 - 725
61
0.774
3.5
Location
{{{Location}}}
Type
Melee
Nature
None
Weak Against
-
Resistant to
Immune to
None
Final Fantasy XII: Revenant Wings Enemy
Warmage
({{{japan}}},

{{{romaji}}}

?)
Level
HP
Allied Party Average +3
360 - 1,152
Str
Mag
Stm
Mnd
29 - 425
29 - 425
30 - 525
30 - 525
Atk
MAtk
Def
MDef
47 - 146
27 - 126
29 - 153
29 - 153
Speed
AtkSpd
MvSpd
Sight
32 - 725
61
.774
3.5
| | |
| --- | --- |
| Location | {{{Location}}} |
| Type | Melee |
| Nature | Fire |
| Weak Against | Water |
| Resistant to | Fire |
| Immune to | None |