Wantz
Talk

2
13,961 pages on
this wiki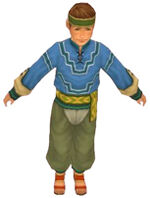 "Welcome to O'aka's!"
—Wantz.
Wantz (ワンツ, Wantsu?) is O'aka XXIII's younger brother in Final Fantasy X and Final Fantasy X-2. He appears at seemingly random times in the game to take pictures of Yuna. At the Moonflow, he's seen being bullied by Biran and Yenke Ronso. After Yuna is branded a traitor of Yevon, O'aka is imprisoned for helping her, and Wantz decides to take over his business as a merchant.
Appearance and Personality
Edit
Wantz wears a green and yellow headband, a blue striped shirt, and yellow bandana tied around his waist, dark fingerless gloves, green baggy trousers, and red sandals. He has light skin and red hair. He also has a necklace, though the significance of this is never explained.
Wantz has a kind and friendly personality, and loves his brother and deceased sister dearly. He is overly helpful to Yuna and her guardians, selling them goods under threat of death by Yevon. He gladly takes O'aka's place selling items while O'aka is imprisoned.
Wantz and O'aka had a sister who was a summoner. She passed away approximately seven years before the events of Final Fantasy X. If the player revisits the Farplane in Guadosalam just after the initial events there, before heading on to the Thunder Plains, they can find Wantz talking to her there. He shows her a sphere of Yuna and says that they look alike. He promises that Yuna will beat Sin for her.
During the Eternal Calm, O'aka and Wantz have a fight, and Wantz is kicked out of the family business for believing the Macalania Travel Agency would fail without the Temple. However, if the Gullwings complete all of O'aka's sidequests, he and Wantz will reunite at the Agency, although their feud doesn't seem to be over.

Final Fantasy XEdit
Wantz is notable for selling optimal equipment in the game, for both of his shops. The equipment with four empty slots in Macalania is especially vital for players who want to create weapons and armor with strong abilities. However, Wantz's first appearance on Mt. Gagazet is missable, and if the player does not speak to him on their first visit, then the young merchant will not appear in Macalania to sell the four-slotted equipment. After talking to Wantz on Gagazet, he will be found at the entrance to Macalania Woods, after obtaining the Fahrenheit and completing the mandatory visit to Bevelle's Highbridge.
Mt. Gagazet
Edit
Macalania Woods
Edit
Final Fantasy X-2Edit
This shop in Macalania Lake is only available after an obtaining an Episode Complete at the Travel Agency during Chapter 5.
| Item | Cost |
| --- | --- |
| Faerie Earrings | 10,000 |
| Kinesis Badge | 10,000 |
| Safety Bit | 10,000 |
| Beaded Brooch | 10,000 |
| Crimson Ring | 10,000 |
| Snow Ring | 10,000 |
| Ochre Ring | 10,000 |
| Cerulean Ring | 10,000 |
| Chaos Shock | 15,000 |
| Fury Shock | 15,000 |
| Lag Shock | 15,000 |
| System Shock | 15,000 |
Non-Final Fantasy AppearancesEdit

Wantz, as a little boy, makes an appearance in Kingdom Hearts II as a merchant in Twilight Town, along with Jessie, Biggs and Wedge from Final Fantasy VII.