Cid:

Oh, shut up and help me remodel the Wandering Minstrel page!

Please expand this article into a full one. More details can be found, and this request can be discussed, on the associated

discussion page

.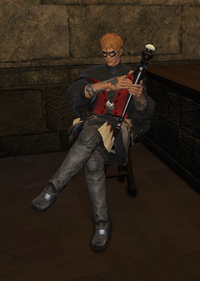 The Wandering Minstrel is a non-playable character from Final Fantasy XIV. He appears in many of side events in the original Final Fantasy XIV and Final Fantasy XIV: A Realm Reborn.
Appearance
Edit
The Wandering Minstrel dresses in a palette-swapped version of Bard Artifact equipment. His bow is also a palette-swapped version of Bard's Relic Weapon, the Artemis Bow. In A Realm Reborn he no longer wields the bow, but can always be seen carrying a harp.
Personality
Edit
This article or section is a stub about a character in Final Fantasy XIV. You can help the Final Fantasy Wiki by expanding it.
Creation and development
Edit
His appearance is based on Naoki Yoshida, the director of the game.
Ad blocker interference detected!
Wikia is a free-to-use site that makes money from advertising. We have a modified experience for viewers using ad blockers

Wikia is not accessible if you've made further modifications. Remove the custom ad blocker rule(s) and the page will load as expected.