Walkthrough:Final Fantasy VIII/Super Sephiroth Part 8
Talk

0
13,962 pages on
this wiki
So mortals, we get a cool party with one lame-ass member and we are only up tyo the beginning of the real game. off we go.
Where the fuck are we, Laguna?! WTF are we doing with Laguna?
Edit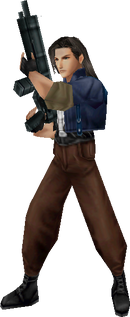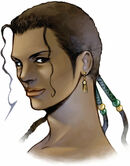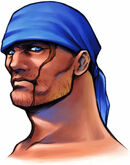 Now we control three Galbadass-ian soldiers: Laguna, Kiros and Ward. Squall and Laguna are almost identical in terms of stats, likewise for Kiros and Zell and Selphie and Ward. 3 members of your party accompany these three in the dream world. So if Quistis and Zell come, they will randomly take control over the role of Kiros or Ward. Squall is always Laguna. Walk around and experiment. They have awesome battle music and these 3 level up very quickly, meaning you should level up with them in the short period of time you control them. There isn't much to do in this dream sequence, but that'll change soon.
Walk up the path, draw magic and save. Battle your way to a car to drive to Deling city. The game automatically drives you there. Laguna obviously learned to drive in Rhode Island, because he blocks the road and everyone yells at him to move his fucking car. If i was Laguna, I would shoot Kiros to show my badassness, then if anyone was still fucked off, I would kick there asses. Head to the hotel and take a look at Laguna's hooker. Her name is Julia and Laguna attempts to open her chastity belt but his erection grows visible so he heads back. Squal calls him a loser. I would not talk Squall. Quistis begged you for some fuck and you said Whatever and walked off. Laguna meets Julia they promise some shit and then your party wakes up.
WHEN DO WE ARRIVE IN FUCKING TIMBER, ALREADY????!!!!??!!!!!
Edit
The party all dreamt the same dream. No shit Sherlock, the characters had the same stats and magic. OK, Timber is occupied by the Galbadians and when you leave the train you are greeted really retardedly by some dickhead. Reply 'But the owls are still around' to join the resistance. If that is how people join, the resistance is fucked up. And no-one here finds anything remotely strange about this greeting. How odd. The dickhead leaves. You follow him to a nearby train. You get in and GET FUCKED!!!!!! Sorry Zell, my sex-deprived compatriot, we don't. This particular group of retards are the Forest Owls resistance faction of Timber, and they do not live up to that. You need to find the princess. Cool!There IS a prostitute in Timber, but what those fugly pedophiles paid her must have been ungodly. Its Squall's wet dream, lover and annoying bitch of the team. Aeris was 1000 times better than this fuck. She danced with you last night, ladies and gentlemen, Rinoa Heartilly! What, no applause?! I don't blame you. I HATE Rinoa. She aint the worst, but she still is shit. She is the only character besides Squall you can name. I don't care what you name her. Then she shows off her sexx doll, a dog called Angelo. Angelo is a special GF that appears in Rinoa's Limit. That. Is. Fucked. See the Limit beak page for more detail, or listen to the tutorial.

Kidnap the President Part 1: the glory of a mercenary
Edit
Now Rinoa explains the plan, and it is as fucked up as the people who created it. It feature swapping the chains of cars, attaching the presidential carriage, playing with a security system... all the while avoiding the Galbadians! The president is coming to Timber to announce some gigantic news, and the FOs want him to announce the freedom of Timber. It escapes their notice that there are probably guards at the TV station. So try as best you can to make sense, then prepare for the Boarding...
You will release Timber. The dark side of the Force never lies
Edit
And when you are ready, talk to whatshisface in the compartment to board
Head on. You must memorise the code Rinoa tells you and input said code into the system. It is randomised, so its up to you. This minigame is just as broken as that submarine game in Final Fantasy VII. Put in the code, then head up to avoid the guards if necessary. It is not hard to complete this task in the given time. The same thing applies to the secondary coupling. Easy, and you may wonder why you should endeavor to complete this thing. If you don't get caught by the guards or make a mistake, your SeeD rank increases. In case you just crawled out from under a rock, this is this game's fucked money system. Once you have got Mr Pres, who reminds me of that retard George Bush in a lot of ways, we attempt to kidnap him. He becomes a true Bush!
BOSS: FAKE PRESIDENT
Edit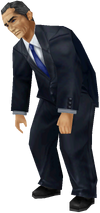 This guy speaks all weird. How can you HEAR caps? He runs at you and tries to give you a blowjob. That's it. He has SHIT HP so heal if needed and grab heaps of Cure spells if required. Don't bother using magic or GFs, physical attacks kill him easily. But he becomes a fucking retarded blob of bloodied shit! WTF?
BOSS: GEROGERO
Edit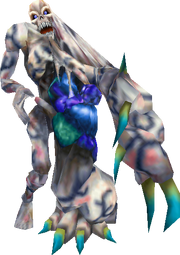 Deling must be retarded if he hires zombies. This bitch is annoying, so take it out with a Phoenix Down as quickly as possible. If you paid attention, Zell should be able to use items. This move may miss, but keep trying until it falls.
We failed. Where's the money?
Edit
The FOs have just found out that the real president is filming an announcement about some shit. I doubt the reliability of this information. I shall let you all know about the second kidnapping...