Walkthrough:Final Fantasy VIII/Super Sephiroth Part 30
Talk

0
13,961 pages on
this wiki
Ultimecia, the Time Sorceress...who would have thought that we could have gotten this far. So now its SeeD vs Sorceress in the final showdown. Prepare yoursleves for the butchery of the bitch who is masquerading as the REAL antagonist, Edea.
The Ultimate Showdown
Edit
It doesn't matter which party you take to fight Ultimecia, as both parties arrive simultaneously. Whatever party you controlled to fight Tiamat with is the party we're using to find our adversary. First, head back into the Clock Tower and go back via the bell. Now run to the screen's top on the thin ledge leading up. Take the right hand door to arrive in the Clockwork.
Go right, then head to the bottom of the area. Take the doorway here to the face of the clock. Head right across the hands of the clock to a ladder at the left of the screen. Climb down it and move to the right of the clock face to another ladder, which is to be descended. Now head across the battlements to the left until your screen changes to a close up of two doors and a Save Point. Start by saving, then Tent. Now for the final preparations.
First, make sure EVERY character has at least one GF junctioned each. If you collected all 16 GFs, then that's two each. Split the remaining ones out. Give one to Squall, one to Selphie and one to Zell. You can do whatever with the last one. This is because Ultimecia throws all your characters into time compression and chooses random party members as oponents. Strangely, my starting party when she does this is always Squall/Selphie/Zell. If a character is KO'd, then if you fail to revive them in one turn, Ultimecia chooses a random party member to replace the fallen character. If you lose four characters, you lose the game. So make the first team last as long as possible.
Second prep: Battle menu selection. All characters need Draw and Magic for healing and attacking. DO NOT junction GF in the battle menu. Summoning GFs is only useful in the first round, as the enemies afterwards can kill a materialising GF in one hit. A good set-up is to have Magic, Item and Draw. Any characters with Abilityx4 can junction another ability, like Revive or Treatment. Also junction Initiative in the sub-menu, along with Auto-Haste to as many characters as possible. Now check your magic stocks. You can go nuts soon, but make sure you have some magic. Now junction magic to all stats and get rid of elemental attacks. Once your kitted up for battle, save once more and enter the double doors.
Ultimecia is pissed. She gives the speech all villains do before the protagonists fight them. Seriously, the first lesson at evil villain college is how never to shut up. The other group joins the group you were controlling and she insults your party as they're SeeDs. Bet Ultimecia's jealous. Now the final four battles begin. Oh, and all the final bosses have a set maximum leval of 65.
BOSS:ULTIMECIA
Edit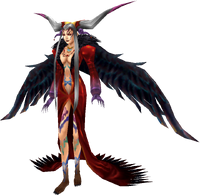 The first battle is Ultimecia using magic on your party. A seriously pathetic boss. Ifrit was goddamn harder than this. Use Meltdown as a prelude to a physical thrashing. For some reason this also lowers her speed temporarily. Have the whole party Draw/Cast Demi from the inept magician to rip off her HP quickly. Once Demi starts dealing weak-ish damage (you can judge that) switch to a rousing volley of Draw/Cast Flare spells. This preserves your own magic stocks for the harder battles. Cura is the only real spell you need from your own stock, to patch up after. If you have Initiative and Auto-Haste for your party, this battle is faster in terms of your victory. This is a pitifully easy boss.
BOSS:GRIEVER
Edit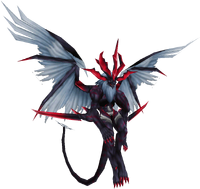 Now Ultimecia JUST survives and summons Griever, her GF. This GF was created on the spot from Squall's image of the ultimate GF. Its name is actually dependant on what you named Squall's ring back on Disc 2. Anyway, to battle. As this is time compression, Griever doesn't just use an attack then fade away. He can steal your magic, so be careful. You want this battle over quick to minimise the loss of magic. He attacks with magic and physicals, but uses physicals far more often. Cast both Protect and Shell. If Quistis is for some reason in the party, her Limit Break Mighty Guard lessens the amount of time and magic needed to shield your characters. Shockwave Pulsar is Griever's special skill, but can be healed with Curaga in an instant if your party is shielded. The way to kill the "ultimate" GF is to Draw/Cast Tornado from him and on him. As his HP dwindles, Griever starts to use physicals alomost entirely. Forget about Shell and focus on Protect to keep the party safe. Just keep up Tornado and save your own attack magic for the next battles. Greiever dies soon if you do so.
BOSS:ULTIMECIA-GRIEVER
Edit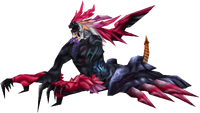 Ultimecia heals herself and Griever then junctions Griever physically to herself. That looks and is so wrong. Now, kill this ugly shit. With Ultimecia to hold his hand, Griever is more powerful. Ultimecia summons Helix monsters. She will also cast Meteor and after two Helix summonings, Great Attractor is used as a horrible physical attacks. To prevent this, wipe out her HP until it is below 65%. Then her tail drops off and she cannot summon any longer. She will then resort to Quake and Tornado. Use Demi to open the battle with all your characters. Without Demi, the battle is harder. After softening your enemy with as much Demi as possible, use your best attack magic. The best to use are Holy, Meteor, Tornado, Flare and Ultima. Combined with Triple, this can rapidly cut HP off. Hope that Ultimecia-Griever doesn't steal your best magic, else the next battle is herder. Be conservative in your use of Curaga, as you'll need to heal in the next phase. Same goes for Life/Full-Life spells. Ultimecia-Griever is hard, but not overly so. Now, when your foe falls, prepare for the very last battle of all.
BOSS:ULTIMECIA
Edit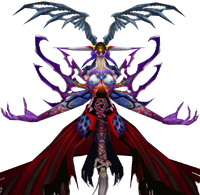 Oh, that is so...a cross between Insect Queen from Yugioh and Anima from Final Fantasy X. Ultimecia will now do anything to win, no matter what the cost. Expect to recieve Flare, Meteor, Ultima and other attack spells. GFs die instantly (except for Phoenix and Boko), as usual, all copies of your magic stocks can be stolen by this evil bitch and Dispel status effects. So don't bother with Protect, Shell or Reflect. But that's only half of it. The other half is Hell's Judgement, a godawful spell to have to deal with. It bring the whole party to 1 HP. This kills. Your strategy is to go nuts with everything. What are you saving your supplies for? Triple Selphie (or whoever your mage is) and have her Triplecast Ultima on Ultimecia for one of the most potent attacking strategies. Triple Curaga will be a must for healing after Hell's Judgement. Use of Limit Breaks: use Combine, Renzokuken and Blue Magic. This means Invincible Moon or Wishing Star from Rinoa and Angelo, Lion Heart from Squall, Shockwave Pulsar or White Wind from Quistis. Or your best Limits in any area. Use healing spells and Aura at all times. If you can, use a Phoenix Pinion to summon Phoenix when two party mebers are down to quickly revive. The use of Limits and Ultima wears Ultimecia considerably. After Hell's Judgement, use a Holy War to induce invincibility and unleash a barrage of super powerful Limits, or Hero for a particular character. Haste is worthless, so don't worry if it's Dispelled. Full-Life any fallen party member. Eventualy after you hit her enough, Ultimecia reveals her deliciously wrong bottom half for display. Now the bottom half can be targeted. With that thing unveiled, the Sorceress can use Apocalypse, the best Black Magic in the game. It hits every party member for 7000-8000 Hp each time. Heal immediately with Megalixirs. She often uses Apocalypse as a follow up of Hell's Judgement, so be wary. It is also possible to Draw this Apocalypse and play with a big boy toy. Stock it for Selphie and Triplecast it on its maker. Now your attack strategy is to have the Tripled character Triple the whole party and Draw and Stock and cast Apocalypse. This attack will do way more damage than Ultima. Just heal and keep using Apocalypse until the pretender whore combusts and blasts herself apart with a huge light effect, foiled by her own magic and the power of SeeD.
The Ending of Final Fantasy VIII
Edit
Well, with the demise of Ultimecia, the party is screwed. They're stuck in time compression without an exit. But in the lamest moral ever, their belief and love for each other lead them safely back to their own time. They arrive at Edea's House, where the end sequence begins.
Congratulations, dear reader, you completed the game. Now I'll summarize the ending for you, in no particular order.
Edea rejoins her ugly husband Cid and dresses in the worst outfit ever. God, I can't bear it. She is gone now, forever. Damn you, Square.
We see very little of the plot-rejected party members. I want to see them, but they barely feature. Hell, Cid gets more screen time than Quistis, Irvine, Zell and Selphie. Well, only one of those characters actually mattered to me, no biggie which one.
Seifer turns over a new leaf and goes fishing with Raijin and Fujin. He spots Balamb Garden (but that piece of shit was left behind a disc ago, what bullshit) and smiles at it as it fies into the sunset.
Laguna returns to Winhill and visits Raine's grave, remembering the night he parposed to her. Thank God they don't show goddamn Kiros, but I liked Ward and think he should be shown. Oh well.
Screw Raganrok, I'll just tell you the final scene. Its a picture with words in the middle of two wings. That's right: you won. But there are still sidequests left if you absolutely must.