Walkthrough:Final Fantasy VIII/Super Sephiroth Part 28
Talk

0
13,961 pages on
this wiki
Now, we are almost at the end of the game. The final dungeon, Ultimecia Castle, looms ahead of you. This will be your hardest challenge yet, but only by completing it will you find what you seek: the fabled End Scene. Go forth, and I, Super Sephiroth, grant you my blessing and guidance. Wow, that inro was better than most XD.
The challenge of a lifetime
Edit
Jesus, Ultimecia's brothel is rather gothic. In each room a hooker awaits. You must tango with it and continue. There are 8 hookers in total, but only if you get past the first 8 with your virginity intact, will you get to fuck with the Pretender Whore herself. Let's go. At the entrance, there is a Flare Draw Point and a Save Point. It goes without saying you'll use the Save Point. Now enter the domain of Ultimecia.
Wow, sure is dark in here. Ultimecia decides to play a lovely little game by warping and twisting all the rules of normal gameplay. When Squall enters, all command abilities are sealed off. You can still junction in the field and manage your inventory, but in batle, the only thing you can use is Attack. Each of Ultimecia's hooker minions will give your party one command back each after you beat them. So there is no Item, Magic, Draw, GF, Special Abilities, Revive (magic or item), Limits or Save/Draw Point usage. So your party is effectively crippled. You are free to leave anytime, and your abilities are restoresd if you leave. Any abilities not won back yet are sealed off when the party returns.
Oh, and also, expect to fight a hellava lotta normal monsters in here. It has all your favourite monsters, like Adamantoises, Granaldos, Raldos and many more. There are a few new ones, but you don't really need to expect a challenge from them. You should just Draw useful spells once you have Draw back, or just run.
Now, your advantages: the party splits up here. You must select the two parties. My first team was Squall, Zell and Quistis; second, Irvine, Rinoa and Selphie. You can switch between parties using Switch Points. You'll need both teams for the Castle. My levels were Squall/Zell/Quistis/Irvine all Lv 100, Selphie Lv 89 and Rinoa Lv 96. Aso, don't forget you can manage your inventory and magic stocks whenever you aren't battling. Also, (assuming you are playing an English version of the game) if you were hiding in a closet when I told you when to Draw GFs and killed the boss without doing so, then you may Draw these GFs from every enemy except Sphinxaur, the first one. Choose to regain the Draw command first if so. Now, the final dungeon. To start, walk up the stairs in the Hall (your current position) to fight the first boss. Junction Holy to the elemental attacks of your physical fighters and the best magic possible to HP and Attack, to make the upcoming battle easier.
BOSS:SPHINXAUR/SPHINXARA
Edit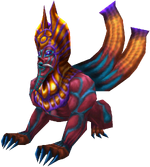 This boss is different to previous bosses. Its level changes, but not its HP. That is always at 5000, so get cracking on blowing it out. Sphinxaur isn't a challenge, even though you only have the Attack command. Holy deals twice the usual damage. Even Quistis gave a welcoming contribution, despite her poor attacking qualities. Sphinxaur dies really quickly, but wasn't a challenge to begin with. Then it morphs into a bigger and badder version of itself. Don't get intimidated, Sphinxara isn't much harder with a good Spirit stat. Attack it relentlessly. Eventually the coward throws some minions at you. To start, say howdy to a periodic summoning of Jelleyes. Focus on the main boss, as with a relentless pounding, your party will thrash it. After that, deal with any stray enemies. Job done.
Now you may choose one ability to regain. My recommendation would be Magic, so you can provide some healing in battle and make use of attacking spells. Choose Draw if you need the GFs the bosses hold. But Life and Full-life are not usable until you choose Resurrection Abilities later on. Now, on with the quest of the Ultimecia Castle. Head onward up the stairs and through the door. Group 1 (the party you should be controlling) emerge on the chandelier in the Great Hall. The party's weight causes the chandelier to crash to the floor. The party pick themselves off the floor, uninjured. The chandelier shoots bach up again. Junction Fire and Blizzard to the party's elemental attack, as the next boss is alternatively weak against those elements. Also put Thunder onto the elemental defense. Scrutinize the trapdoor here and the entrance to the Wine Cellar is unveiled. Go down to fight the next boss, who is creepily levitating in the middle.
BOSS:TRI-POINT
Edit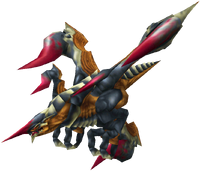 I hate this boss with every bone in my goddamn body. First, there is no point in using Thunder on it, as you don't want to help it. However, we have Magic again, so use any Scan spells you may have. Chaeck if it is currently weak against Blizzard or Fire. If it's Fire, have the next character cast Firaga, or Attack with the character you junctioned Fire to elementally. The next character, Blizzaga/Blizzard elemental attack. Keep alternating and this thing isn't very hard. You may Draw Siren if you missed your first chance, though she isn't very useful now. If Tri-Point uses Scan on a party member, then they will be hit with Onrush, which ignores Vitality and can hurt quite badly. Curaga, however, can patch it up a lot. Also, if you physically attack it, Tri-Point uses Mega Spark, a Thunder attack that will fuck up your attack strategy. If you have 100% Thunder defense, you will get a great healing boost. Just recover, then finish off this bitch.
Now you may choose another ability. I recommend GF, to make battling easier. Now we are much stronger than when we battled Sphinxaur. But there are still six bitches to fuck. Onward. The next boss is an art lover, so we are going to the Art Gallery. To start, head back up the Hall stairs and leave via the screen's right. Edge along the wall and head down the steps. The party emerges next to a Switch Point, which you need not worry about for now. In preparation for the boss, junction Wind to elemental attacks or prepare your Aero spells and Pandemona. This scene is really creepy, like some paedophile will leap out suddenly. Leave this area through the door at the top of the screen to wind up in the Art Gallery.
There is a mystery to solve before the next boss, but if you've played a Zelda game, then it will be extremely easy. There are 13 paintings, 12 with Latin names, which are the focus for this puzzle. Thank God for my Latin lessons. The names are (in Latin followed by English translation):
IGNUS or Fire
INANDANTIA or Flod
IUDICIUM or Judgement
INTERVIGILIUM or Sleep
INAUDAX or Cowardice
XERAMPELINAE or Red Clothes (what the fuck, man)
VENUS or Love
VIATOR or Messenger
VIGIL or Watchman
VIVIDARIUM or Garden
XYSTUS or Tree-lined Road
XIPHIAS or Swordfish
The 13th, big painting
In case you haven't figured it out yet, you must find the name of the 13th painting. Start by climbing the stairs to the higher level. There is a clock that can be seen in the floor. It symbolises the names of three paintings that tell the name. The three hands point to different numerals: VIII is hour hand, III is minute hand and VI is the second hand. They hold the clue. V stands for all paintings with that letter and the I's stand for how many times I is repeated in the name of the paintings. Examine the following paintings in the order given: VIVIDARIUM, INTERVIGILIUM and VIATOR. Now examine all the other named paintings. Now you can name the 13th painting. Enter the names in order and the painting's name is revealed. It's "In the Garden Sleeps a Messenger". The party automatically turns around, to find that a monster has approached and wants your guts. It's the next boss.
BOSS:TRAUMA & DROMA
Edit
The real boss here is the Trauma. If you got Draw back for some reason, you may Draw some Meltdown spells. If not, this boss still isn't a threat. Physical attacks are poor against Trauma, but it uses them a lot, and hurts the party quite badly. Keep Curaga-ing and beware of this thing. If you don't have Leviathan from the NORG boss, Draw it now from Trauma. A great opening assault, when you're not healing, is to summon Doomtrain and cripple Trauma with Vit O to open it up for a physical thrashing with Renzokuken or Duel. Summon Pandemona to deal more damage, and a high level Cactuar is also a big bonus. As the battle progresses, it summons two Droma soldiers. Take one out immediately, then refocus on the boss. You can Draw Dispel and Esuna from them, though if you followed my advice Draw won't be useable. Trauma uses Drain on the Dromas, meaning one should die so that you can decrease the chance of such things happening. Focus on the pounding of Trauma and hope it dies quickly. Once two Dromas are killed, Trauma uses Mega Spark Cannon on the entire party. Keep those Curagas coming, although your stock may be dwindling. If you wish to avoid that horrible attack, heal the Droma. Eventualy this bastard and his minions die.
Now we can choose another ability. Recommendation: Draw, we need to replenish our magic stock and use some of the big bad bosses' own magic against them. Also, you can use the Draw Points again now. We nearly have a whole menu back now, don't worry about Item, the next boss is when we choose it. Leave the Art Gallery through the door at the screen's pinnacle and head down the centre stairs to access the Floodgate. By crossing the bridge leading to the Prison, you can find a corpse by searching the room. It has a Prison Key, which you need to escape the Prison room. Trouble is, touching the key causes the Red Giant to attack the party. Fuck this old gaming cliche.
BOSS:RED GIANT
Edit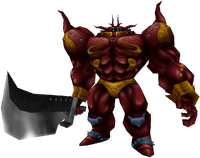 The Red Giant is a red Iron Giant that carries a sword that makes Cloud's Buster Sword and Squall's Gunblade look like butterknives. If you didn't Draw Pandemona from Fujin in Balamb Town, now's your final chance. But even though it looks tough, its just a lesser Trauma clone. This thing can be neutralised in the opening round. Start off with a radical summoning of Doomtrain to screw his high Defence, and if luck is with you the thing should be Blinded by the multiple status attack also, getting rid of all its hopes for attacking you. It may say the GF is a waste of time, but it won't think that when we kick its ass into next week. Summon Diablos and use Demi to bring HP cascading from the boss. Red Giant puts its big ass sword away after its HP goes below 9000, but there is absolutely no difference. Summon Domtrain whencer Blind wears off and the fight can be won without the loss of a single HP. If you don't have Diablos or want to summon multiple GFs, try Cactuar. If you haven't acquired any optional GFs, then Quetzalcotl is also very useful. Attack physically should you have used Doomtrain or Meltdown on your foe. It doesn't last long at all.
After that pathetically easy boss, select another ability to regain. Now would be a great time to choose Item so that you can be flexible with healing and such. Phoenix Downs still cannot be used, as we cannot revive characters. Return to the Hall when you are ready to proceed with the dungeon and go back to the chandelier that fell the last time, as we want to return to the floor it falls on. Head to the Switch Point and stand on it. Now the chandelier is locked in place somehow, and control shifts to Group 2 in the Hall. That's right, you are fighting the next boss with your second party. Use junction exchange on the party ten head into the room with the chandelier. It is possible to walk across now as the other party have it locked in place. Walk across and through the door at the other end. Group 2 emerge on a balcony, where the next boss is ready to battle
BOSS:KRYSTA
Edit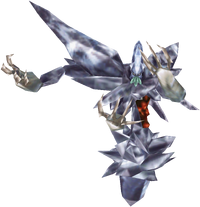 The challenge just picked up again. Krysta is a much harder boss than Red Giant. It looks icy, so Shiva and Blizzard spells are out for the count. If you don't have the ability to summon GFs yet, then Krysta shoud be fought later, as this boss is almost impossible to beat otherwise. Krysta has Carbuncle up for Draw iof you didn't nab him in Deling City on Disc 1. It has a ton of resistances besides Blizzard, including Earth. If you want, stock Holy spells with your party, and then just Cast them without stocking. Use Meltdown to open up physical attacks as an option, then use Demi. Summon Cactuar and Diablos if you have them. Magically, Draw/Cast Holy spells are great, but it may become harder to Draw them. Meteor and Tornado are quite good, and if you can afford them, Ultima spells also work wonders on this bitch. Personally, I usually just stick to sending its own Holy spells at it to brng it down. Toward the end, use Scan to check on HP and lower it carefully until you can kill it with one attack. Now heal one party member as much as possible/affordable as Krysta will use Ultima as it dies. Now strike Krysta down and hope that character survives. If so, well done, we only have another three bosses to go.
Choose Resurrection this time around, so you can get the party back up after they die. Now its time for a new page.