Walkthrough:Final Fantasy VIII/Super Sephiroth Part 24
Talk

0
13,955 pages on
this wiki
I'm back to writing again, but my exam week just started and it will be damn hard to get more than a few minutes on the computer. Sorry.
The Red Spaceship
Edit
If you read the Star Wars Expanded Universe then you will know the Errant Venture spaceship. It is a total rip-off of Ragnarok, but I like it better, despite that I like the Ragnarok. Squall and Rinoa are currently hooked to the hull and you must climb up to the top and go left to find the entrance to the spaceship. Open the hatch and enter.
You can maneuver around in this room, in which gravity has been disabled. Float to the Save Point. Go back to the left and press X to close off space. Go to the back of the screen to go into the Aisle, where Squall and Rinoa ditch the spacesuits. Now Rinoa extends her arms and states that the suits were in the way before. Take that how you wish, but she hastily makes up an excuse about wanting a hug. Squall is totally clueless about this. For fuck's sake, after a whole game of being flirted with by girls, you think he'd get a clue, and possibly a cock.
After the long, pointless scene, continue on and into a new walkway. Rinoa shrieks, as there is a hideous creature walking around below. Squall soothes her, but I hate the next part. The best part is you get to kill something, but that's old news.
BOSS:PROPAGATORS
Edit
This is a long series of boss battles. These things are very strong physically and cast status magic. This will piss you off if you fight them with only sword/magic attacks. You must fight them all to clear the Ragnarok. But there are rules. Each Propagator has a different colour, but they each have a partner of exactly the same colours. You must, after killing one, kill its partner. If you fight another one, then the first one regenerates. You might wish to grab Esuna and Life spells in these fights. When you win, one of the prizes are random Stones you can refine into magic. The best way to kill them is to summon your highest level GF (in my case Shiva) and Boost it. You can kill a Propagator with one hit if you Boost it far enough. Also Odin can Zantetzuken these guys.
This is how you should proceed. From the third screen, go to the door and turn to the right and head down the stairway. You are now in the Hangar, where you can battle the first purple Propagator. After you whup it ass, you need to find its partner. Head through the left door at the back and you find a hall with a red Propagator in it. When it turns away from you, run to the left side and hope you don't enter battle with it. If you make it, you can defeat the second purple Propagator. Random thought: is that what Barney the Purple Dinosaur looks like in reality?
Now perform any healing or junctioning tweaks and go back to the previous hallway where you ran away from the red Propagator. You can now kill it. Go back to where you killed the first purple Propagator and go up the stairs to find the second red Propagator. Phew, this is really boring...
Return via the stairs and take the door in the top right of the screen. You must battle a green Propagator and then you have access to a Save Point, so you can use Tents. Now go back to the room you battled the second purple Propagator and take the left exit. There is an Elevator here with a green Propagator bouncer. The elevator cannot be used until you beat every Propagator. Fuck these Propagators.
That was the EASY bit. Fuck, you must be thinking, why me? The yellow Propagators are elite and far better than the others in combat. Go back to the entrance you entered Ragnarok through and en route murder the first of the two, then head through the door and save. Go back to where you killed the last green Propagator and take the exit to the top left. The final Propagator is jerking off in here. I was really lucky and got Zantetzuken in this battle. After you destroy it, access the panel at the end of the room.
Phasers on full power
Edit
Now your party are the only living things on the ship. Which means we finally control the damn thing. Having accessed the panel, you can go to the bridge. Go to the elevator and press X to go there. Suddenly Squall recieves a transmission from a familiar voice at Esthar Air Station. He switches Ragnarok's artificial gravity off so that the ship can land. Rinoa sits in Squall's lap...fuck, another romantic cutscene. Come on Squall, "you'll be safer in your seat"...she wants you. God, when will it sink in? After this crappy scene, the ship begins its descent.
When the ship lands, Squall and Rinoa automatically exit. They are met by a bunch of Estharians. They wish to escort Rinoa to safety. After a long time of protecting her, Rinoa is actually leaving. Thank God. After she automatically leaves the party, head back aboard Ragnarok. There are Save and Draw Points on the interior. Go to the Passenger Room and eventually the whole team minus Rinoa and Selphie walk in. After a long and boring dialog scene, the engine starts. When you get to the cockpit, Selphie is there. God DAMMIT! Will we get rid of one of them, Selphie or Rinoa. Hell, I'll trade Rinoa for Selphie. Oh, and Rinoa now has Edea's sorceress powers, so Edea now is powerless and cannot fight for the party ever again. What a fucking cruel game. She also has no more to offer the plot, so it rejects her in favour of the pretender whore, Ultimecia. NOOOO! AND the party tells Squall off for letting Rinoa go. We hate her, get over it. Finally, just to ruin the day even more, Ellone was captured by Galbadian Soldiers and taken to the Lunatic Pandora (which is currently hovering creepily over Tear's Point, incidentally).
Selphie reveals her one and only talent: the ability to fly an airship. Yep, Ragnarok cannot go into outer space. I hate this bit. But as Selphie can fly, we have an awesome method of transport. Balamb Garden is a piece of fucking shit now. It has nothing left to offer us. Selphie explains the controls of Ragnarok. After that, we can fly around the world. Form a party. The first destination is the Sorceress Memorial in Esthar. Those barriers that stop Balamb Garden, foot and car don't stop Ragnarok, as it was made by Esthar to monitor Adel, who was tragically released in the Lunar Cry.
The Sorceress Memorial is north of Tear's Point and you need to land close to it and walk in. Squall, Zell and Quistis (my preferred party) are on the drive. Go to the guards and persuade them to let the party in. The whole inside is amass with scientists and machinery. Rinoa is sitting in a glass orb hooked up to the machine. Speak to a scientist. Their aim is to keep Rinoa locked away forever so that the machines (designed to suppress magic) can stop her from harming the world if Ultimecia possesses her. Quistis and Zell go into a battle stance and tell Squall to help Rinoa. But I don't like Rinoa. Oh well.
Run to the left of the screen while the party holds off the scientists. Squall automatically runs up, draws his Gunblade and destroys the glass orb, setting Rinoa free. All they manage for the reunion scene is a lame hug. Come on, Final Fantasy X had better porn than this. But Rinoa is finally back. The party makes for the exit, but are stopped by the guards. But suddenly...a big guy in a green uniform and no voice appears to help you. The guards let you pass. The party wonders if that guy was Ward. Meh. Head back out and board Ragnarok.
Rinoa wishes to get away from cities. She wishes to visit Edea's House. Fly there and enter. Make sure Walk toward the house and Angelo runs up and into the adjoining Flower Field. One of the party members you chose goes off to fetch Rinoa. Stroke Angelo and she arrives. After horrible torture in the form of a crappy love story, Zell arrives, saying a guy called Kiros just contacted Ragnarok. He wants the party to come to Esthar. You can now go back to Esthar City to continue the plot.
Side quest time
Edit
Now we have a full party, an airship, and an opportunity to explore the world. Raganrok is way cooler than Balamb Garden. It can land on places where there are no beaches, but not on certain terrain. It can also soar higher and traverse certain obstacles previously impossible to clear. So the first stop is to complete the collection of GFs (assuming you got Tonberry and Odin in Centra). The first stop is Cactuar Island, off the coast of Centra.
Land on the desert isle and walk around. The only enemies here are Cactuars and if you couldn't figure that out, get the fuck out. They escape from battle, hold important Haste spells and when slain, give your GFs 20 AP. This allows the quick learning of abilities. Spend some time battling to access new abilities.
The main reason for coming, however, is the cacus that appears for a few seconds, disappears, then reappears in a new location. Follow it and approach quickly. If you get close enough, a battle begins.
BOSS:JUMBO CACTUAR
Edit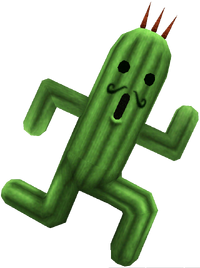 This boss is very fucking hard. His favourite attack is 10,000 Needles, which instantly kills a party member. Revive them immediately. You can Draw Meltdown from this bastard, so stock up. You've already seen the other spells. Meltdown is also extremely potent on Jumbo, so hit it with Draw/Cast straight off. Now physicals are fine. But this thing hates Water, so summon Leviathan and use the Blue Magic Aqua Breath if you have them. If you use Meltdown, attacks with Water-imbued qualities will deal damage into the 9000s. It has another attack, Ker-plonk, that deals moderate damage. Mug a Cactus Thorn if you wish. If you take its HP down to 5%, then a message saying "Jumbo Cactuar is hesitating..." appears, meaning that the bastard will run away and fully heal himself. You don't want to redo this battle, so rip at it quickly with Water and your fastest and strongest GFs. It won't flee so long as every turn you have is spent attacking it. If you beat it, then you recieve GF Cactuar. This GF uses 1000 Needles as its special technique. Every 10 levels, the power increaes by 1000. So on Level 20 it does 2000, level 100... 10,000! This is excellent against some enemies you shall be facing shortly.
Da Deep Sea Research Facility: Bahamut's Palace
Edit
Yes, you read that as Bahamut. That is the next GF we're getting. The Facility is in the south-west corner of the world map. To land, simply lower the Ragnarok until its belly is brushing against the place, then press the landing key. As you leave, put your strongest party members in your party. At the point I tried this, my party was Squall Lv 75, Zell Lv 70 and Quistis Lv 73. If you want to know some random shit about this place, put Zell in the party and he will reveal his knowledge about the place. It isn't anything you haven't been to grasp by staring at it. Zell is really fucking useless. I like to tell him that at this point. He says, "you think I'm BS-ing". How weak. Anyway, when you are ready with your favourite party, head in and prepare yourself...
...for absolutely nothing to do with battle. The party stare at a light thing in the centre. Quistis (or some other character besides Zell) comments on it, which makes Zell seem to think he needs to tell us his opinion. Fuck off Zell. Now a voice speaks in your head. Remember, GFs can speak, so that's Bahamut, who gives you a whole lot more information than Zell can. Namely, you have to wait for the core's blue light to die down before moving. If you move while the light is blue, monsters attack. So move carefully and slowly while there is no light. When you get close to the pillar, Bahamut speaks to you telepathically. He asks you a question. Choose not to fight. You then must fight a Ruby Dragon. It uses Meteor as a dying attack, so keep healthy. Bahamut asks you another question after you win. Choose to fight this time, don't beg for mercy. Fight a second Ruby Dragon, which also uses Meteor when you kill it. Then Bahamut materialises and throws the party into a battle with it.
BOSS:BAHAMUT
Edit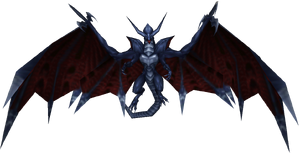 Yes, Squall, the Great GF Bahamut. This is the moment we've all been waiting for. It has crippling magical attacks, and its physicals aren't much weaker. Blind Bahamut and hit your party with Shell and Protect to neutralise the worst of it. Bahamut also casts Stop, so use Haste and Esuna. Bahamut's worst attack is Mega Flare. Fuck, that hurts. A non-elemental, Spirit-ignoring magic attack, it hurts like hell. Here's hoping you junctioned well. Draw/Cast Bahamut's Curaga spells to heal without having to use your own magic. Bahamut is sort of like a Pokemon Dragon in terms of weaknesses. Shiva does great damage, as does Diablos. Summon them when you're not recovering to take it down. After your victory, name Bahamut, then save and go and have a well-deserved celebration. Sadly, a much harder boss awaits, that holds a GF even more powerful than Bahamut. Scary thought, I know. But we'll cover that on the next page.