Walkthrough:Final Fantasy VIII/Super Sephiroth/Part 4
Talk

0
13,962 pages on
this wiki
...
Fire Cavern

Two members of the creepy Garden Faculty are guarding the Fire Cavern, so fuckheads like Selphie don't blunder in and atomize themselves in the lava. Quistis shows you how to junction magic. When you are ready, talk to the Garden Faculty. They do a confirmation check and ask you to pick a time limit. I recommend 20 or 30 minutes, as the trek isn't long. Now enter the Fire Cavern.
You have whatever time you chose to find and defeat Ifrit to pass the SeeD practical exam. Just follow the path straight and don't take any detours. Flee from any battles you enter, you prepared on the plains. Eventually Squall and Quistis enter an area with a crater lerading to some flames below. Ifrit leaps up, amused that two humans should challenge him. Boss battle.
BOSS:IFRIT
Edit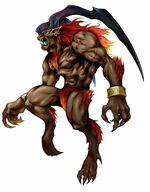 The first boss, as per FF cliche. Ifrit has a set level of 6 and a set HP of 1065. That isn't much for our well-powered up party. Summon and Boost Shiva to do a whopload of damage to Ifrit. The attack strategy our opponent uses is pretty boring. Physicals and the occasional Fire spell. Pathetic. Have Squall use Shiva and have Quistis cast those Blizzard spells I know you've saved for this boss. She should also Cure when necessary. Scan Ifrit if you are wonderign how long it will take to kick his demonic asshole back to that flame pit. Just don't lose your head over the time limit, Ifrit's mediocre HP and Shiva make it irrelevant so long as you had 5 minutes at the beginning of the battle. So yeah, no hard, and when Ifrit falls, he joins the party as a GF. Name him, but don't bother junctioning him.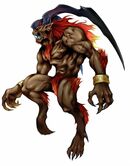 Killing time
Edit
You have infinite time to get out of here now you got Ifrit. Take a few detours in the Fire Cavern to access the whole thing. The main attraction is a Draw Point. Other than that, you can go straight back to Balamb Garden, but take a detour and head to the town.
Inside, you can check out the Junk Shop (which currently has no purpose whatsoever) and shop at the Item Shop. Keep 3000 gil, however or you won't be able to complete the game. If you talk to the woman at the Train Station, you can customise the rules of Triple Triad if you got the gil. Which we currently don't as Squall spent it all on emonic accessories. The harbour holds a hidden Draw Point with Cure and outside the Junk Shop you can also Draw Thunder. Joy. Other than that, the town ain't that special currently.
With nought left to do, haul your ass back to school. The practical exam is later.