Walkthrough:Final Fantasy VII/Drake/Part 6
Talk

0
13,971 pages on
this wiki
Did you read the last part, I hate intros. Welcome to part 6!
Boss Reunion
Edit
Well, last time you saved in Hojo's lab. Follow the delightfully vivid trail of blood up the elevator and upstairs. Around this area, fight and charge up Cloud's Limit Break, it'll save you some trouble in a little while. Up the round stairs to the 70th floor, you'll find President Shinra, looking a lot more dead than I remember him. And that sword...it's Masamune, the sword Sephiroth used. Could he be here? We get a scene with Palmer, then see Rufus Shinra, vice-pres and son of the president fly in via helicopter. Head through the north door for the scene. Rufus isn't impressed by our rag-tag group of allies and decides he's the new president since daddy is dead. Then we get a speech about how he plans to control people through fear - hey, it worked for the Bush administration, but Rufus is a lot better looking than that other daddy's boy who would be president.
Anyway, Cloud sends the group off to escape while he handles Rufus. Seems there's room for only one man-pretty blonde in this game, and Cloud wants to be it. Tifa waits for Cloud downstairs. Take their Materia when asked to do so and suit up the gang of Barret, Red XIII and Aeris. Be sure to equip Aeris and Red with Lightning Materia and put them all in the back row. Other than that, nothing much to say. Once you're suited up head to the elevator and press the button. You'll get into two consecutive boss fights. If you didn't equip Bolt, you'll be sorry.
Boss
Hundred Gunner, then Heli Gunner
HP
MP
Dangerous Attack
1600/1000
0
Wave Artillery/AB and C Cannons
Steal
Morph
Drops
None
Can't Morph
None/Mythril Armlet
Weakness
Resistance
Difficulty
Lightning
Gravity
2.5/5
Hundred Gunner is very annoying because this is a long-ranged battle, meaning normal attacks can't reach him. Thus, only Barret can use his attacks, Aeris and Red XIII must use magic. He's a machine, so Bolt away. You should be blasting him for over 100 damage a pop, so as long as you have Bolt he should go down easy. He can attack the entire group with Wave Artillery once his Sensor Cannon charges, but if you keep blasting him with Bolt he won't get a chance to fire. If he does too much damage, no worries, Aeris is with you and Healing Wind will save your hide if needed. Also note that Rex XIII's Limit Break can hit the gunner too. Just keep your HP high and blast him with magic, that's all there is to it. After he dies, his buddy drops in.
Heli Gunner has a lot less HP than Hundred Gunner, but hits a lot harder. His standard AB Cannon and C Cannon both hit for 100, and he likes to counter your moves. He also puts you to sleep, poisons you, and hits the entire party with Firing Line. Healing Wind will be a godsend here. When he gets weak he gets a new attack and higher defenses, but as with Hundred Gunner you can kill him fast enough to avoid this. It's another long-ranged battle by the way, so normal attacks are still out. He'll go down with a fight.
We're back on the roof with Cloud. Hit

to swipe the Materia from the other party members, and give Cloud a Restore Materia and Bio, that's all he needs. Then it's boss time. I use that term loosely, Rufus doesn't even deserve a boss template.
Rufus comes into battle with Dark Nation. If you listened to me and came into battle ready to Limit Break, use Cross-Slash to wipe out the mutt now. If it uses Barrier on Rufus, all your attacks will do half damage and this battle will take a lot longer. But even then, it's not a big deal. Use Bolt to take out the dog otherwise. Against Rufus, he only has one attack, a weak physical, so with a Restore Materia this battle is basically impossible to lose. Hit Rufus with Bio to do over 100 damage and poison the DiCaprio wanna-be. With only 500 HP and no doggie to give him M Barrier (which halves your magic), Rufus will fall with no trouble at all. And if by some stretch he lasts long enough to make a dent in your HP, you can just Limit Break him. Rufus runs after you beat him. Wimp.
The Wachowski Brothers Are Gonna Sue!
Edit
Head back inside and down to rendezvous with Tifa. Then head to the exit as the other three party members. Surprise surprise, there's enemies at the entrance. Then Tifa shows up with a way out. In a scene straight out of a B-flick action movie, the gang drives out through the second-story window onto a highway - Cloud, naturally, is riding a motorcycle. The graphics on the way out are better than you've seen, but not the best the game has to offer. Why they used some half-assed mid-way graphics, I have no idea. Hit
, form a party of Cloud, Tifa and Aeris, as I said they'll be your bread and butter for the rest of the disk. Suit them up as always and get ready for another minigame.
This minigame blows, and the music sucks too. Control the bike using the D-pad, attack left with

and attack right with
. Your goal is to fend off the Shinra grunts riding and slamming into the truck. It's really a lousy minigame, the hit detection is horrid and the music is annoying as hell. At the end of the line, guess what, it's boss time again!
Boss
Motor Ball
HP
MP
Dangerous Attack
2600
0
Twin Burner, Rolling Fire
Steal
Morph
Drops
None
Can't Morph
Star Pendant
Weakness
Resistance
Difficulty
Lightning
Gravity, Fire
3/5
First off, the more the truck and Cloud were hit, the more damage you come into battle with. Motor Ball has a lot of HP and is weak to Bolt like most machines. He also has low defenses so you should do over 200 damage a blast. This is also a back-attack and thus you're in the back row safe and sound from him. Bombard Motor Ball with Bolt until he shifts his form. Now he uses a move called Twin Burner to hit the party for 80+. Use Cure+All or Healing Wind and keep fighting. He should go down after a while. If he survives long enough he'll use Rolling Fire to hit the party for around 200 damage, so be sure to keep your HP high.
Leaving Midgar
Edit
This is where the plot gets weird. Cloud wants to settle the score with Sephiroth, and everyone else has their reasons to go with him, so they do. Thus the gang leaves Midgar. You can talk to Tifa or Aeris but the answer you give them doesn't matter. Barret is usurped by Cloud as group leader, and then you form your party - if you need to ask who to take, you haven't been paying attention. Bring along Tifa and Aeris, and smack yourself in the head for me.
Walk around the dark ground a bit to fight Custom Sweeper. It uses Matra Magic, your first Enemy Skill for that Materia, it does non-elemental damage to the entire party and is fairly useful this early on. You can also swipe a strong weapon for Barret from them with Steal. You can also fight the Devil Ride, they have Hi-Potions to be stolen. Walking around here, I'm tempted to take back all the eco-terrorists cracks I made, compared to the rest of the world Midgar is an ugly dump. Head northeast to Kalm. At Kalm, enter the Inn and head upstairs. Get your popcorn and turn off your cellphones, it's movie time! Time to find out more about Sephiroth. Cloud tells the tale of how he and Sephiroth became war buddies, and after the war it was SOLDIER's job to eliminate resistance to Shinra. This was five years ago...
Flashbacks, Yay
Edit
You're in a truck with the man himself, and you're on your way to visit a Mako reactor that has been causing trouble. Then a monster attacks, its a Dragon.
---
TEMPORARY PLAYABLE CHARACTER - Sephiroth

Sephiroth is in your party, but he's AI controlled, and spoiler if you didn't know, he's the main villain of the game. I could fill a page ranting on how bad a villain Sephiroth is, and how unimpressive, overblown, overrated and hollow a character he is. But I won't, we've got a walkthrough to do, just know I hate him. And that's not hype backlash, I flat think he's a lousy character and a boring villain. As a party member Sephiroth is entirely immune to any and all damage, his normal attacks always hit and do several thousand damage, and hes got craploads of mastered Materia, most connected to an All Materia. In short, you basically will never lose a fight in this flashback, because Sephiroth will kill anything in one turn, sometimes two as with the Dragon. And even if they survive, again, he can't take damage. If it weren't for Beatrix, he'd be the strongest temp character in the entire series. Is it really too much to ask to be able to control him though? I feel cheated.

---
Sephiroth will crush the Dragon in two swings, not bad. We then arrive at Nibelheim, Cloud's hometown - Sephiroth doesn't have one, and all he knows if his mother is named "Jenova". Head into town, and Barret reminds us Jenova was the alien floating in Hojo's lab. We're getting to that, settle down BBM. Sephiroth enters the Inn, head to Tifa's house on the right and say "Yeah". Head upstairs into her room and play the piano in this order:
,

,

, L1 and

, L1 and

,
,

,

, L1 and
,
,
,

,
. It does nothing now but it's important for later. You may not even have to play the melody at all, but what's the harm in doing it? You can also steal her underwear, and I'm not kidding.
Head to the Inn and go upstairs. Talk to Sephiroth twice and go to sleep. In the morning talk to Sephiroth again. Your guide to the reactor is Tifa. The three of you pose for a picture before you go. Then it's on to Mt. Nibel. Follow Tifa across the bridge and it'll break. Down in the chasm, only one of your grunt buddies survived and there's no time to find the other one. Now you check Sephiroth's stats if you want, then head right to the cave. Take the right path to find a place where Materia has occurred naturally. The two scenes in this cave paint a fairly normal picture of Sephiroth - insanely strong but not arrogant about it, and he's almost a teacher to the others. He's also not fond of Hojo, but hey, who is? After this it's on to the reactor. Head inside as the nameless grunt keeps Tifa outside. Follow Sephiroth into the core and go up the stairs.
Here it is, the big moment when Sephiroth goes from fairly-normal super SOLDIER to a mama's boy with a messiah complex. Let's watch what coolness he has amassed in these flashbacks go down the drain, shall we? The tanks in the reactor contain human beings steeped in Mako, and aren't they lovely? Suddenly, Sephiroth flips his lid and wonders if he was created by the same process as them. Uh, buddy, one look at them should be a clear indicator that the answer is "no". He chops at the tanks with Masamune a bit, then a tank bursts to reveal on the monsters. You don't fight it, relax. Cloud says he didn't understand at the time what Sephiroth was saying, and frankly, neither do I. At this point you can save your game if you want.
Back at Nibelheim, Sephiroth heads to the abandoned Shinra mansion for days and doesn't come out. Go inside and upstairs, then right. Find the secret door in the room (it's fairly obvious where it is) and go downstairs and down the hall to the library. Sephiroth is reading the old Shinra research notes that say Jenova was an Ancient. After the scene leave and watch as Sephiroth reads his way through the shelves book by book. Then the music changes, and you know that cannot be good. Head back to the library and find Sephiroth in the back. This is it, Sephy flips his lid, goes bananas, checks out and takes his mental baggage, and not in a fun way. In other words, kiddies - Sephiroth has lost it. In reading the Shinra notes it was really a case of the blind leading the blind, and Sephiroth has come to believe he was produced from Jenova's genetic material, and that Jenova was an Ancient. He's wrong on both counts, but good luck telling him that; he's off to see mommy. Follow him outside.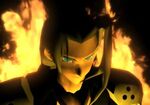 The town is aflame, gee, who did it? Colonel Mustard? Go down and enter the right house after the scene. Sephiroth slices apart a few villagers, then turns and walks into the flames in an iconic scene. He's off to Mt. Nibel and you're right behind him. Inside, Tifa's dad is dead, and again, whodunit? Duh. She grabs Sephiroth's sword and runs after him after declaring her hatred of Shinra. Follow her and watch as Sephiroth stabs Tifa and claims Jenova's remains from inside the reactor. He then proclaims himself the Chosen One, heir to the planet. What did I tell you, he was cool for a while, then he became a mama's boy with a messiah complex. We get a final seizure-inducing flash and we're back in Kalm. Cloud doesn't remember the rest. Aeris says this doesn't make a lot of sense, I agree girl, just one more reason I like ya. Head downstairs after the scene is over and get the PHS, it lets you change party members on the world map or at a save. Yay. Go outside and save, I'm done for now. Stay tuned for Part 7!