Walkthrough:Final Fantasy VII/BlueHighwind/Part 7
Talk

3
13,964 pages on
this wiki
Call me the "Jersey Devil", Space Monkies. My ultimate goal in life has always been to play the Antichrist. However, I, BlueHighwind, feel that I'm lacking certain important traits. Playing God or Jesus is too limiting a job in the cast. I'm hoping that I at least get the role of being a servant of the Antichrist in the war to unseat God. I really want to appear in the End Credits.
Shinra Building (Still Continued)
Edit
Here we go. Cloud vs. Rufus. The former dog of Shinra comes out from the Slums to take the head of the organization and save the world. But before the titanic clash, remove the party's Materia with

. Equip Cloud with a Restore Materia, some attacking Materia paired with All. Press START to begin the scene. Our hero will not allow either the President or the absent party guest take the Promised Land. Rufus is hurt over not being able to befriend Cloud, but he gets over it quickly.
Boss Battle: Rufus and Dark Nation

HP: Rufus - 500 | Dark Nation - 140
Steal: Nothing
Difficulty: Easy

Strategy:

There are two enemies on screen, Rufus and his pet dog. You only have Cloud, but that's all you need. The dog will give Rufus "Barrier", which weakens physical attacks. If you let it live too long, it will also give Rufus "MBarrier", which weakens Magic. You can kill off Dark Nation with two good hits. Using Magic paired with All can let you hit both of them. Afterwards it's a slugging match with Rufus. He attacks quickly with his shotgun, but the hits are mild. Exchange blows and heal when you need to. Since Rufus cannot heal, you can't lose. Limit Breaks are fun too.

After you win, Rufus runs away on his helicopter. He pretends to be cool, but we all know he lost. I feel sorry for the dog.

After you win, run downstairs and regroup with Tifa. Save your game first. We then skip to Aeris. Try to leave, but the building is surrounded by Shinra soldiers. The only way we can escape from this mess is a flashy FMV:
Now begins another annoying Mini-Game. I don't why I even bother to write "annoying" because they're all annoying. Use

to attack left, and
to attack right. The D-Pad allows you to move around the highway. What you want to do is destroy all the Shinra Motorcycles before they can do too much damage to your party's car. Every hit they land is less HP you'll have in the upcoming Boss Fight. Before you start, you can form up the party. Pick your favorites. I advise you take Aeris for the healing. This Mini-Game actually isn't so awful. It could have been fun, if it weren't a giant escort mission. If you just had to kill enemies it would have been great. Instead, you could easily lose the car while trying to kill an enemy and then your party will suffer. Never take down an enemy while they are in front of the car. That will cause massive damage. Its easy to get overwhelmed in this game, because there are just a tad too many things on screen and things to keep track of. Get through it, and try to keep your party's HP up as high as possible.
Towards the end of the game a giant robot appears. This is the next boss, and the final battle in Midgar:
HP: 2600
Steal: Nothing
Difficulty: Medium

Strategy:

This Boss can be tough if you didn't come prepared. This is a Back Attack, you should put everybody in reverse order. The battle begins with the enemy's attack, so you should start by Healing. Since this is yet another robot enemy, "Bolt" is effective against it. This monster's attacks can hit your entire team, so damage racks up quickly. Its worst attack by far is "Rolling Fire" which is most powerful enemy attack yet. After that you'll definitely want a Healing Wind Limit Break or some kind of fast healing. Using a Fire+Elemental combo will lessen the damage for at least one character. It has a lot of HP, but not too much that you can't handle it. Just keep up the damage and you'll be able to finish this monster off.

After the battle ends, we have to get out of Midgar. The entire city is probably after us now. Being involved in that kind of attack on the world capital can't be good for your reputation. So now we're leaving onto the World Map. Yes, there are locations in this game outside of the city. For now on, you can make your party to fit whoever you want. In the Menu is a section called the PHS, where you can switch party members at any place where you can Save your game (thus the World Map). We can also go to new areas, but we can't return to Midgar for a long time. Also this is the first time you'll see sunlight on the Planet.
We have to head Northeast to reach the next town. Along the way, you'll run into enemies. The world's surface is crawling with random encounters. One that you'll want to watch out for is the Custom Sweeper. It looks strangely like that enemy Sweeper, from the first Reactor. In fact the resemblance is uncanny. Well like all Final Fantasy games, Square used the cheap pallet swap trick here. At least it isn't so bad in FFVII, we could be playing Final Fantasy XII, where I think there are only three different enemy designs total. I only mention the Custom Sweeper, because it knows the first Enemy Skill, "Matra Magic". It targets all enemies for light non-elemental damage, but in these early days, it can be a useful trick. Steal from the Custom Sweeper to find the Atomic Sizzors, a strong weapon but lacking the ranged-abilities of most of Barret's Gun-Arms.
When you reach Kalm, you'll see two tiny houses that happen to be smaller than Cloud himself. You see, when he enters the World Map, Cloud grows to fifty-feet tall (another staple of Final Fantasy). Don't worry, when you enter the town, he'll shrink down to normal. The only thing we have to do here group up with the boys at the Inn. But first we must loot, and shop.
Looting. The NPCs of Kalm are not people. They are subhuman freaks. Thus taking their most cherished possessions out of their houses is not really stealing. Enter the houses at the top of village. Let's go from left to right, since it means the least walking. In the first house, you'll find an Ether in the closet under the stairs. In the second house, go up the stairs and check the armoire next to the beds to find another Ether inside. Finally, enter the third house and go all the way to the back of the room. You'll find a circular staircase which you want to climb. Here's a Treasure Chest with a Peacemaker inside. The Peacemaker is a weapon for a character we don't even have yet, so its totally useless right now. Go up the other stairs and examine the dresser at the top of the room for a Guard Source. Now go all the way to the right to find a fourth house. Enter here to find a third Ether underneath the stairs.
Shopping. At the East end of town is a series of shops that are certain to suck out your gil. There's the Item Shop, where you'll find the usual regular items. Buy what you need, and what you feel safe with. There's a Materia Shop, where you'll find new magic balls. The Earth Materia teaches the spell "Quake" and its stronger forms. These spells are Earth Elemental, which means that they are essentially non-elemental except for the fact that flying enemies are immune to them (birds can't get hurt in earthquakes, dipshit). There's also a Heal Materia, which teaches spells that help you heal status effects. "Poisona" is a Magic Antidote. The stronger form, "Esuna" will heal nearly every negative status effect you'll run into. Its worth a carry. The Weapon Shop does not hold many strong weapons, you should have found some better ones through stealing. Get Tifa a Mythril Claw, and that's about it.
After you're done with all that, head to the Inn and join your party. But first, go to the left a bit to find a dresser in a corner. When you open it, you'll see an Item. But its out of reach. Keep on examining it until Cloud gets angry and knocks it down. It's a Megalixir, the best healing item of the game. You should save it until you really need it (the last Boss for example). Then go talk with everybody else. They all really want to hear a good story, and what took place all those years ago. Just what happened to Sephiroth to make everyone think he was dead? Once upon a time...
This is the start of a long series of scenes where you won't really get a chance to "play the game". But you can still kill things every once in a while, so I'm happy. Don't worry, it's not as nearly bad as the long period in FFIX following Queen Brahne Alexandros's death where you can't do anything. At least this is interesting, instead of a stupid card game.
Hey, we finally get to see Sephiroth's face! Hey!, he's not bad looking. In fact, if I had to go gay for any male character in gaming, Sephiroth would be the one. Balthier too, but he would be the one to decide (nobody can resist the charms of the B-man). And don't you start suspecting anything about me just because I said that too easily! I'm a male, and I don't have to prove anything! BAH!! Cloud is acting rather antsy and friendly, almost like he's a different person. I don't recall Cloud being a Shōnen hero? The team of Shinra forces are heading out to the Mako Reactor at Nibelheim, to fix a problem and kill monsters. Speaking of which, a Dragon attacks! Sephiroth is now in your party, which means I get to make another Character Box. These are always fun:
Ally Character: Sephiroth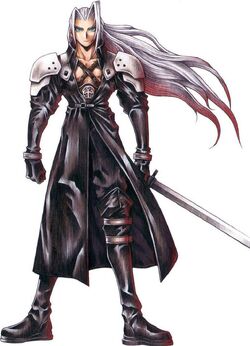 Weapon: Masamune
Sephiroth (no known last name, though some idiots try to claim its "Crescent") is the badass villain of our story. Oh, was that a Spoiler? I don't care. This here is a bad guy, the man out to become God himself. Most Final Fantasy villains just want to destroy the universe but Sephiroth knows better. Destroying the universe - where you are - is stupid. Conquering the universe is badass. And with his twelve-foot sword, incredible SOLDIER power, sexiness, and sheer will behind him, Sephiroth just might succeed. That's where we need to come in. Sephiroth's evil is so great that he's managed to spread to other games. He's a fun Superboss in Kingdom Hearts and Kingdom Hearts II, a character in that soon-to-disappoint fighting game Dissidia -Final Fantasy-, and can kick Kefka's Joker rip-off ass. Nah-nah, FFVI fans! However, not even Sephiroth could save Advent Children.
For now, Sephiroth is just a character in the party. But he's too badass to be controlled. Instead, Sephiroth will run around and kick ass while little level 1 Cloud can barely hit for 14 HP. As Cloud says "Sephiroth's strength is unreal". At level 50, and with a back of MASTER-ed Materia, Sephiroth can kill anything with ease. He hits for above a whopping 3,000 HP per attack. His defense is so high that he is able to brush off attacks like they were nothing (all hit for 0 HP). That Dragon doesn't stand a chance.
So in the end, this is one of my favorite characters in all of Final Fantasy. The second FFVII character to be in my coveted Top 6, and the father of awesome villainy from years to come. He's so badass that he can even slice through Character Shields (you'll see). Hail to the One-Winged Angel! Hail!
The battle will start, and end in two turns. Sephiroth rips that Dragon's throat out. Nothing can stop him! But something can stop this page, which sadly must end here due to my self-inflicted space limitation. Toot-a-loo, Space Monkies.