Walkthrough:Final Fantasy IX/TH/Part 24
Talk

0
13,959 pages on
this wiki
Memoria (cont)
Edit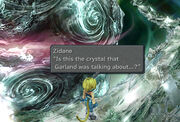 Look left for a Save point and rest up. Go through the door and when you see Zidane walking hold Up to reach a pool of light. Garland will explain something to Zidane then leave you forever. In the next area, with the huge crystal run as fast as you can to the top left as Tiamat has been cloned in Crystal form and a legion are waiting for you here. If you do get attack use Thundaga and the rest of the tactics from earlier, taking note that if you try attacking after Jet Fire has been used your party members affected will die instantly. On the next screens you'll find more clones of fallen foes. Run away if possible. Save at the sphere, rest and get ready for the end! Equip all Auto-Regen, Auto-Relect, Reflect-Null on Dagger or Eiko, MP Attack, Counter, Auto-Life (if you can), Concentrate, Man Eater and Return Magic. Take off Level Up and Ability Up. Check your equipment ans make sure it's best suited for the character you're using and then set off.
Kuja will tell you his plan to destroy the Crystal and thus everything along with it!
Deathguise
Edit
Boss Fight
Average HP: 55,000
Items held:Duel Claws, Black Belt, Elixir
You have to fight this monstrosity before you can get to Kuja, I've never really haad any major problems with it, just re-use the same old tactics, Stock Break, Thundaga bounce and thievery. If your Healer falls don't waste time bringing her back just keep attacking. If your team is weak you should aim to keep them all alive, perhaps throw up an Elixer or two (you won't need them soon...). Amarant's Chakra will recover both HP and MP if he is in your team.
---
Now go back to the sphere and SAVE. Use a Tent to power up and go through the portal again to face
Trance Kuja
Edit
Boss Fight
Average HP: 55,000
Items held:White Robe, Rebirth Ring, Elixir
Flare Star is Kuja's strongest attack (bar Ultima) and it can hit you hard, heal your weakest party member as before and the others should regain there health through Regen soon enough. Vivi should be bouncing back Flare to hit for maximum hurt, while Steiner etc. should be using their strongest attacks as before. Dagger/Eiko can use curing magic on those without Reflect enabled. One last bit of advice, don't bother Stealing, his items are rubbish.

---
With his health down to critical Kuja casts Ultima and knocks your party to the floor. Unfortunately for Kuja this signals his end, as he is blown away and killed. However, the Crystal is too and the world begins to enter a different place, where nothing can survive. To stop this Zidane and Co. must defeat this threat before all of existence is erased! (No pressure...)
Pick your team, you don't have to use Zidane, but after so long why wouldn't you? The remaining members give up their last bit of strength and a few words of encouragement to those about to fight (why all eight couldn't blast this monster, I don't know...). Set your ability and equipment now. Make sure your protected from all Status Ailments, otherwise Grand Cross will hit you hard. Oh, put on Auto-Potion if you can, you won't need any Potions after this!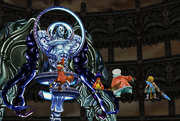 Boss Fight
Average HP: 55,000
Items held: Elixir, Elixer, Elixer
This is a tough boss; and so it should be as it's the final one (honestly). Use the same tactics as you used against Kuja, such as bouncing off Flare but this time you MUST keep your health almost full. Grand Cross is his most potent attack, and will kill your team if they have been weakened. Necron will cast protect on himself to reduce the damage done by physical attacks but this makes him slightly more subsceptible to magical assaults. However, you should ALWAYS keep your healer ready to respond instantly to danger as Necron is fast enough to have two or sometimes three turns per round! Don't be afraid to use Elixers, Potions or Ethers, since this is the last Boss.

---
With the final boss destroyed your party teleport out of this place and land safely on the outskirts of the Iifa Tree. I won't spoil the ending for you, I'll just end by saying this games one of the best you're ever likely to see. Roll on FFXIII! Terra_Homing 22:38, 8 February 2009 (UTC)

P.S. During I want to be your Canary, Marcus says "No Cloud nor Squall shall hinder us" Ring a bell?
---