Walkthrough:Final Fantasy IV: The After Years/Drake/Part 18
Talk

0
13,963 pages on
this wiki
Part 18 - let's get spoony!
Nice Remodeling Job
We look in on the chancellor of Damcyan asking to speak to the king, but he's busy at the moment. The chancellor pushes and secretary Harley comes to intervene. Seems Damcyan is facing a financial crisis, and Harley agrees to speak to the king. Thus we come to the hero of our tale, the King of Damcyan.
---
PLAYABLE CHARACTER - Edward Chris von Muir aka You Spoony Bard!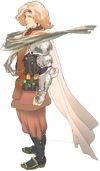 The spoony jokes are gonna get old fast....but they haven't yet! Anyway, last game Edward was a complete wimp, being unable to do much of anything in battle and in plot, aside from that Dark Elf incident. He's grown up a lot since then, and is responsible for one of my personal favorite moments in the game, and perhaps in the entire series. And, the guy stands up to Kain and fights him. It works out about as well as a Marine attacking The Odin (brownie points if you get that reference), but you gotta give him credit for having a lot of balls there.
In battle, Edward is far more useful than in FF4. He still equips sissy harps but they'll actually be decent weapons this time around. His abilities are Bardsong, Salve and Escape. Bardsong does one of several random effects, it just inflicts statuses on enemies but on the party randomly heals them, buffs them with Shell or Protect, or casts Haste. Salve lets Eddie use a healing item on he entire party at once. Salve a Hi-Potion, 500 HP for everyone. Salve a Phoenix Down, revive several allies at once. Very nice. Escape has its uses, limited though they may be. So his Spooniness is actually a good character in this game, use him well. The only catch is he's a bit of a money sink, as you'll need to keep a high stock of healing items for Salve.
---
Basically the problem is that Edward is running Damcyan into debt because he's pooling money into Fabul, Eblan and Mist to help their reconstruction efforts in thanks for them helping to rebuild Damcyan. I won't pretend I understand economics well enough to offer an opinion on this practice, but it's been 17 years, what more "rebuilding" can be done, the war in FF4 wasn't that bad. Hell it wasn't even that long, mostly each kingdom got attacked exactly once and then Golbez moved on the next one. Edward, preferring to spend his days trying to approximate Evanescence music with his harp as he moans about Anna, shifts the blame to Harley and tells her to take care of it. Harley tells him, in more eloquent philosophical terms, "grow up", and we get the title card. The next day we get news of the falling star. I'm not sure why they say it fell near Fabul, since it's far closer to Damcyan. They decide it's related to the return of the Red Moon, and Harley is sent to investigate with some guards. That night though Edward worries for Harley since she hasn't come back yet. We finally get control now. head to the right and up the stairs to Edward's bedroom. Rest in the bed and Eddie will dream, a dream that only seems to occur so Tellah can reappear to shout his famous line. Edward wakes up and now the tale proper begins, guess what we're gonna do first...that's right! LOOT, PILLAGE, PLUNDER! As a note, Damcyan is a lot bigger than I remember from FF4, they did some renovations I suppose.
Go down the stairs back to the throne room and down again, open the chest for a Spider Silk, then go downstairs and come back up. Standing on the stairs tile walk down into the wall and around to a Bomb Core. Then go up while still in the wall and inspect something you can't see for a Bronze Tail. Don't rejoice too much, on its own its useless. Edward's Tale is full of Bronze and Silver Tails, useless alone but in bulk can eventually be traded in for a Gold Tail. Go down to the main floor and the weapon and armor counters, check the pot for a Potion. Go outside, down the first stairs and right behind the tower, inspect the flowerbed for a Bronze Tail. Go to the castle entrance and speak to the guard, he'll leave. Go to leave the castle and the chancellor intervenes. He sends us an escort of three generic Guards. They're just the same as those Mages and Monks in previous tales, but as they'll be with our party all tale they're official party members for now. Go back to the castle and, outside the wall, walk right and up to find a treasure room. Flick the wall switch to open the door and open the chests for a Phoenix Down, Hi-Potion and Longsword. Go downstairs and loot chest and pot alike for four Potions, a Hi-Potion, a Phoenix Down, a Silver Armlet, Eye Drops, Antarctic Wind. Give the Longsword to a guard, leave Edward with the Gil Band. Now fight around the castle to earn money and levels. The equipment shops in Damcyan are now open, a set of Iron Equipment for each guard is going to run 2400 gil, plus 900 gil for two more Longswords, and 450 for a Bronze Breastplate for Edward. Optional is 880 for a Silver Harp. So we need about...another 5000 gil. Oh, and we want a healthy stock of Potions, we have no White Mage in this tail so we'll be relying on Salve. With the Gil Band we earn more money so it won't take long, and level grinding is never a waste of time. We just need a good spot...
Antlion Taming
The Antlion's Den is to the east of Damcyan over the bridge. It's optional for the moment, but the monsters here give good grinding and we'll have to come back anyway but with a party of only Edward. So it's beneficial to explore and take the treasure now so we can get a boost to levels and money, and later can skip right to the end with our party of one instead of having to explore it all with just Edward. The only thing of note now is that we can't deal with the Yellow Jellies, since they resist our attacks, so run from them if you meet any. Alternatively, use a Zeus's Wrath or Heavenly Wrath on them, they're purchasable in this tale and while their usefulness is dubious, it can't hurt to keep them around.
Head left for a Hi-Potion then duck under the bridge for a Zeus's Wrath. Go down and left to the lower-left, then up the stairs for an Antarctic Wind and Spider Silk. Go back to the stairs that lead to the lower-left and go right. Go up under a high bridge for a Tent, then stand under the bridge, walk down one tile and walk to the right for a hidden passage, inspect the rock for a Bronze Tail. climb the nearby double staircase and go up to a Gold Needle. Go down from here to the second floor. Go straight down to a Hi-Potion and inside the door for a Lamia Harp. Back outside go left and up to some stairs back up. The door up here has a save point along with a Bomb Fragment, Zeus's Wrath and a Decoy. Rest until either the New Moon, then go back down to the second floor. Take the chest in view above for an Antarctic Wind and then go left for a Hi-Potion. Go down the stairs down to get to the third floor, the Antlion's lair. FF4 veterans will be relieved to know we don't need to fight them, turns out Edward told the truth when he said they're normally tame. During the New Moon inspect the southern rock in the bottom layer of the lair for a Silver Tail.
That concludes the Antlion's Den. Head back to Damcyan, you should have made enough money to equip your party with the best equipment money can buy. Then head to the north-east to find the Impact Crater, because its been so awesome the last two times we've been here we might as well do it a third time, right? After the fun of the Antlion's Den your party should be at Level 15 or so - the Guards cap at Level 20, of course.
Meteor Revisited
Actually we're exploring the west side of the crater, before with Yang and Gekkou we were on the east, so things are a bit changed up. Head straight down to find a healing pot and a Potion, then north and down at the first path back down to a Hi-Potion. Back up and go right. Follow the path down the slopes, taking a short road to the right for Iron Armor on the way. You'll find a guard wandering around here who tells us Harley is ahead. Follow the path down, back up and right to the next area. Go down two slopes for a Potion, then back one and head to the right. When you come to an up-down fork go up for a Beret, anyone can wear it but it gives no significant stat boosts so put it on Edward. Go back down and follow the linear path, meeting up with another guard as we proceed to the Lower Wall. Head down, ignoring the ramp at first, take the Ether, then head down the ramp. We'll see Harley up ahead, follow the path to her, passing a save point and snagging a Tent and Stardust on the way. Amusingly you can walk down the ledge and stand right in front of Harley on the lower ground, but nothing happens. Head back around and approach her, after a short conversation it's time to head back to Damcyan with a new party member.
---
PLAYABLE CHARACTER - Harley
Harley comes from a line of noble characters including Gekkou, Izayoi, Calca, Brina, and so forth. For those of you who lack sarcasm detectors, she's completely devoid of any notable character traits. I have no idea why SE wasted time creating these new characters when they never did anything with them. Harley does about two significant things in the story - one is not coming back from the crater prompting Edward to look for her, and the second is she gets ill and Edward has to get a Sand Pearl to cure her. Obviously studied at the Rosa Farrell School of Plot Relevance.
Actually that's an unfair comparison - Rosa at least is an awesome party member. Harley is, flat down, the worst character in the entire game. Even Calca and Brina have their purposes, they suck hard but are at least useful for Rydia's Tale. Even now Harley is a total waste. She has crap equipment and two crap abilities, Gil Toss and Piercing Sight. Gil Toss is worthless as it often is, 'lols I wasted money to damage enemies when a spell can do it for free'. Piercing Sight gives an enemy a random elemental weakness. You FF6 fans, think back - how often did you use Edgar's Debilitator, really? Exactly. As for Bands, aside from Edward all her Bands are useless for a variety of reasons, including lousy effects, limited party versatility, and using too many people. So yeah, Harley is a complete waste. The only purpose she has is the Feast of the Land Band for Edward's Tale. Once we finish Eddie's Tale never, ever, ever use Harley again.

---
With Harley around we get the Band ability Feast of the Land, combining Edward's Bardsong with Harley's Gil Toss. It heals all party members, healing more the more gil we have. With about 5000 gil now, it heals over 300 damage, so it's fairly good. Harley comes equipped with an Economical Ring, it doubles the effectiveness of healing items. Edward + Eco. Ring + Salve + Hi-Potions = 1000 HP of healing. Very nice, the accessory is far more impressive than its wearer. Feel free to switch the rings so Harley has the Gil Band and Edward has the Eco. Ring, that way if you use it Salve is powered up and we still get extra cash from battle. Check the steam vent near where Harley stood for a Bronze Tail, then leave the crater. At the entrance we see a scene of Baron airships approaching Damcyan. Save outside and head home.