Walkthrough:Final Fantasy III/Chocolancer/Part 15
Talk

0
13,961 pages on
this wiki
Hello, we're about halfway through the game. After averting the civil war in Salonia, you have more freedom of choice, BUT since you're all so lazy and you want to follow this walkthrough word by word, I'm not going to stop you...Ok, TRUE STORY, just awhile ago some vain bitch and her druggie friend asked for the computer so now I'm about 10 minutes behind...less talk more work!
What to do next? Switch your Dragoons back to their former job class (if you wish your Knight to stay a Dragoon, feel free to do so but you should switch it back sooner or later ;) ). Well, the shops are now open as well so knock yourself out. First in the north-eastern block is the magic shop on the right...WOW look at all that magic, but whoa, hold up. You can't afford them all dude, my suggestion is that you get the Bolt 3, Cure 3, and Life spells for now. For weapons, grab 2 Rune Staves and one of each of Flame, Ice, and Light Rods (why buy each? Because upon equipping it it will increase the spell power of your Fire, Ice, and Bolt spells!). For armor, buy a White and Black Robe for your Black and White Mage. If you don't have enough Gil, go and fight in any random forest until you got enough Gil to buy them all. When you're ready and you bought all of them, Go into the narrow windy passage that you couldn't go through before (it's down south the continent with the Water Shrine and Amur in it). Be careful as flying through this passage gets you into random battles. On the two-way head north and follow the path until you reach a mansion. Land and go in.
Dorga's Mansion
Edit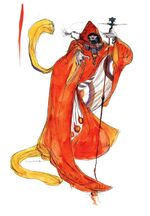 Upon going in, you'll get attacked by Moogles (who go <nya> instead of <kupo>) and some guy named Dorga you must've heard his name from one of those villagers somewhere...) will greet you. He'll ask if you could escort him to the Magic Circle Cave so that he can give you the Eureka Key (don't know what the hell that is...). He becomes your sixth extra party member (I hear in the DS version he can cast some uber-powerful magic to help you, but that doesn't happen here...) In the mansion there's an item and magic shop (and if you could afford it, buy a Haste and Aero 2 spell) and a candle that smells of Chocobo (you can summon a Fat Chocobo here by giving a Carrot to the candle). Now go to his room which is on the door between the shops. Examine the pots for some healing and examine the candle to open a secret passage to Magic Circle Cave. At this point you must Mini your characters and put them all to the back row before coming in....
Magic Circle Cave
Edit
Prepare to run from most battles...and no, there won't be a boss battle here just to give you a breather. Most of the battles here are quite hard and so if you can't run, have your Black and White Mages throw some powerful magics at them. In the beginning at your first weird-looking intersection, head left and follow the path left to get to the staircase below. On the second floor head right and follow it to another stair. On the last floor go down (don't go left as this is a dead end) and inside the door. In there, Dorga will go and stand on the "Magic Circle" (damn, why are there so many stars of David in this game...obviously this must be the reason that this game was never released in the US at the time...) He'll also cast a magic spell so the Nautilus can go underwater (WOOT!). Other than that, he'll teleport in the circle and cast a continuous Warp on your party so that you can leave the mansion. We're not done yet though...
Dorga's Village
Edit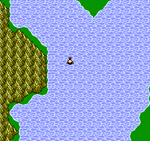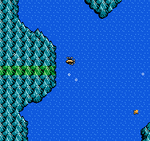 How to go there? Get out of the narrow paths and go east on the mass of mountains, you'll see a tiny village in the mountains but you can't go there...In the picture on the left, submerge there and you'll see a path over the mountains. On the other end rise up and land. You're now in Dorga's Village and the mages here sell LV1 to LV6 magic spells for your use. You really can't afford them all so for now, buy a Fire 3 spell from the mage selling LV5 magic. Now leave the village...
The Quake spell (which can be bought from the LV6 mage) is VERY VERY useful if you want a quick and painless battle. If you're willing to get it, go and fight enemies underwater and if you have enough, go back and buy it for your Black Mage. Note that this spell only works with ground enemies...for flying foes use Aero 2 with your White Mage...
Final Fantasy III Walkthrough by Chocolancer


Main Page (Index) | 1 | 2 | 3 | 4 | 5 | 6 | 7 | 8 | 9 | 10 | 11 | 12 | 13 | 14 | 15 | 16 | 17 | 18 | 19 | 20 | 21 | 22 | 23 | 24 | 25