Walkthrough:Chocobo's Mysterious Dungeon 2/Chocolancer/Part 3
Talk

0
13,962 pages on
this wiki
Greetings! The following is Part 3 of Chocolancer's Chocobo's Dungeon 2 walkthrough.
Imp Infestation
Edit
Dungeon 2
Cid's Tower

Floors: 15
Floor Changes: alternates at 4 to 9, 10, 13
Shortcuts to: 6, 11
Partner: Cid
Enemies:

Imp, 9 EXP
Cactus, 18 EXP, 400 Gil
Clay Golem, 28 EXP
Floating Eye, 23 EXP
Onion, 25 EXP
Grand Roller, 31 EXP
Gnome, 31 EXP
Thug, 35 EXP
Mini Mage, 35 EXP
Tonberry Jr., 32 EXP
Imp Robo #1, 58 EXP
Land Turtle, 41 EXP, 200Gil

Boss:

Imp Robo Boss, 755 HP,
Imp Robo #1 x2, 455 HP each,
Once you enter the tower, you'll see a pretty cutscene showing the huge tower. At the top there's a huge explosion, and a tank falls down near Chocobo. The guy inside comes out and rambles something angry and proceeds to charge inside with his contraption. Once you enter, you'll see that this is another dungeon just like the first one. You'll be better prepared if you had Iron equipment with you, since Wood is practically useless here now. The first few monsters that you'll find here are the Clay Golem, which is strong both offensively and defensively, and is fairly strong against magic. The Cactus is your first glimpse of Gil in this game, and they're guaranteed to carry them, but all of its attacks halve the amount you get when you kill it, so it's important to kill it in one hit before it has a chance to attack to get it in full. 400 Gil is a pretty significant number. Higher levels of Cactaur-type monsters carry higher amounts, but are harder to kill.
When you reach the 3rd floor, you'll meet Cid, who kills a Cactus in his way. He rambles about the Imps invading his tower, and sees Chocobo, who introduces himself. He asks what the bird is doing in his tower, he forgets, but he offers to help out Cid's infestation problem in exchange for a favour, so now you have him as a party member. Cid is a fighter-type, so he has a high HP and attack power growth. If you face him and talk to him, he can also set up landmines as traps, but this is inadvisable unless an enemy is pursuing you in a narrow hallway, in which case it's pretty useful. Instead, I highly recommend using him as a meatshield if you don't want to smear blood on your precious claw or saddle.
From hereon, the only way is up. When you hit the 4th floor onwards, the floor alternates between a base area and a high area, which has their own set of enemies. The base area is full of Imps. Beware if they approach one of those dormant blue robot things, because if you let the ATB gauge fill once they hop on, they become an Imp Robo #1, and at such a low level, you could get wiped easily with its strong physical. On the high areas, Floating Eyes are a nuisance when they cast Mini on you, but otherwise are harmless. Grand Rollers go straight to a self-destruct sequence (similar to a landmine explosion) when you use a Thunder Book at them, so either kill them ASAP or run away. Onions disarm your equipment, which is annoying.
When you reach the 8th and 9th floor, watch out for the Gnomes and the mines they've planted. On the 9th you'll see switches on the corners of the room. This rotates the the L-platform in the middle of the room in a clockwise fashion. Make use of this so you can get to the other side and find the elevator to the next floor. On the 10th floor, there's no elevator, but you have to go westward to move to the next area.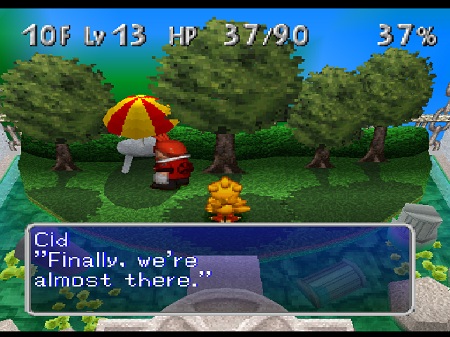 You're more than halfway there, but while in the lounge, something else happens...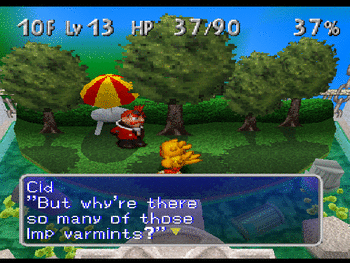 A plastic CG Bahamut greets you (it looks like a kiddie-version Master Creatures figure). In this game, he's the so-called "Keeper of Time", and he tells you that the Imps weren't meant to exist in your era, and goes cryptic about servants and power. He also mentions a certain girl. He goes poof and you move on. There's a machine next to the door to the next area which gives you Octopus Essence for 3000 Gil. The essence gives you more energy than Peanuts.
Note that if you lost Cid at any time before you hit that plot floor, he will come back with full HP once you leave that area. Whether or not it's a glitch, it's a nice one since you get to have your meatshield back. The same thing goes once you hit the upcoming 14th floor, since he needs to be there in the upcoming event.
Moving west and entering the elevator from that area, the next two floors are somewhat of a breeze. Just watch out for the Tonberry Jrs. They're predominantly passive when you enter the floor, but an attack on one is an attack on all. Their knives do pack a lot of hurt. Even if you don't hit 'em, the Mini Mage will do the favour for you. While they're not hitting them for fun, the Mini Mage will cast Drain on you as soon as they spot you, and it's not going to be pretty if the Mini Mage in question is on the other side of a rock path. Pick it off with any book, as it goes down quite easily. The 13th floor (and the second-to-last floor) is teeming with Imp Robo #1. Really dangerous unless you've used your Thunder Books or got yourself a souped-up Thunder-elemental claw (Blitz Claw+3 being a minimal example). Sometimes the Imp Robos explode when hit, dealing a lot of damage, but keeping the Imp intact. The Land Turtles are no threat, and they drop Gil if you kill it in its shell. When you make it to the 14th, Cid will find his tank and you get a chance to name it. The tank gives him a boost of HP as well as a long-ranged attack. If by any chance you make it to this floor almost empty-handed, a chest will appear in the corner of this floor with a random item (the game takes pity on your sorry ass). You make it to the top of the tower where you fight the boss. At this point I'd suggest you use a Teleport Tag back to the village for sidequests, but if you're ballsy enough to take 'em on in one dungeon run, go right ahead and skip them.
Epic Mecha Battle
Edit
If you wish to be at an advantage for the boss battle, I highly suggest hoarding books, primarily Thunder Books, and making sure to use them once in a while throughout your dungeon trek in order to increase your spell level. A number of summoning stones will be a huge asset, especially Ramuh Stones as they can take off a lot of HP in one use. Take at least a number of Potions (Hi-Potions are good too, but are not very common at this point), and optionally, get a well-polished Lightning-elemental claw. At least Level 15 is good, as long as your HP is well above 100 and you have a decent saddle to protect you (Iron or Mythril).
Boss
Imp Robo Boss

755 HP

Attack Behaviour:

Steelball Punch (melee attack)
Steelball Whip (long-range attack)
Kicks bombs to your general direction

Weak against Thunder

Boss
Imp Robo #1 x2
355 HP each

Attack Behaviour:

Drops bombs near Chocobo
Uses physical attack if boss is down

Weak against Thunder
If you've gotten your Thunder skill at a good level (say 6 or 7), this would be a quick battle. Throw your summon stones early if you have them, and use your books. If you're close and you have a Thunder-elemental claw, beat their asses with it. The battle doesn't end until they're all eliminated. The Cidtank is more or less useful in battle, as all it does is chase and shoot. Avoid the tank's line of fire, as its attack can damage you. You could also use your Ramuh summon feather, but I wouldn't advise it. The battle seems easy enough as it is. Don't forget to heal when your HP goes down to between 40 and 60. The Steelball Whip packs quite a punch.
We All Live in a Yellow Submarine...
Edit
When that's all over, Cid goes all "Yeehaw!"-like now that the ethnic cleansing you've just done finally got rid of all the mosnters in the tower. Whoop-de-doo. Chocobo still doesn't remember what he was supposed to tell Cid, so he asks for him to come with to the village anyway so he could remember. Two seconds later, Shiroma greets the two and mentions the submarine. Apparently she wants to ride it too (the submarine, not big daddy Cid) since she wants to go back and investigate the dungeon. Cid isn't any more happier to show off his new toy.
Chocobo's Mysterious Dungeon 2 Walkthrough by Chocolancer
Main Page (Index) | Gameplay | Dungeon Elements | Characters | Monsters | Monster Village

1 | 2 | 3 | 4 | 5 | 6 | 7 | Extra