Vlakorados
Talk

4
15,603 pages on
this wiki
Final Fantasy VII Enemy
Vlakorados
ブラキオレイドス (Burakioreidosu)

?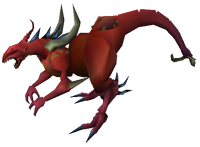 Statistics
Level
HP
MP
33
33,333
333
Attack
Magic
Defense
60
57
60
M. Defense
Dexterity
Evade
48
73
10
EXP
AP
Gil
510
40
460
The Vlakorados is an enemy from Final Fantasy VII found near Bone Village and in the grass area south of Icicle Inn. It can also be fought in the fourth round of the Battle Square after the player has acquired the Highwind and Cloud Strife has rejoined the party.
When fought on the Battle Square its stats are enhanced with double the normal HP and its Attack and Magic Attack increased by 25%. Vlakorados is also fought on the fourth round of the PC version Battle Square demo.
Players can steal the Carob Nut from them, which is an important item in breeding chocobos.
Vlakorados is easily one of the stronger random encounters in the game, with over thirty thousand HP - for reference, two bosses at the point it is first encountered in the game merely have ten thousand. It attacks using Bolt Ball, an electrical attack, and uses two physical attacks, one of which hits the entire party.
Although the Vlakorados is resistant to Gravity, it is not immune, so Demi and Laser can be used to whittle down its considerable HP. The Poison status ailment also helps, and will do 1,000 damage. Overall, Vlakorados is formidable, but can be defeated with patience. The player cannot use Sense on it.
AI Script
Edit
AI: Setup {
Count = Rnd(0..2)
SpclChance = 5
} AI: Main {
If (Count == 0) Then
{

Choose Random Opponent
Use Bolt Ball on Target
If (Rnd(1..SpclChance) == 1) Then
{

Count = 3

} Else {

Count = Rnd(0..1)

}

} Else If (Count == 1) Then {

Choose Random Opponent
Use <Tail Attack> on Target
If (Rnd(1..SpclChance) == 1) Then
{

Count = 3

} Else {

Count = Rnd(0..1)

}

} Else {

Choose Random Opponent
Use Violent Advance on Target
Count = Rnd(0..1)

}
} AI: Counter - General {
If ((Vlakorados's HP <= 1 * [Vlakorados's Max HP / 4])

& (SpclChance == 3)) Then

{

Count = 3
SpclChance = 2

} Else If ((Vlakorados's HP <= 2 * [Vlakorados's Max HP / 4])

& (SpclChance == 4)) Then {

Count = 3
SpclChance = 3

} Else If ((Vlakorados's HP <= 3 * [Vlakorados's Max HP / 4])

& (SpclChance == 5)) Then {

Count = 3
SpclChance = 4

} Else {

SpclChance = 5

}
}