Vincent Valentine
19,932 pages on
this wiki
Talk

75
Vincent Valentine is an optional playable character in Final Fantasy VII, and the main protagonist of Dirge of Cerberus -Final Fantasy VII-. A former Turk with a mysterious past, Vincent's secrets tie him directly to several of the Compilation of Final Fantasy VII's main antagonists.
Vincent wields handguns in battle and his Limit Breaks cause him to shapeshift as a result of the experiments Professor Hojo performed on him. Since his introduction, Vincent has become one of the most popular characters in the Compilation of Final Fantasy VII.
Appearance
Edit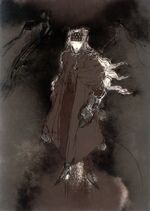 Vincent is a man physically in his late twenties, and stands roughly six feet tall. He has crimson eyes and long black hair. He wears a red bandanna with his fringe emerging over it. Vincent's most distinctive feature is his red cloak, held in place over his shoulders and lower face by several buckles. Underneath his cape Vincent's attire is black with several straps and buckles. Vincent wears a holster for his gun against his right leg, and pointed sabatons on his feet. He wears a golden gauntlet on his left arm.
Vincent has kept this look in all his appearances, with subtle variations. Vincent was originally intended to appear in Kingdom Hearts alongside Cloud Strife, but was removed (see below) with aspects of his costume incorporated into Cloud's design, including the tattered red cloak and gauntlet.
In Final Fantasy VII: Advent Children, Vincent's cloak was meant to have an organic feel and was difficult to animate. The developers decided changing his costume would conflict with his character, so Vincent was the only party member to appear the same as he had in Final Fantasy VII, although there are minor changes, such as a full bodysuit, a tattered cloak and a glove completely covering his previously partially bare right arm. All of the party members sport a pink ribbon on their left arm in remembrance of Aerith Gainsborough. Vincent is the only one who wears the pink ribbon on his right arm due to the golden gauntlet on his left arm.
In Dirge of Cerberus -Final Fantasy VII-, Vincent's Galian Beast and Chaos forms incorporate his design into them; Galian Beast is wearing a shorter version of Vincent's cloak as a kilt, while Chaos's feet resemble Vincent's boots.
Vincent's primary weapon in both Final Fantasy VII: Advent Children and Dirge of Cerberus -Final Fantasy VII- is the handgun Cerberus, named after the three-headed dog which guarded the Greek underworld for its three barrels (each of which is ornamented with a dog head in place of the iron sights). There is a key chain attached to it that bears a Cerberus-shaped charm. In the Final Fantasy VII: Advent Children's prologue, when the Final Fantasy VII cast is shown fighting Sephiroth all wielding their base weapons, Vincent wields the Cerberus, rather than the Quicksilver.
Personality
Edit
Dark and brooding over his past experiences, Vincent conceals many secrets. He speaks in a cryptic manner when he talks about his past, calling his traumas "sins". Despite his cold personality, he is not uncaring; at a point where Cloud admits he thought Vincent does not care about the Planet, Vincent states that is just how he is, and apologizes for the false impression.
Vincent despises Professor Hojo for his immoral actions, and it is the promise of meeting him that stirs Vincent to accompany the party in Final Fantasy VII. Vincent is reluctant to speak, although when he does, he typically has something important to say.
Kazushige Nojima has noted Vincent is naturally a loner, and had he not been a former ally of Cloud and his friends, it is unlikely he would have joined them in the battle with Bahamut SIN in Final Fantasy VII: Advent Children.[3] His voice actor, Shōgo Suzuki, noted Vincent's few appearances have a profound impact and that Tifa Lockhart's remark "they're our friends", after Vincent's arrival, shows his underlying warmth. He is noted to be similar to Cloud, only more mature, which influenced his character and voice work.
Vincent was originally intended to appear in Kingdom Hearts with Cloud, but it was decided to remove him due their similar brooding personalities and aspects of his design were worked into Cloud's new design for the series, which has been used for all of Cloud's appearances in the series thus far, with the exception of Kingdom Hearts II.
Final Fantasy VIIEdit
Vincent is an optional playable character who must be recruited in the Shinra Mansion after obtaining the Mansion key. By opening the safe, with the input RIGHT TO 36, LEFT TO 10, RIGHT TO 59, RIGHT TO 97, they can fight Lost Number to unlock the room in the basement in which he is found. After some dialogue, he can join the party.
As a party member, Vincent wields guns, which are long range and have a mediocre Attack Power, but two of them have a 255% hit rate, meaning they have the maximum chance to hit. His Limit takes away all control of the character but allows him to deal and resist a lot of damage. His ultimate weapon is the Death Penalty, which increases in strength with the number of enemies Vincent has killed, and can cause an overflow glitch.
Vincent is fought as a boss in the Training Mode.
Vincent's default weapon, Cerberus, holds eighteen rounds and fires thrice the trigger is pulled. The weapon can be upgraded to either be lighter, hold more ammo (84 rounds at most), or do more damage. Vincent acquires two other guns early. One, a bolt-action rifle, is christened the "Hydra". The other, the "Griffon", resembles a Thompson machine gun, and has a rapid-fire ability, although shoots slowly enough to only shoot one bullet. Later, he can acquire secret "gimmicked" versions of his main weapons. The new rifle is the Bayonet Rifle, which increases the power of Vincent's melee attacks when equipped.
The new machine gun is the Blast Machine gun, which is weak and inaccurate, but always knocks down enemies when an attack hits. The new handgun is a "model gun", which starts out useless, but can be upgraded into the Ultima Weapon, the second strongest gun in the game. Finally, Vincent can use the Death Penalty in the final chapter, which produces an explosion with each shot. With the exception of the Death Penalty, all guns can be equipped with accessories, such as longer or shorter barrels, a scope, and Materia.
The Dirge of Cerberus -Final Fantasy VII- tutorial, framed as a training session during Vincent's days as a Turk, implies his natural Limit Break increased his strength and defense for a time.

Creation and development
Edit
According to the Final Fantasy VII Ultimania Omega[4] Vincent's character changed several times during development, from horror researcher to chemist to detective, and finally to a former member of the Turks. An early artwork
depicts Vincent wielding a scythe rather than a handgun. Although his connection to the Turks is only mentioned once when recruiting him in Final Fantasy VII, it is explained in detail in Dirge of Cerberus -Final Fantasy VII-. In Final Fantasy VII, a deleted scene involving Cloud explaining SOLDIER to the party would have involved Vincent, who would outright state he was a former Turk who investigated "the Sephiroth project" that would lead to SOLDIER's development.
In another early draft, Vincent was a detective working on supernatural cases, most of them bogus. His last job was investigating Shinra's secrets to expose them to the world for the benefit of a rival company. Vincent's relationship with Hojo would have gone back to the Midgar University medical department, and then the Shinra Research Lab. Using leverage with Hojo's assistant, Lucrecia, Vincent delved deeper into Hojo's work. Hojo captured Lucrecia and used her as part of the Jenova Project, and Vincent tried to rescue her, but Hojo puts him to sleep for thirty years.
When the party found him, Vincent had no idea what year it was, or even that he had had vile experiments done to him. He would join the party to get revenge on Hojo and find out Lucrecia's fate. The player would not know Vincent could transform into monsters, and when it happened, Vincent would be the most shocked of all. His transformations could carry outside of battle, changing cutscenes depending upon his form. In this draft, Vincent's personality was wildly different with a far more suave and talkative demeanor. He would even go out of his way to flirt with female party members.
Scenario writer Kazushige Nojima has noted that, although Vincent does not have many scenes, when he does speak he usually has much to say. Nojima compared him to Auron from Final Fantasy X, as "even though he's supposed to be a silent character, he still tends to talk a lot".
Vincent's job Class was originally listed as "Horror-Terror (Horror Researcher)".

Vincent's Japanese voice actor is Shōgo Suzuki, and he is voiced by Steven Jay Blum in English.
Musical themes
Edit
Vincent's theme is "The Nightmare Begins". It is played in several key scenes regarding Vincent and his past, including his introduction in the Shinra Mansion basement and during his flashback about Lucrecia.
Other appearances
Edit
Vincent has made appearances in the following games in the Final Fantasy series:
Non-Final Fantasy guest appearancesEdit
Vincent has made key guest appearances in the following non-Final Fantasy games:
Other media
Edit
In Gunslinger Stratos 2, a game developed by Square Enix, a costume based on Vincent's was released on November 6, 2014.
Vincent's costume appears as DLC for LittleBigPlanet 2.
Vincent was set to appear in the fan-made movie Dead Fantasy created by Mounty Oum. A preview of Dead Fantasy VIII showed that Naminé summoned Vincent with her Keyblade, and that he would have fought alongside her against Ryu Hayabusa and Momiji. He was summoned from a red portal, and the red from the portal collated into his cloak. Vincent's main rival was Ryu Hayabusa.

Merchandise
Edit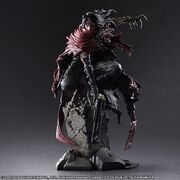 Vincent has appeared in numerous merchandise. All of Final Fantasy VII cast had action figures made by Bandai back in 1997, and later on Vincent has also had two Play Arts action figures. The first one is with a Quicksilver gun in the Volume 2 set of Final Fantasy VII Play Arts action figures, and another one in the Volume 1 of Advent Children: Final Fantasy VII Play Arts figures, where Vincent has a tattered cape and the Cerberus gun rather than the Quicksilver.
Other figures include the Final Fantasy Trading Arts Vol. 2. figure, and the collectible Coca-Cola figurine with a colored and a "red crystal" versions. Resin statue by Kotobukiya was released in 2001, and unlike the original Final Fantasy VII resin statues, the ones issued later don't have serial numbers and are not as valuable as collector items. Final Fantasy VII characters have appeared in key chains originally available from Japanese crane catcher games. Vincent is part of the "Set B" of these figurines.
The emblem on his weapon in Dirge of Cerberus -Final Fantasy VII- has appeared in jewelry and key rings, t-shirts and even a Zippo lighter.
To be released 2017, Vincent has a statue in the Static Arts Gallery line.
Etymology
Edit
[view · edit · purge]Vincent is a Latin name meaning "victorious" or "conquering one". [view · edit · purge]"Valentine" is a primarily masculine given name derived from the Roman family name Valentinus, which was derived from the Latin word valens, which means "strong and healthy".
In Final Fantasy VII: Advent Children, when Vincent appears in the fight with Bahamut SIN, Denzel asks Tifa who he and Yuffie are, referring to their status as optional characters in Final Fantasy VII.
Vincent is frequently jokingly referred to as a vampire as in line with common vampire myths, he wears all black with a red cloak, is brooding, has pale skin and red eyes. Due to Hojo's experiments Vincent can shape-shift into various monstrous forms and is biologically immortal. He is first found sleeping in a coffin in the basement of the Shinra Manor, and is seen with a glass of red liquid (possibly red wine) nearby in the opening of Dirge of Cerberus -Final Fantasy VII-.
Along with Cait Sith, Vincent is one of the only two Final Fantasy VII characters to have more than one playable appearance in the Compilation of Final Fantasy VII. However, if non-Compilation games are counted, Cloud, Tifa, Yuffie, Zack, and Sephiroth also have more than one playable appearance.
Despite popular belief, Vincent does not use a cellphone in the opening scene of Dirge of Cerberus -Final Fantasy VII-; he and Yuffie are using walkie-talkies.
While his scrapped class "Horror Teller" was not known of its properties, Vincent's Limit Break forms bear traits of the kinds of terrors and evils from certain aspects of the corporeal world.

The Galian Beast represents the horrors of nature, from voracious monsters and beasts in the world outside of civilization.
The Death Gigas represents the horrors of science, creatures born of the unknown and accidents of experimentation.
Hellmasker represents the horrors of society, serial killers and psychotic murders born from the cruelties and evils that mankind can spawn from their sins and vices.
Chaos represents terrors of the occult and divine, devils, demons, the horrors of the spiritual underworld, and harbingers of the end of existence.

Vincent is one of the two playable characters in Final Fantasy VII who do not appear in any of the game's FMVs, the other being Yuffie Kisaragi. This is because the two are optional characters and may not have been recruited by the player by this time.
If Cloud goes to the Gold Saucer Round Square gondola with Vincent, Vincent will stand his back toward Cloud with one foot on the seat.
Vincent and Yuffie are the only two characters from Final Fantasy VII whose menu portraits are skewed to the right. Everyone else is facing the left.
References
Edit
External links
Edit