Final Fantasy X-2 Enemy
Vespa
ベスパ (Besupa)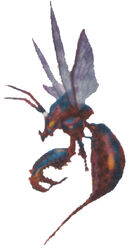 Wasp
Statistics
Level
HP
MP
25
983
32
Strength
Magic
Defense
36
6
4
M. Defense
Agility
Accuracy
2
101
0
Evasion
Luck
37
12
EXP
AP
Gil
185
1
78
Vespa
ベスパ (Besupa)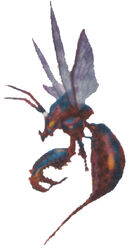 Wasp
Statistics
Level
HP
MP
28
2,758
32
Strength
Magic
Defense
37
6
4
M. Defense
Agility
Accuracy
2
168
0
Evasion
Luck
47
15
EXP
AP
Gil
294
2
124
Vespa is an enemy from Final Fantasy X-2.
It is ultimately no threat, though it can inflict various statuses.
It is wise to bring along Antidotes and Remedies to counteract its Poison, Pointless, and Sleep it can inflict. Using Ice-elemental attacks works well.
Fiend Tale
Edit
In the Fiend Tale endings, a notable Vespa was created from the spirit of a master thief who allowed himself to be captured to get a thrill from escaping them. During his time and eventual escape, Vespa developed a rivalry with Shinra as he tricks the boy into lending him a pen to escape into the Macalania Woods with Shinra in pursuit.
Etymology
Edit
[view · edit · purge]Vespa is a constellation, and is Latin for "wasp". It is also a genus of wasps in the family Vespidae. Vespa also means "wasp" in Italian.
Related enemies
Edit