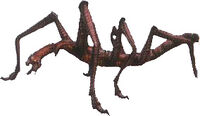 Vermin is a fiend type in Final Fantasy X-2, and are in a way, a subspecies of the Blade species, as Vermins are also insectoid. The main difference between the species is that, while Blades specialize in rushing down enemies and using Blade Rondo, Vermins specialize more in a particular element, as well as having their own signature attack, Hug Bomb.
The toughest of this species, King VERMIN!, is not much more powerful than a Critical Bug and Insect Matriarch, but in Oversoul (after 12 kills), it becomes the most dangerous of the species. Vermin live in the Fiend Colony and can be cannibalistic, the females eating the males once mating rituals have resided.
Ad blocker interference detected!
Wikia is a free-to-use site that makes money from advertising. We have a modified experience for viewers using ad blockers

Wikia is not accessible if you've made further modifications. Remove the custom ad blocker rule(s) and the page will load as expected.