Vallis Media
Talk

3
13,959 pages on
this wiki
Relm

: I couldn't miss the chance to practice my drawing!
This article is in need of a few pictures. Perhaps you can help by

uploading

a picture of maps.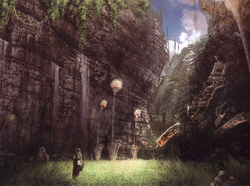 The Vallis Media (メディア渓谷, Media-keikoku?, lit. "Media Valley") is a location on Gran Pulse in Final Fantasy XIII. It is a mountainous pathway between the Archylte Steppe and the Yaschas Massif. The party first arrives in the Base Camp area of Pulse at the beginning of Chapter 11. Hope soon vanishes after going out to search for food and the team must search for him.
See also: Datalog/Locales (Final Fantasy XIII).
This is where Lightning and her companions set up camp after their escape from Cocoon and emergency landing on Gran Pulse.
The valley has been formed through great shifts in the earth's crust and centuries of erosion, and scattered among its twists and turns are mechanical remnants of Gran Pulse civilization. Half-buried in the ground and overgrown with vegetation, these abandoned artifacts tell the tale of a fallen age.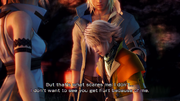 In the days following their landing from the Fifth Ark, the team has wandered about Gran Pulse, but have found nothing on the planet except for ruins. They meet at their Base Camp in Vallis Media, all hope lost as they wonder what they can possibly do. Having gone out to find food with Sazh's chocobo chick, Hope is suddenly affected by his brand and collapses, too weak to continue. The chocobo rushes back to the camp and informs Vanille who quickly translates for the others.
Heading through the valley, they find Hope collapsed by a river and quickly help him back to the Base Camp where he lies unconscious. Giving up and resigning themselves to their fate, everyone has lost hope except for Vanille who starts to suggest one final place they could visit. Hope suddenly wakes up and tells them before Vanille can: they should visit the village of the Oerba, located far on the other side of Pulse.
Hope now says that they should go on without him and he does not think that he is strong enough to help them at all. In the wake of his despair, his Eidolon Alexander appears challenges the party, showing Hope that he is strong enough to go on and that they should all stick together now that they are all on Pulse together. The team set off for the Archylte Steppe and ultimately Oerba.
Base Camp
Fingers of Stone
Atzilut's Tears
Earthern Bosom
Main article: Missions (Final Fantasy XIII)
Mission 08 - The Eleventh Hour
Mission 32 - And Then There Was One
Mission 57 - What's Yours is Brine
Final Fantasy XIIIEdit
| Item | Location |
| --- | --- |
| Partisan | Fingers of Stone |
| Rune Bracelet | Atzilut's Tears |
Enemy Formations
Edit
In addition to the enemies listed below, two Flan can merge to form one Dire Flan.
Fingers of Stone
Edit
Base Camp
Edit
Atzilut's Tears
Edit
The track "March of the Dreadnoughts" plays as Vallis Media's background theme.

Atzilut, in Hebrew, means "nobility" (אצילות).