Valefor (Summon)
Talk

7
15,244 pages on
this wiki
Cid

: Oh, shut up and help me remodel the Valefor (Summon) page!
Please expand this article into a full one. This can be done by adding an "Entrance" section; see Yojimbo. This request can be discussed on the associated

discussion page

.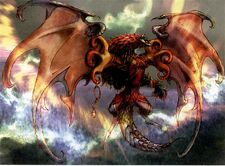 Valefor (ヴァルファーレ, Varufāre?) is a recurring summon in the Final Fantasy series. It is a flying summon that first appeared as an aeon in Final Fantasy X as Yuna's first aeon, and has been associated with her since.
Appearances
Edit
For the battle information, see: Valefor (Final Fantasy X Boss)
Valefor's fayth, a teenage girl, is located within the temple of Besaid. She is Yuna's first obtained aeon. Being an aerial aeon, Valefor easily dodges many attacks from the ground. Valefor's regular attack is a quick, snatching motion, enhanced by her high Accuracy. An interesting passive ability Valefor possesses is that she is considered "Out of Range", meaning grounded foes with no damaging long-range attacks or magic cannot even make a move and are simply helpless against her. This can make such daunting enemies as Demonolith much easier to defeat.
Valefor has the unique ability Sonic Wings, which sends a shock wave at an enemy, inflicting damage and delay. Because of the short recovery time the player can often hit enemies repeatedly with Sonic Wings with little or no retaliation.
Valefor is the only aeon to have two Overdrives. The default Overdrive is Energy Ray: Valefor fires a super-charged beam that explodes underneath the foes and deals non-elemental damage. Her second Overdrive, Energy Blast, is obtained by speaking to a young girl in Besaid Village and inspecting her dog to receive "something mangled and slobbery". For Energy Blast, Valefor fires a number of destructive beams, damaging all enemies. Energy Blast deals more damage than Energy Ray, but has a longer recovery time. If Yuna has the upgraded Nirvana Celestial Weapon, Valefor will gain Break Damage Limit and her attacks will be able to inflict over 9,999 damage.
Belgemine summons Valefor in the Remiem Temple as a way to train Yuna. Isaaru summons his Valefor, which he calls Pterya, as one of Yuna's trials at the Via Purifico. Yuna summons Valefor Inside Sin after being possessed by Yu Yevon.
In the PAL and International versions Dark Valefor is an optional boss fought at the entrance to the village of Besaid after Yuna and the party escape from Bevelle.
There are symbols of the Yevon script that are associated with a particular aeon. The symbol for Valefor and Besaid is annotated with the kanji for nothing (無, mu?). Emptiness, mu, is a Zen Buddhist concept expressing negation of the self, selflessness, innocence and purity of soul. These are traits a summoner must achieve to succeed in defeating Sin. Buddhist concept of nothingness may also be associated with the element of air. Valefor is a flying aeon whose main attack is non-elemental and delays the opponent's turn, traits that also fit this theme.
Main article: Valefor (Final Fantasy X-2)
Valefor, along with the other Final Fantasy X aeons, is possessed by Shuyin's hatred and appears as a boss in the Besaid Temple during Chapter 3.
A recreation of Valefor makes an appearance at Nautilus's Pompa Sancta parade. In the play, the Cocoon l'Cie transforms into it to face Ragnarok.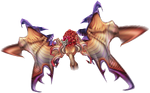 Valefor can be summoned by Yuna to fight in her stead. Her Bravery attacks are Energy Blast and Sonic Wing, and her HP Attack is Energy Ray.


Valefor is the sole aeon that Yuna can summon in Final Fantasy All the Bravest. It performs Energy Ray when summoned.
Valefor appear in the Trading Card Game representing the element of Wind. The image used for the card is presumably her concept art from Final Fantasy X.
Valefor appears in Guardian Cross.

Etymology
Edit
Main article: Valefor#Etymology
An action figure of the Final Fantasy X Valefor exists as part of the Final Fantasy Creatures Kai Vol 1 series.
Dark Valefor is also the only Dark Aeon who cannot break the Damage Limit with her normal attacks.
The airship Valfarre in Final Fantasy XII is based on the summon Valefor.
One of names available for monsters in Final Fantasy XIII-2 is Valefor.