Vaccine
Talk

0
13,960 pages on
this wiki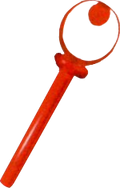 The Vaccine (ワクチン, Wakuchin?) is an item in the Final Fantasy series.
Appearances
Edit
Vaccine
Effect
Cures Virus
Location
Desert Palace, Daguerreo and beyond
Steal from
Abadon, Chimera, Hecteyes, Malboro, Mover (A), Ring Leader, Shell Dragon (B), Meltigemini
Won from
Abadon (B), Ash, Chimera, Hecteyes, Mover (A), Sand Golem, Meltigemini, Shell Dragon (A)
Cost
100 gil
In the International Zodiac Job System version, Vaccine has been replaced with the item called C9H8O4, which costs 700 gil. C9H8O4 is the chemical formula for Aspirin.