Series appearances
Edit
XIV Vaan appears as a legendary (5-stars) Triple Triad card.
Vaan Card

Card No.
79
Total

total stats of the card

27
Type
None
Description
Obtain
Win 300 Triple Triad roulette matches.
Vaan appears as the hero representing Final Fantasy XII. He is a fairly new addition to the cycles of war, and offers naive but heartfelt comments on the events putting him at odds with Lightning. Vaan finds Terra and is forced to fight her to defend himself when she attacks him. He later sees her being tortured by Kefka, and helps her escape when he realizes she isn't fighting for Chaos willingly, assuming a role similar to Terra's compatriot Locke in Final Fantasy VI.
Explaining he doesn't care about her allegiance and just wanted to help, Vaan asks Terra to hide until he can take her to Cosmos and have her turn Terra into one of her warriors, which she later becomes. Vaan accompanies the others to the Lands of Discord and sacrifices himself to seal the portal to The Void the manikins are emerging from.
Vaan's first alternate outfit is based on his Yoshitaka Amano art, giving him a dark gray and black version of his base outfit. His second alternate outfit is his Tactics A2 attire, a light blue shirt under his vest with different pants. As a bonus fourth outfit available for download, Vaan wears an original design by Final Fantasy XII character designer Akihiko Yoshida, dressing as a traditional sea pirate with a pirate hat and blue and white boots and a coat.
Vaan is indirectly mentioned in a Mognet letter sent by Sablé. It talks about Penelo, her work ethics as the "item shop girl from Rabanastre" and her personality when Sablé discovered she was kidnapped by a bangaa. The mail is a tease to Vaan because Sablé was comparing him to Penelo.
Watching You, Kupo
Vaan is a playable character for the Arcade system, as a representative of Final Fantasy XII. He is classed as a Unique-type character.

Vaan is set to appear as an obtainable character.
Cloud:

I couldn't finish 'em. Looks like this's gonna get complicated.

The following tables are incomplete and require the level 30, 40, 50, 60, and 70 Stats entries to be filled. If you wish, please examine the table and add anything missing. Remove this notice upon completion.
Vaan appears as a default playable character.
Vaan possesses the highest raw luck of all playable characters, which not only ensures reducing the chances of being damaged should a player perform badly in music stages, but also increases the chances of obtaining rare items afterwards. Putting Vaan in the party almost always guarantees a rare item is obtained, and as most of his abilities focus on increasing his luck, Vaan is best used in Dark Notes or more difficult music stages to obtain even better items.
His Limit, Pyroclasm, deals damage to boss-type enemies in direct proportion to Strength, Magic and Level.
Type: Treasure
Ability Slots: (2 Reactive, 1 Proactive, 1 Omni)
Stats
| Level | HP | CP | Strength | Magic | Agility | Luck |
| --- | --- | --- | --- | --- | --- | --- |
| 1 | 228 | 7 | 14 | 13 | 14 | 21 |
| 10 | 907 | 13 | 32 | 29 | 32 | 48 |
| 20 | 1,663 | 19 | 52 | 47 | 52 | 79 |
| 80 | 5,647 | 50 | 159 | 141 | 158 | 238 |
| 90 | 5,856 | 50 | 164 | 146 | 163 | 247 |
| 99 | 6,043 | 50 | 170 | 151 | 169 | 255 |
iOS Stats
Vaan returns as a default playable character. If the player did not select him among their party of four, he can later be unlocked by collecting Green Crystal Shards.
He is once again a Treasure-oriented character. His Limit, Pyroclasm, functions the same as before, dealing damage in proportion to his Strength, Magic and Level.
Stats
| Level | CP | HP | Strength | Magic | Agility | Luck | Stamina | Spirit |
| --- | --- | --- | --- | --- | --- | --- | --- | --- |
| 1 | 8 | 226 | 11 | 11 | 15 | 20 | 11 | 10 |
| 50 | 40 | 3899 | 91 | 90 | 119 | 161 | 90 | 78 |
| 99 | 50 | 5998 | 137 | 135 | 179 | 242 | 136 | 117 |
Abilities
PFF Vaan appears in Pictlogica Final Fantasy as a playable character.
Vaan is an ally and a summonable Legend depicted in his default Final Fantasy XII outfit. His ability is Inferno. He is introduced as an event ally in the event, "Final Fantasy Special Event Part 2 — Showdown", in which he was unlocked by clearing the Ridorana Cataract stage. Leveling him up to 99 in these events granted the player his individualized SSR weapon, Treaty-Blade. In battle, Vaan is armed with his sword and uses the ability Inferno.
Portraits
Ability Cards
Legend Cards
Artniks Vaan appears as obtainable cards.
Vaan is an exclusive character only available from the Premium Character Shop as a random downloadable content. He uses the White Whorl ability during battle.
Vaan appears as a playable character who could be recruited during the Challenge Event Kingdom Reborn, The Blood Royal as the First Time Reward for completing the event's Hall of the Sentinel stage on Classic difficulty. He has appeared in both Final Fantasy XII events since: Tempered Resolve and Consorting with Sky Pirates.
Assessment
Vaan is an Aspiring Sky Pirate whose combat role is Physical Speed.
Count on Vaan to deliver when a player party needs a high-speed attacker and has a lot of odd weapons; he can use most any blade to carve a path through oncoming foes. Vaan plays much like any other Speed fighter in that he lacks defensive numbers, but can use many Ability types that leverage his Speed to give the party the upper hand.
Stats
Level
HP
Attack
Defense
Magic
Resistance
Mind
Accuracy
Evasion
Speed
1
213
12
8
7
8
8
20
26
111
10
829
29
20
17
19
19
20
26
119
20
1,515
49
33
28
32
32
21
27
127
30
2,200
69
47
40
45
45
21
28
134
40
2,886
89
60
51
58
58
22
28
141
50
3,571
109
74
63
71
71
22
29
148
60
4,257
128
88
75
84
84
23
29
155
65
4,600
138
94
80
90
90
23
30
158
70
4,942
148
101
86
97
97
23
30
161
80
Rank

Max: 5

4
4
2
2
2
2
3
3
5
Abilities
Vaan can use Combat abilities up to rarity rank 4, Support abilities up to rarity rank 4, Celerity abilities up to rarity rank 5, and Thief abilities up to rarity rank 5.
His default Soul Break is Red Spiral which at the expense of one Soul Gauge segment deals physical damage to one target with 150% damage potency of a conventional attack. The dagger Zwill Crossblade (XII) allows Vaan to use White Whorl which at the expense of one Soul Gauge segment deals physical damage to all enemies with 320% damage potency of a conventional attack and inflicts Sap with 50% accuracy.
Equipment
Vaan can equip the following weapon types: daggers, swords, katanas, axes, hammers, and spears. The dagger Zwill Crossblade (XII) allows Vaan to use White Whorl.
He can equip the following armor types: shields, hats, helms, light armor, armor, and bracers.
He can equip accessories.
FFBE Vaan appears in Final Fantasy Brave Exvius as an obtainable vision. Vaan can be summoned in the Rare Summons.
No. 146: "A young man who appears in tales of Ivalice, a world foreign to this one. He lost his elder brother in the war with the Archadian Empire and was left alone in the world. He lives in the slums of the Royal City of Rabanastre, the capital of Dalmasca, and makes ends meet by doing odd jobs for a shopkeeper named Migelo—and by stealing from the Archadians who occupy the city. Though he hates the empire, which took both his brother and his homeland from him, it is not enough to inspire him to any greater action. He drifts through his days with only vague dreams of becoming a sky pirate to keep him moving."
No. 147: "A young man who appears in tales of Ivalice, a world foreign to this one. He lost his elder brother, his only family left in the world, during the war with the Archadian Empire. The desire for vengeance within him remains nebulous, channeled into nothing more than petty thieving. He decides to sneak into the Archadian-occupied palace to "take back" some of the Dalmascan wealth that the Archadian forces have seized. This is how he meets Ashe, the crown princess of his fallen country, and the sky pirate Balthier. This is how his journey with them begins."
No. 148: "A young man who appears in tales of Ivalice, a world foreign to this one. After meeting the princess of his fallen homeland, he began a journey to Dalmasca of its occupiers. It took a long time for him to accept the death of his brother, who was painted as a traitor after dying in service to their homeland. But by coming to know Basche, a knight also entangled in the plots surrounding his brother, and making a connection with Ashe, who has similarly lost so many she loved, he finally learns to move onward to the future. "
—Entries for different versions of Vaan.
Gameplay
Edit
Vaan's job is listed as Warrior, while his role is Support. He can equip all Melee weapons aside from Whips. He can equips light shields, helms, clothes, light armors, heavy armors,and accessories. His Trust Master Reward is Maximillian.
Vaan's basic attack is him slashing his foes twice in a row. His attack only has 2 hit(s) and deals damage approximately after 0.5 second with 0.5 second interval on the second hit. He first strike is a downward slice followed by a sideways slice.
Abilities
Edit
Vaan, together with Locke(Final Fantasy VI) and Zidane(Final Fantasy IX), are the only units that knows Steal by default. Stealing can be handy in order to obtain more materials.
Traits
Ability
Rarity
Level
Steal
3★
1
Aero
3★
17
ATK+20%*

Passive

3★
24
Bird Killer*

Passive

4★
11
DEF+20%*

Passive

4★
38
Armor Break
4★
43
HP+20%*

Passive

5★
46
Aerora
5★
47
Focus
5★
61
Full Break
5★
80
Limit Bursts
Edit
When performing White Whorl, Vaan approaches his foes then does an 'uppercut' to conjure a violent white tornado to devastate all enemies. This deal damage approximately after 2 seconds.
Rarity
Name
Effect
3★
Red Spiral
Base: Physical damage (2.1x) to all enemies.
Max: Physical damage (2.55x) to all enemies.
4★
White Whorl
Base: Physical damage (2.3x) to all enemies.
Max: Physical damage (3x) to all enemies.
5★
Pyroclasm
Base: Physical damage (2.5x) to all enemies.
Max: Physical damage (3.45x) to all enemies.
While casting a spell, Vaan focuses a yellow-green energy in his free hand. When readying a special ability, Vaan's feet simply bent to the side. Vaan's victory pose is him throw-thrusting his sword into the(which become stuck diagonally), then he rest one foot on the handle- with one hand on the latter's knee(similar to one of his victory poses when wielding a Sword).
TCG Vaan appears in the Final Fantasy Trading Card Game with numerous cards. Most of his cards are wind-elemental, but his Dissidia 012 Final Fantasy pirate costume card is of the water element.
Vaan appears as an opponent and on Triple Triad cards in the version available via the Final Fantasy Portal App. He holds the Final Fantasy Tactics cards in addition to Final Fantasy XII's. On Easy he uses the rule Plus. On Normal he uses Chaos and Plus. On Hard he uses Same, Plus and Swap, and the rare five star cards of himself can be won from him, among other cards. He uses the trading rule One.
Guest appearances
Edit
Itadaki Street Edit
Puzzle & Dragons Edit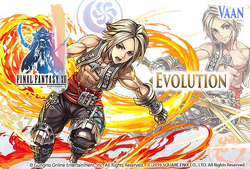 Vaan appeared in Puzzle & Dragons in a Final Fantasy collaboration event starting on March 21, 2016.
Monster Strike Edit
Vaan appears as part of the Final Fantasy collaboration.
Other media
Edit
Merchandise
Edit