VOICES - Music from Final Fantasy was a concert held on February 18th, 2006, at the Pacifico Yokohoma Conference and Convention Center in Japan. It featured vocal arrangements from the Final Fantasy series, including an a capella doo wop medley, orchestral versions of the series' ballads, and a symphonic metal finale performed by the Black Mages.
The guest performers included Emiko Shiratori in "Melodies of Life", Rikki in "Suteki da ne", Izumi Masuda, in the medley "Memoro de la Ŝtono ~ Distant Worlds", Angela Aki in "Eyes on Me" and "Kiss Me Good-Bye", and The Black Mages in "Advent: One-Winged Angel".
On June 21, 2006 the concert was released on DVD, featuring interviews from Nobuo Uematsu , Arnie Roth and the guests musicians.
Set Listings
Edit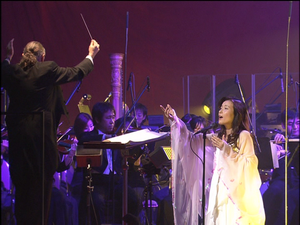 "Prelude"
"Fisherman's Horizon" (Final Fantasy VIII)
"Suteki da ne" (Final Fantasy X)
"Final Fantasy Doo Wop Medley" (Final Fantasy I - V)
"Prima Vista Orchestra" (Final Fantasy IX)
"Eyes on Me" (Final Fantasy VIII)
"Swing de Chocobo" (Final Fantasy X)
"Advent: One-Winged Angel" (Final Fantasy VII: Advent Children)
"Encore ~ Advent: One Winged Angel Second Time"
"Encore ~ FINAL FANTASY"
Personnel
Edit
Production
Edit
Arrangement
Edit
Performance
Edit
External links
Edit
Ad blocker interference detected!
Wikia is a free-to-use site that makes money from advertising. We have a modified experience for viewers using ad blockers

Wikia is not accessible if you've made further modifications. Remove the custom ad blocker rule(s) and the page will load as expected.