The Final Fantasy/Final Fantasy XIII-3
Talk

29
16,064 pages on
this wiki
"A new world. A new Lightning. A new FINAL FANTASY XIII."
—Tagline
Final Fantasy XIII-3 is the direct sequel to Lightning Returns: Final Fantasy XIII and a part of the Fabula Nova Crystallis: Final Fantasy series. It was developed by The Final Fantasy with assistance from Kaimi and Crystal Tear. The game takes place thirteen years after the events of its predecessor conclude.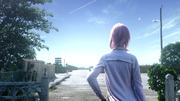 Final Fantasy XIII-3 takes place in the New World, which was first seen in the epilogue of Lightning Returns: Final Fantasy XIII.

Characters
Edit
Playable Characters
Edit
Major Characters
Edit
Other Characters
Edit
Downloadable Content and Extras
Edit
Development
Edit
The Final Fantasy first considered developing a concept for Final Fantasy XIII-3 when Square Enix registered the domain name for it on September 7, 2011. The company claimed this action was not indicative of a new title, however, thus The Final Fantasy, greatly inspired by all aspects of the Final Fantasy XIII games, decided to try developing Final Fantasy XIII-3 for himself. Work on The Final Fantasy's Final Fantasy XIII-3 project officially began on December 16, 2011, after The Final Fantasy saw an entire Japanese playthrough of the recently-released Final Fantasy XIII-2 and witnessed the game's shocking cliffhanger ending.
Because Lightning Returns: Final Fantasy XIII featured an open-ended epilogue and the fate of Bhunivelze, the game's antagonist, was left ambiguous, The Final Fantasy at last saw a chance to develop a game concept for the Lightning Saga; he knew that because Lightning Returns: Final Fantasy XIII was the last official game in the series in Square Enix's eyes, the development of his project would no longer be endangered by other material. Surprisingly quickly, ideas for the new Final Fantasy XIII-3 started flowing into The Final Fantasy's mind; he has said that "even though Lightning Returns is technically the third game in the Lightning Saga, it can now be viewed as the bridge that connects Final Fantasy XIII-2 to its true sequel." The Final Fantasy has stated that developing a Final Fantasy XIII game that takes place in a real-world setting is "quite intriguing, although it's difficult not to copy Final Fantasy XV; he claimed that "the real world serves as a nice contrast for and fits in nicely with the fantasy and futuristic settings seen in previous installments."
In terms of the plot of Final Fantasy XIII-3, The Final Fantasy has revealed that a novella is to be written that bridges the gap between Lightning Returns: Final Fantasy XIII and its sequel. The plot revolves around Bhunivelze's imminent return and the protagonists' search for the god's mother, Mwynn, in order to preserve humanity's autonomy in the new world. The game's story is going to be on the same scale as that of Final Fantasy XIII in terms of both length and quality. Regarding Final Fantasy XIII: Reminiscence -tracer of memories-, the novella released by Square Enix that leads into the epilogue of Lightning Returns: Final Fantasy XIII, The Final Fantasy has stated that "Final Fantasy XIII-3 explains why hardly any of the material in that novella is included."
Very little has been revealed about gameplay in Final Fantasy XIII-3 as of yet aside from two things: it is to be very similar, at least visually, to the early gameplay seen in the E3 2006 trailer for Final Fantasy XIII, and eight characters are to be playable - Claire Farron (Lightning), Serah Farron, Snow Villiers, Sazh Katzroy, Hope Estheim, Oerba Dia Vanille, Oerba Yun Fang, and Noel Kreiss.
Art Direction
Edit
Production Credits
Edit
Voice Cast
Edit NOTE: The contents of this page and all related pages are UNOFFICIAL material created by The Final Fantasy. The Final Fantasy is in no way affiliated with Square Enix. Final Fantasy XIII, Final Fantasy XIII-2, Lightning Returns: Final Fantasy XIII, and all related locations, characters, story elements, and gameplay elements belong to Square Enix!