The Final Fantasy/Final Fantasy XIII-3
Talk

28
15,604 pages on
this wiki
"A new world. A new Lightning. A new FINAL FANTASY XIII."
—Tagline
Final Fantasy XIII-3 is the direct sequel to Lightning Returns: Final Fantasy XIII and a part of the Fabula Nova Crystallis: Final Fantasy series. It was developed by The Final Fantasy with assistance from Kaimi and Crystal Tear. The game takes place directly after the events of its predecessor conclude.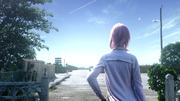 Final Fantasy XIII-3 takes place in the New World, which was first seen in the epilogue of Lightning Returns: Final Fantasy XIII.

Characters
Edit
Playable Characters
Edit
Major Characters
Edit
Other Characters
Edit
Downloadable Content and Extras
Edit
Development
Edit
The Final Fantasy first considered developing a concept for Final Fantasy XIII-3 when Square Enix registered the domain name for it on September 7, 2011. The company claimed this action was not indicative of a new title, however, thus The Final Fantasy, greatly inspired by all aspects of the Final Fantasy XIII games, decided to try developing Final Fantasy XIII-3 for himself. Work on The Final Fantasy's Final Fantasy XIII-3 project officially began on December 16, 2011, after The Final Fantasy saw an entire Japanese playthrough of the recently-released Final Fantasy XIII-2 and witnessed the game's shocking cliffhanger ending.
Art Direction
Edit
Production Credits
Edit
Voice Cast
Edit NOTE: The contents of this page and all related pages are UNOFFICIAL material created by The Final Fantasy. The Final Fantasy is in no way affiliated with Square Enix. Final Fantasy XIII, Final Fantasy XIII-2, Lightning Returns: Final Fantasy XIII, and all related locations, characters, story elements, and gameplay elements belong to Square Enix!