"This is the way the World ends
Not with a bang but a whimper"
—T. S. Eliot, The Hollow Men
Faethin is an Administrator of the Wiki. Any user can ask any kind of rational or ethical help and he will gladly do whatever he can. He is the de facto keeper of the music pages throughout the Wiki and also a big fan of Etymology sections.
About myself
"Maga, el molde hueco era yo."
—Horacio Oliveira, Rayuela
Follow me on twitter.
Hey there. Since I really hate writing about myself, let me drop one or two lines about the subject and then forsake it. I'm not a native English-speaker. I'm majoring in Chemistry, I like to call myself from time to time Trepe Groupie #4, I like languages and linguistics, my favorite job/class is the Dragoon/Lancer, I'm 1.81m tall, I know by heart the lyrics of One-winged Angel and Liberi Fatali, I love Mozart, my initiation FF was FFVI, I like coffee, I think FFVII is slightly (okay, WAY) overrated, I play the Marimba and I'm currently trying to learn to play the keyboard.
FACT: Each time Kain Highwind sneezes, a Lunar Cry occurs.
I love language and art, and my favorite art is Music. I like to call myself the resident spoony bard of the Wiki. Any kind of questions regarding language or music is always welcome.
"Useful" information
"Scientia Potentia est"
—Sir Francis Bacon, Meditationes Sacrae
| | |
| --- | --- |
| esol | This user is NOT a native speaker of English, using English as a Second Language. |

| | |
| --- | --- |
| biling | This user is bilingual and can speak 2 or more languages fluently. |

| | |
| --- | --- |
| | This user is a Trepie through and through. |

| | |
| --- | --- |
| | This user is a fan of Terra. |

| | |
| --- | --- |
| 35px | This user hails from the Land of Spring Eternal. |

| | |
| --- | --- |
| Ñ | Este usuario es de habla hispana. |

| | |
| --- | --- |
| Sovegna vos | This user adores the works of T.S. Eliot - shantih shantih shantih |

| | |
| --- | --- |
| | This user is a Knight of the Lunar Lute |




| | |
| --- | --- |
| | This user loves music. |

| | |
| --- | --- |
| | This user loves literature. |

| | |
| --- | --- |
| 1984 | This prole is a doubleplusgood orthodoxy Newspeaker. |
Shameless Plug
"Dude, she's eighteen and SHE WHIPS PEOPLE!"
—The Spoony One, The Spoony Experiment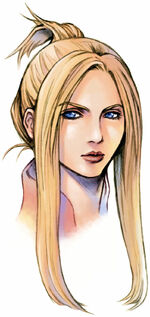 I'm a writer, and also a fanfic writer (yes, I believe there is a distinction, but I won't bother writing it down here). How can I miss to make a little publicity to the dearest piece of fanon I've ever written for the FF Universe? This is a link to my latest fic, titled A Fated Child. Guess who's the main character?
That's right, none other than the Whip-wielding Lady in Pink, child prodigy and blue mage extraordinaire Quistis Trepe. I've put a lot of effort in it and I hope to get some favorable (or at least constructive) comments from the community. If you wish to know, it's about certain episodes in the life of Instructor #14 after the whole Saving-the-World adventure of FFVIII. It's not action-packed but rather a drama, with a little planned romance and some thoughts I myself have been pondering for a while about many things. It would mean very much to me if you took a look at it! I've finally updated it just a few days ago!
Also, I started a FFIV placed fic a while ago, Letters to Marie, the diary of a young Black Mage, filled with her thoughts, her sorrows and joys and the story of her friends and their fate. Since I am a lazy, uncreative twit, I can only say I promise to continue it someday.
Il Giuramento del Sogno
This is an Italian fan translation of the lyrics of The Dream Oath: Maria and Draco. Yeah, I had nothing better to do on that particular day.
Album Reviews
A Blog about rants, reviews and pure awesomeness maintained by the stupendously sarcastic witty Hecko X! Features a little contribution by me.
You better believe them, or else.
FF Opinions
"Más allá de los cincuenta años empezamos a morirnos poco a poco en otras muertes."
—Julio Cortázar, Un tal Lucas
xkcd
Let's see if your little cuttlefishies are immune to our Nitric Acid Super-duper-double-dog-ultraguns!

BRING IT ON.
The Final Fantasy Wiki Tapestry
---