Unsent
Talk

0
14,803 pages on
this wiki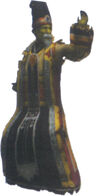 "Enlightened rule by the dead is preferable to the misguided failures of the living."
—Maester Kinoc, justifying the fact that Unsent are allowed to rule the Yevon church.
Unsent (死人/死者, Shito/Shisha?) is a state of being in Final Fantasy X and Final Fantasy X-2, as well as the common name for those in that state. When a person dies, the spirit of the person goes to the Farplane, either by willingly departing on its own having accepted death, or with the help of a summoner performing a ritual called the sending. If a person's spirit does not enter the Farplane on its own, and is not sent, it will simply remain as that, an "unsent", where the person's pyreflies reconstruct their body, usually in their old image. The unsent can still send their own souls no matter how long they lingered; at this instance, their bodies will simply disperse into pyreflies.
Unsent are typically overcome by malice and often begin to resent the living, eventually becoming fiends. Some unsent are able to exist on Spira retaining a corporeal state and a rational mind. Some unsent are, at times, able to adopt the shape of a fiend at will.
Different unsents' bodies take different forms. Some unsent spirits remain identical to how they were in life, but some go through changes, and may appear to age even when they are technically frozen in time. Shuyin is a different type of unsent, where his pyreflies do not form a physical body for him, instead, the pyreflies are only "imprinted" with his hatred and act on their own.
The concept of the unsent in Final Fantasy X is similar to the Japanese folklore of the yūrei, which may have inspired their design. According to traditional Japanese beliefs all humans have a soul and upon a person's death the soul leaves the body and enters a form of purgatory, where it waits for the funeral and post-funeral rites to be performed so that it may join its ancestors.
However, if the person dies in a sudden or violent manner, such as murder or suicide, if the proper rites have not been performed, or if they are influenced by powerful emotions such as a desire for revenge, love, jealousy, hatred or sorrow, the soul transforms into a yūrei, which can bridge the gap back to the physical world.
The yūrei exists on Earth until it can be laid to rest, either by performing the missing rituals, or resolving the emotional conflict that still ties it to the physical plane. If the rituals are not completed or the conflict left unresolved, the yūrei will persist in its haunting. Yūrei are frequently depicted as being accompanied by a pair of floating flames or will o' the wisps that are separate parts of the ghost rather than independent spirits. This is similar to how the unsent in Final Fantasy X are related to pyreflies.
Known Unsent
Edit