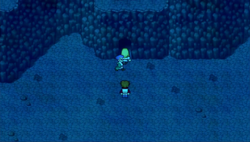 Underwater Cave (海底洞窟, Kaitei Dōkutsu?) is a location in Final Fantasy Dimensions. It can be access from Castle Burtgang.
Sol
,
Aigis
and
Dusk
heads towards
Burtgang
to find
Sarah
on
Dr. Lugae
's battleship and they are attacked by an imperial airship. The airship is very fast so they cannot escape it on the battleship. Aigis then suggests using the Bottle of Bubbly Water to be able to breath underwater.
Dr. Lugae refuses to use it as he wants to be with
Argy
and urges the warriors to jump off the ship. He and his ship sinks together while the others made it to an Underwater Cave. By traveling through this area, they finally get to
Castle Burtgang
.
There is a pot that can fully restore HP and MP.
Ad blocker interference detected!
Wikia is a free-to-use site that makes money from advertising. We have a modified experience for viewers using ad blockers

Wikia is not accessible if you've made further modifications. Remove the custom ad blocker rule(s) and the page will load as expected.