Ad blocker interference detected!
Wikia is a free-to-use site that makes money from advertising. We have a modified experience for viewers using ad blockers

Wikia is not accessible if you've made further modifications. Remove the custom ad blocker rule(s) and the page will load as expected.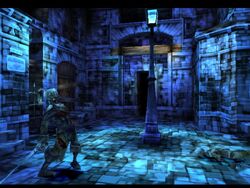 The Undercity is a series of dungeons below Leá Monde in Vagrant Story. It is a dark frightening place filled with blue lights. Monsters lurk in the shadows cast by the lamposts. The Undercity is divided between two locations, neither of which touch in any way. The Undercity West is a vast spread located between the Town Center West, Town Center East, City Walls East, and Snowfly Forest. The Undercity East is a smaller area located between the City Center East and City Walls North.
Storyline
Edit
Riskbreaker Ashley Riot wanders into the Undercity while investigating the battle between the Order of the Crimson Blades and the Müllenkamp cult. While down here, he runs into two Crimson Blade captains, Lady Neesa and Sir Tieger, furious at the body of their slain ally, Father Grissom. Ashley is perplexed by the body appearing here, as Grissom was killed in sunlight of the Snowfly Forest, far away from these dark depths. Though they both attack him at once, Agent Riot is able to defeat them both. Tieger and Neesa retreat, only to be stunned by Grissom standing on his feet, brought back to life through the power of the Dark. Grissom, driven mad by the voices in his undead mind, charges at his fellow Blades. While his enemies fight amongst themselves, Ashley continues on his quest.
Undercity West
Edit
Way of the Mother Lode
Edit
Sewer of Ravenous Rats
Edit
Underdark Fishmarket
Edit
Hall of Poverty
Edit
Remembering Days of Yore
Edit
Fear of the Fall
Edit
Sinner's Corner
Edit
The Children's Hideout
Edit
Nameless Dark Oblivion
Edit
The Crumbling Market
Edit
Crossroads of Rest
Edit
Corner of the Wretched
Edit
Beggar's of the Moutharp
Edit
Salvation For The Mother
Edit
The Body Fragile Yields
Edit
Bite The Master's Wounds
Edit
Undercity East
Edit
Hall to a New World
Edit
Place of Free Words
Edit
Bazaar Of The Bizarre
Edit
Weapons Not Allowed
Edit
A Knight Sells His Sword
Edit
Gemsword Blackmarket
Edit
The Pirate's Son
Edit
Sale of the Sword
Edit
Where Black Waters Run
Edit
Normal visits:
After running into Neesa and Tieger at The Greengrocer's Stair (one time only):
Catspaw Blackmarket
Edit
Treasure
Edit
Undercity West
Edit
The Sunless Way
Edit
Magic Circle
Sinner's Corner
Edit
Magic Circle
The Children's Hideout
Edit
Chest:
-Shamshir
-Knuckle Guard Grip
Footman's Mace
Steel Bolt Grip
Spiked Shield
-White Queen Gem
Sallet
Undine Bracelet
Speedster Gem
Grimoire Dissiper
The Crumbling Market
Edit
Magic Circle
Chest:
Agales' Chain
Elixir of Queens
Valens Wine
Gold Key
Godhands
Edit
Workshop
Magic Circle
Undercity East
Edit
Place of Free Words
Edit
Boss Prize:
Grimoire Intensite
Angelic Paean (X5)
Cure Tonic
Bazaar Of The Bizarre
Edit
Boss Prize:
Summoner Baton
Agales' Chain
Eulelia Sigil
Mana Tonic
Elixir Of Mages
Teleport (Spell)
Weapons Not Allowed
Edit
Chest:
-Falchion
-Stone Bullet Grip
Titan's Ring
Grimoire Nuageux
Iron Key
Sale of the Sword
Edit
Chest:
Ahlspies Grip
Pushpaka
Grimoire Tardif
Stock Sigil
Catspaw Blackmarket
Edit
Chest:
-Dark Queen
Grimoire Paralysis
Aster Sigil