Ultros (Final Fantasy VI)
18,470 pages on
this wiki
Talk

0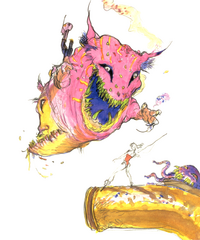 I've got more lives than I do arms!
—Ultros
See also: Ultros
Ultros (オルトロス, Orutorosu?) is a recurring boss and a minor character in Final Fantasy VI. An antagonistic, carnivorous purple octopus, Ultros is a nuisance for the party on multiple occasions, aiming to devour them every time he encounters them. Ultros serves mostly as a comic relief recurring boss, similar to Gilgamesh, and, like him, went on to appear in later games in the Final Fantasy series. Unlike most mistranslations (and unlike Typhon, originally called "Chupon"), Ultros keeps the original translator Ted Woolsey's name in re-translations.
Appearance
Edit
Ultros's field and enemy sprites depict him as a purple octopus with a mass of tentacles and large, bulging red eyes. His teeth form a row of sharp fangs, and his mouth looks smug, almost like a smirk. This is fitting given his personality. Ultros is large for an octopus, being about as tall as an average person. Although he is an octopus, he has no trouble moving on land.
Personality
Edit
Ultros is mischievous and a nuisance to the party. He has no other reason for antagonizing the party than what is seemingly his own fun, as well as his desire to satiate his appetite. He thinks highly of himself and has an affinity towards women, disliking the "muscle head" male characters. In battle, Ultros mocks the party and speaks in an over-the-top fashion; when attacked, he protests in response. Ultros is cowardly and prone to fleeing, but very persistent.
Main article: Ultros (Final Fantasy VI boss)
Ultros is a recurring boss who fights the party many times: at the Lethe River, at the Opera House, in the Esper Caves, and finally on the airship. Ultros is not typically a difficult boss, and is normally weak to Fire. His recurring attacks are Tentacle (which deals heavy physical damage) and Octopus Ink (which inflicts Blind).
In World of Balance there is a painting of Ultros in Owzer's Mansion, but it is later replaced by a painting of Emperor Gestahl in the World of Ruin.
Despite his appetite toward the party, Ultros is not programmed to eat any party members during the four boss encounters with him.