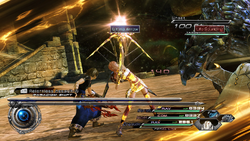 Ultima Arrow (アルテミスアロー, Arutemisu Arō?, lit. Artemis Arrow) is a recurring ability in the series. It is a Limit Break-like ability exclusive to Serah Farron.
Appearances
Edit
Ultima Arrow
Ultima Arrow
is Serah's Full ATB Skill, and part of her Ravager Crystarium tree. It is obtained as a Crystarium Expansion ability later on in the game. It manifests as Serah firing an arrow into the air and it exploding into light as it returns to earth, consuming the area directly in front of its shooter.
Ultima Arrow is best used just after the opponent has been staggered. As soon as Serah starts to execute the attack, the player should switch to a paradigm in which Serah is a Commando, such as Aggression or Cerberus. This can yield a mass amount of physical damage to the target, as well as greatly raising the Chain gauge.

TS Ultima Arrow is Serah's Special Ability.
FFAB Ultima Arrow is an AGI-type ability with 1260 Attack and Defense, None element, and Normal growth rate.
Ultima Arrow is the Super Soul Break assigned to Serah. Granted by the bow Starseeker (XIII), Serah shoots her arrow into the sky and induces a shower of non-elemental magic on all foes, hitting the battlefield five times. This move expends one segment of the Soul Gauge. When mastered, Serah's Magic will be augmented by 10 points.

Etymology
Edit
[view · edit · purge]Ultima is Latin, and in many of today's Latin-based languages, for "The Last", in its feminine sense. However in the Spanish versions of many Final Fantasy games the spell name is "Artema", a closer transliteration of the original Japanese katakana.
[view · edit · purge]Artemis is the Greek goddess of the moon who was often depicted as a huntress with a bow and arrows.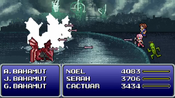 Ad blocker interference detected!
Wikia is a free-to-use site that makes money from advertising. We have a modified experience for viewers using ad blockers

Wikia is not accessible if you've made further modifications. Remove the custom ad blocker rule(s) and the page will load as expected.