UFO?
18,472 pages on
this wiki
Talk

3
UFO?
UFO? (

UFO?

?)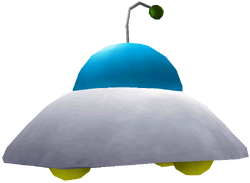 Statistics
Level
HP
Level
HP
1
121
100
12,100
STR
MAG
STR
MAG
3
2
73
13
VIT
SPR
VIT
SPR
2
2
56
56
SPD
EVA
SPD
EVA
26
0
45
5
EXP
AP
EXP
AP
0
0
0
0
UFO? is an enemy in Final Fantasy VIII. It appears on five occasions, though only on the last can the player battle against it.
How to find
Edit
Sighting of a UFO is first mentioned in Occult Fan IV, a magazine that centers on bizarre and mysterious events happening around the world. The magazine hints on the sidequest involving encounters of the third kind.
To encounter the UFO, the player must visit four locations. A fixed battle will ensue (even with No Encounters equipped) and the UFO will appear. Once it has appeared, it will not show up a second time in the same location. The locations can be visited in any order.
The locations are as follows:
After the fourth sighting, the player must fly the Ragnarok to Grandidi Forest in northern Esthar and land on the highlands above the Chocobo Sanctuary, and they will have a up-close encounter with the UFO.
The party can choose to attack it or draw Demi. After it has been damaged enough the UFO will fly away. The party will get an Aegis Amulet for the battle.
After the battle, the player can visit the Balamb Island where Balamb Garden used to be before it became mobile, to find PuPu, who will ask the party for Elixirs.
Related enemies
Edit