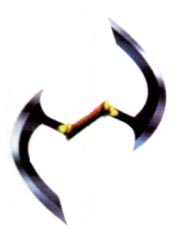 Twin Viper (ツインヴァイパー, Tsuin Vaipā?) is a recurring throwing weapon in the series.
Appearances
Edit
VII Twin Viper is a mid-ranked weapon for Yuffie, providing 36 Attack, 108 Atk%, 8 Magic, and 4 single Materia slots with Double growth. It can be bought for 3,200 gil at Junon after obtaining the Highwind, or found in a treasure chest in the Cargo Ship. Like all of Yuffie's weapons, it is long ranged and has the Shoot element.
Ad blocker interference detected!
Wikia is a free-to-use site that makes money from advertising. We have a modified experience for viewers using ad blockers

Wikia is not accessible if you've made further modifications. Remove the custom ad blocker rule(s) and the page will load as expected.