Twin Moons (Final Fantasy IX)
Talk

0
13,959 pages on
this wiki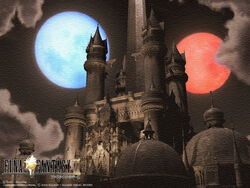 Twin Moons are the two moons orbiting around the planet of Gaia in Final Fantasy IX. One of the moons, the original Gaian moon, is blue, while the other, originating from Terra, is red.
Failed Fusion
Edit
5000 years prior to the game's start, the planet of Terra attempted to assimilate Gaia in order to save its weakening crystal. The Fusion was a failure and the planets only partially merged with Terra ending up shifting inside the planet of Gaia.
As a result of the failed Fusion, Terra's red moon moved on Gaia's orbit, giving the planet two moons. Each moon radiates the color of its planet's crystal, and as Gaia's crystal radiates blue light, and Terra's crystal radiates red light, the moons acquire their colors.
The Lunar Month
Edit
Explained in the Final Fantasy IX Ultimania[1], as the two moons go around in orbit, every sixteen days their positions switch, and the moons appear to overlap, in a phenomenon similar to a solar eclipse. Only the Gaian moon's radiance is strong enough to be seen when it is directly behind Terra's moon. Because Terra's crystal is weak, the red moon doesn't glow as brightly as the blue one, and when Gaia's moon covers Terra's, the red moon is left in shadow.

Card 096
Location: Luscious Ellie at Treno/Card Stadium (disc 3), Genome at Black Mage Village/Entrance (disc 4), Strong Phantom at Memoria/Lost Memory, Rare Phantom at Memoria/Time Warp
References
Edit