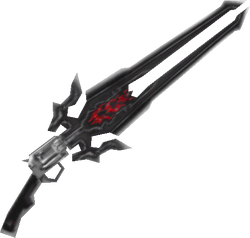 The Twin Lance is a gunblade forged with two blades. The two blades work synergistically to inflict severe damage.
Twin Lance (ランスオブスリット, Ransu obu Suritto?, lit. Lance of Slit) is a recurring gunblade in the series. It is a weapon associated with Squall Leonhart.
Appearances
Edit
VIII Twin Lance is an upgrade for Squall's gunblade, and can be modeled using a Dino Bone, Red Fang x2, and Screw x12, as well as 800 gil. It allows the Limit Breaks Rough Divide, Fated Circle, and Blasting Zone.
Dissidia Twin Lance is a level 50 exclusive weapon for Squall, and provides +36 Attack as well as EX Core Absorption +15%. It can be obtained by trading 15,460 gil, a Revolver, Spirit Stone x3, and Bless Shard x2.
Dissidia012 Twin Lance returns as a level 30 exclusive weapon for Squall and provides +40 Attack and +15% EX Core Absorption. It can be obtained by trading 61,000 gil, Revolver, Scarletite, and Lion's Desire x5.

This article or section is a stub about equipment in Final Fantasy Airborne Brigade. You can help the Final Fantasy Wiki by expanding it.
FFRK Twin Lance is 5-star sword with a Burst Soul Break for Squall, Lion's Roar. It provides a Record Synergy bonus in FF VIII Dungeons.