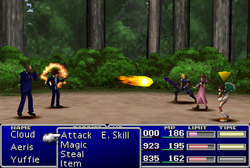 Turk Light (タークス光線, Tākusu Kōsen?, lit. Turks Beam) is a recurring enemy ability in the series. It is an ability used exclusively by Reno. An upgraded version known as Neo Turk Light exists.
Appearances
Edit
VII Turk Light is an enemy ability used by Turks:Reno during the battles at Gongaga and the Raid on Midgar. It inflicts non-elemental magic damage to one target.
FFRK Turk Light is an enemy ability used by Turks: Reno during the 2nd battle. It inflicts major non-elemental physical damage to one target.
As a playable character, Reno can obtain the Turk Light Soul Break through the Telescopic Baton weapon. Turk Light deals lightning damage to all enemies, and also Paralyzes them.
Ad blocker interference detected!
Wikia is a free-to-use site that makes money from advertising. We have a modified experience for viewers using ad blockers

Wikia is not accessible if you've made further modifications. Remove the custom ad blocker rule(s) and the page will load as expected.