Tsukinowa
19,927 pages on
this wiki
Talk

0
Cloud:

I couldn't finish 'em. Looks like this's gonna get complicated.

The following tables are incomplete and require the TAY stat areas to be filled. If you wish, please examine the table and add anything missing. Remove this notice upon completion.
Tsukinowa is one of the Eblan Four in Final Fantasy IV: The After Years, and is known as Tsukinowa of Wind. He is a ninja boy whose skill would put an adult to shame, being as quick-witted and agile as the wind, just as his alias implies. He is passionate for the town of Mysidia and its citizens due to the time he spent there under Edge's orders.
Appearance
Edit
Tsukinowa is short, with blue eyes and long purple hair pulled back into a ponytail. He wears a thin headband with a red stone in the centre, blue earrings and a green beaded necklace. His outfit consists of a light green poncho that covers the lower portion of his face, dark green trousers and black shoes.
Personality
Edit
Tsukinowa is the most outspoken of the Eblan Four, occasionally questioning Edge's action, but like the rest of them is loyal to Edge and Eblan and wants to uphold their ninjutsu traditions. Having spent an unspecified amount of time undercover at Mysidia, he has grown attached to Porom and worries about her during his mission when he resolves to return to Eblan and Edge.
When Eblan receives word of Baron stealing Crystals from the other nations, the Eblan Four become eager to assist Edge, and are sent on missions to gather information. Tsukinowa, under the alias of "Lapin", travels to Mysidia as a young student of magic. After a classmate turns him into a toad, Tsukinowa sneaks into the Tower of Prayers and eavesdrops on a conversation between Porom and a group of mages. Porom heads to Mount Ordeals with a Black and White Mage, unaware that Tsukinowa is following her.
Tsukinowa cares for Porom during the mission, and sympathizes with her worry for Palom. After the mission is completed, he returns to Eblan by walking across the sea. He reunites with Edge and the other Eblan Four within the Tower of Babil. After being forced to escape from the Mysterious Girl and Ifrit, they fall into the Underworld and land on the Falcon.
In the Gathering Tale, Tsukinowa watches over Porom and the other incapacitated characters below the Falcon's deck. During the ending, he is seen again as a toad in Mysidia. He quietly cheers for Porom when she and her brother are promoted to the elders of Mysidia. Back in Eblan, Tsukinowa and the other ninjas renew their vows of loyalty to Edge, and await their next mission.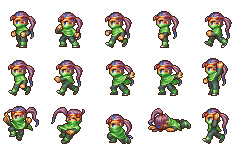 Tsukinowa is the fastest character in the game, with a Speed stat of 65 at Level 99. His other stats are generally below average to poor, with his HP growth being not much better than the mage-type characters', while his Strength is lower than that of other physical fighters'. Tsukinowa is best when placed in the back row, as he has low defenses and can take advantage of boomerangs for their long-ranged properties.
| Level | HP | MP | Strength | Speed | Stamina | Intelligence | Spirit |
| --- | --- | --- | --- | --- | --- | --- | --- |
| 5 | 200 | 20 | 4 | 16 | 3 | 2 | 2 |
| 20 | 585 | 75 | 12 | 26 | 11 | 9 | 8 |
| 30 | 1024 | 111 | 19 | 33 | 17 | 13 | 11 |
| 40 | 1660 | 141 | 25 | 40 | 23 | 18 | 15 |
| 50 | 2309 | 177 | 32 | 45 | 28 | 23 | 17 |
| 60 | 2964 | 210 | 40 | 53 | 32 | 27 | 20 |
| 70 | 3633 | 245 | 47 | 58 | 38 | 30 | 22 |
| 80 | | | | | | | |
| 90 | | | | | | | |
| 99 | 4448 | 322 | 53 | 65 | 43 | 33 | 27 |
Abilities
Edit
Like Edge, Tsukinowa can dual-wield, and is the only one of the Eblan Four that can do so. He focuses on Wind-elemental Ninjutsu techniques and has the Steal ability. Tsukinowa can perform Band abilities with the other Eblan ninjas, as well as with Palom and Porom due to his time undercover in Mysidia.
| Spell | Level Learned |
| --- | --- |
| Gale | Known |
| Mirage | Known |
| Heal Pill | 10 |
| Restore Weed | 21 |
| Smoke | 33 |
| Tremor | 42 |
Band Abilities
Ability
Members
MP
Effect
Wild Moon

Tsukinowa (Attack)
Edge (Attack)

12
Attack all enemies with a pincer attack.
Gale Rush

Tsukinowa (Ninjutsu)
Zangetsu (Ninjutsu)

12
Cast Haste on all party members.
Healing Wind

Tsukinowa (Ninjutsu)
Porom (White Magic)

40
Restore all allies' HP.
Rapid Fire

Tsukinowa (Attack)
Ceodore (Attack)
Palom (Black Magic)

20
Rapidly attack a single enemy with fireballs.
Wheel of Elements

Tsukinowa (Ninjutsu)
Gekkou (Ninjutsu)
Izayoi (Ninjutsu)
Zangetsu (Ninjutsu)

15
Attack all enemies with fire, ice, lightning and wind.
Ultimate Art: Advent of the Phoenix

Edge (Mug)
Tsukinowa (Steal)
Gekkou (Shuriken)
Izayoi (Illusions)
Zangetsu (Human Kite)

20
Create a flaming phoenix to damage all enemies equivalent to lost HP of party.
Equipment
Edit
Tsukinowa can equip the same equipment as Edge, except for claws. He is the only one of the Eblan Four who can dual wield, and so can take full advantage of the ninja weaponry like Edge.
Weapons
Boomerangs
Daggers
Katanas

Boomerang
Metal Boomerang
Chakram
Wing Edge
Moonring Blade
Rising Sun

Knife
Dagger
Mythril Knife
Dancing Dagger
Mage Masher
Triton's Dagger

Kunai
Kodachi
Kogarasu
Crimson Cherry
Ashura
Boltslicer
Kotetsu
Kiku-ichimonji
Murasame
Masamune
Mutsunokami
Armor
Shields
Head
Body
Arms

Leather Cap
Headband
Feathered Cap
Green Beret
Steel Headplate
Black Cowl
Beret
Chakra Band
Goblin Mask
Officer's Hat
White Tiger Mask
Ribbon
Genji Helm
Red Cap
Adamant Helm
Glass Mask

Clothing
Bard's Tunic
Leather Clothing
Foot Ninja Gear
Bronze Breastplate
Shinobi Gear
Kenpo Gi
Silver Breastplate
Mist Wrap
Black Belt Gi
Professor's Robe
Exorcist's Gown
Power Sash
Fire Scarf
Genji Armor
Red Jacket
Brave Suit
Black Garb
Blue Armor
Adamant Armor

Cursed Ring
Ruby Ring
Iron Gloves
Iron Armlet
Power Armlet
Talisman
Hyper Wrist
Silver Armlet
Rune Armlet
Mythril Gloves
Diamond Armlet
Bone Wrist
Genji Gloves
Giant's Gloves
Protect Ring
Adamant Gloves
Crystal Ring
Flan Ring
Sprint Ring
Economical Ring
Reach Ring
Provoke Ring
Limit Ring
Single Star
Twin Stars
Rapid Ring
Rapid Ring v2
Gil Band
Gil Band v2
Level Band
Level Band v2
Rare Band
Rare Band v2
Treasure Hunter
Treasure Hunter v2
Tsukinowa is fought as a boss, along with the remaining Eblan Four, at the beginning of Edge's Tale, as part of a training session.
Other appearances
Edit
This article or section is a stub about a character in Pictlogica Final Fantasy. You can help the Final Fantasy Wiki by expanding it.

Tsukinowa appears on a card in the Final Fantasy Trading Card Game.

Etymology
Edit
Like the other Eblan Four, Tsukinowa's name is related to the moon. [view · edit · purge]Tsukinowa means "full moon" in Japanese. The alias that Tsukinowa uses when he is sent to spy in Mysidia is "Lapin". [view · edit · purge]Lapin is French for "rabbit". This refers to the legend of the Moon rabbit to tie into the moon-themed names of the Eblan Four. It may also refer to Tsukinowa being the youngest and swiftest of the four.