Ad blocker interference detected!
Wikia is a free-to-use site that makes money from advertising. We have a modified experience for viewers using ad blockers

Wikia is not accessible if you've made further modifications. Remove the custom ad blocker rule(s) and the page will load as expected.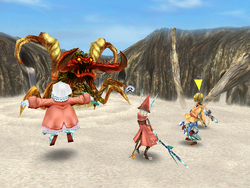 Trouble (迷惑, Meiwaku?, lit. Annoyance) is a negative status effect in Final Fantasy IX. When afflicted, a character will share half the subsequent damage they received with other party members when attacked physically. The only way to heal this status effect is by using the Annoyntment item. The Trouble status remains after battle and is not automatically healed like some other status ailments.
| Game Element | Type | Effect |
| --- | --- | --- |
| Annoy | Skill | Inflicts Trouble on an enemy. |
| Trouble Counter | Enemy Attack | Inflicts major non-elemental damage and Trouble. |
| Trouble Juice | Enemy Attack | Inflicts minor non-elemental damage and Trouble. |
| Trouble Knife | Enemy Attack | Inflicts moderate non-elemental damage and Trouble. |
| Trouble Mucus | Enemy Attack | Inflicts minor non-elemental damage and Trouble. |
| Trouble Tail | Enemy Attack | Inflicts moderate non-elemental damage and Trouble. |
| Exploda | Weapon | Has Trouble as an Add-Status. |
| Kaiser Knuckles | Weapon | Has Trouble as an Add-Status. |
| Octagon Rod | Weapon | Has Trouble as an Add-Status. |