Trophy Item
Talk

2
13,960 pages on
this wiki
Cid

: Oh, shut up and help me remodel the Trophy Item page!
Please expand this article into a full one. This can be done by Other appearances and whatnot. This request can be discussed on the associated

discussion page

.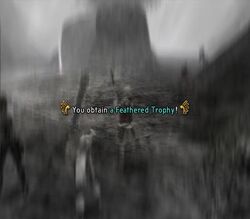 The following article is based on a subject that has not been officially named in any official Square Enix material; the current title is merely a placeholder.
Trophy Items are a recurring set of items in the series. They are generally items that are of little to no value in terms of gameplay to the character, as they generally never do anything on their own or used for anything, but are signs of the player overcoming some of the most difficult trials in the game, usually by defeating a Superboss. These set of items generally show up the most with the superboss Omega, in the form of the Omega Badge.
Appearances
Edit
The Metal Card is acquired in the Nintendo DS remake after defeating the Iron Giant.
The first instance of trophy items appear within this game. The Omega Badge is acquired after defeating the superboss Omega in the Interdimensional Rift, while the Dragon Seal is acquired after defeating the superboss Shinryu. In addition to these two items, an additional item, the Medal of Smiting, is acquired after successfully completing the Cloister of the Dead in the Gameboy Advance remake.
Only appearing in the Advance remake, the Master's Crown is obtained after successfully completing all 100 battles at the Soul Shrine.
"You are the finest fighter in the world!"
—Proof of Omega
While not being an actual item, the Proof of Omega is obtained after defeating the superboss Omega Weapon in Ultimecia's Castle, and will appear in the Tutorial section of the menu.
The Strategy Guide is obtained after defeating the superboss Ozma at the Chocobo's Air Garden.
The Mark of Conquest is obtained by beating Nemesis in the Monster Arena. To unlock Nemesis, the player must capture all 10 of each fiend found in Spira and defeat all other Original Species, Area Conquest, and Species Conquest monsters at least once.