Ad blocker interference detected!
Wikia is a free-to-use site that makes money from advertising. We have a modified experience for viewers using ad blockers

Wikia is not accessible if you've made further modifications. Remove the custom ad blocker rule(s) and the page will load as expected.
here
for the Portal Ap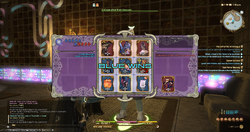 Triple Triad is a minigame in Final Fantasy XIV: A Realm Reborn which was introduced in patch 2.51 along with the Manderville Gold Saucer, which tied to the establishment. It is inspired by the same mini-game from Final Fantasy VIII, and has similar rules. Triple Triad matches can be played against NPCs and other players. Unlike Final Fantasy VIII, cards will not be lost automatically at the end of Triple Triad matches, and when playing against other players, cards cannot be won.
As with Triple Triad in Final Fantasy VIII, there are many different possible rules on which to play Triple Triad, which are preset in NPC opponents or selected by players when facing one another. NPCs in different regions have different regional rules that reset daily at either 7AM PST or 10AM EST.
Ruleset
Type
Description

All Open

Card reveal
Most basic ruleset, all five cards open to both players.

Three Open

Card reveal
Three of five cards of each player's deck are visible.

Sudden Death

Victory conditions
Any match that ends in a draw will restart from turn one, and consist of cards captured from the previous game. It will continue until a player wins, or until the fifth draw, in which it will end in a draw.

Random

Card selection
A chosen deck will be replaced with five random cards from the player's card list.

Order

Card selection
The player must play the cards in the order it appears in their deck.

Chaos

Card selection
The card played is selected randomly from the player's deck.

Swap

Card selection
One card from each player's deck is randomly swapped into the other's before the match begins.

Reverse

Capture condition
Switches capture conditions to make smaller numbers stronger.

Fallen Ace

Capture condition
Switches the ultimate "A" value to a "1" value.*

if Reverse is in play, a "1" can be captured by an "A"

Same

Capture condition
A card which has a number that matches the number of cards on two or more sides will capture those cards.

Plus

Capture condition
Adjacent numbers can be added, and if two adjacent cards have an equal sum, each card can be captured.

Combo

Capture condition*

only applicable when Same and Plus are active

Any cards adjacent to ones captured by Same or Plus are contested as normal; greater number captures lower number (unless Reverse is in play).

Ascension

Capture condition
Cards of the same type (Beastman, Primal etc) can have their values increased for every card of the same type in play. Numbers increased to 11 are considered to have a "A" value.

Descension

Capture condition
Cards of the same type (Beastman, Primal etc) can have their values decreased for every card of the same type in play. Numbers decreased to "0" are considered to have a "1" value.
After unlocking Triple Triad at the Gold Saucer, players are given a starter deck, and can collect more. At its debut in A Realm Reborn, there were 80 cards in all to collect, with more planned to be added with every subsequent Heavensward version update.
Obtaining
Edit
Cards can be obtained by purchasing from the Triple Triad Trader, using Triad packs, defeating NPCs in a match, completing certain instanced duties, winning Tournaments, or obtained from Jonathan after fulfilling certain Achievements. Note that cards are only randomly won from winning matches or completing instances; in the case of the latter, the card is not added to loot list, but is randomly awarded to players when the boss is defeated at the end of the duty.
Once obtained, players add it to their collection by using it as an item, where their stats and description may be viewed through the Gold Saucer window under "Card List." Players can only obtain one of each card. Excess cards can be exchanged with the Triple Triad Trader for MGP.
The following shows cards which can be bought:
Each card is divided by a star rank, with higher stars denoting higher stats and greater rarity:
| Rarity | Star |
| --- | --- |
| Common | ☆ |
| Uncommon | ☆☆ |
| Rare | ☆☆☆ |
| Epic | ☆☆☆☆ |
| Legendary | ☆☆☆☆☆ |
Players must arrange cards into a deck of five for matches, and can preset up to five decks. Alternatively, they can let the server choose a "recommended" deck at the start of a match, based on the best available cards.
Initially, there are restrictions on the amount of card rarities a deck can have. At the start, they can only use one card of higher rank than one star in their deck. Once 30 cards are obtained, uncommon two-star cards become unrestricted. With 60 cards, three-star cards are unrestricted.
Some cards have an icon indicating type, such as "Scion" or "Garlean," that comes into play under rules such as Ascension.
Some NPCs can be challenged to a Triple Triad match, denoted by a special icon on the map. Each has their own set rule (on top of any regional rules), and may only be available to play at certain times of day. Players can challenge each other at certain places, such as the Gold Saucer and various taverns in Eorzea.
By selecting players, challenging to Triple Triad matches is an option in several Triple Triad areas. Playing against other players does not cost MGP, but will always award MGP. The first five matches of Triple Triad a day earn additional MGP. It resets on the 12 AM JST / 7AM PST / 10AM EST / 3PM GMT.
Tournaments
Edit
Players can participate in tournaments to win MGP and some of the rarest cards, which occur at specific times and in specific places. These are joined by speaking to the "Tournament Recordkeeper" NPC (x4,y7) at the Gold Saucer when a tournament is taking place.
Tournaments are played against other players with the option "Challenge to Tournament Match", and the aim of tournaments is to reach the highest score. Though NPCs within the Card Square can be played against, matches are best played against other human players, although it is best to keep in mind that beating the same player more than once gives a lower score.
They are All Open and Plus ruleset matches. There are fifteen matches total, where all draws, wins and losses count. More tournament points are awarded than the screen displays, as points awarded are based on the point difference between players. If two players at the end of the tournament have an equal number of points, the player with more wins will ultimately place higher.
The following are tournament rewards:
| Places | Reward |
| --- | --- |
| 1st | Lightning Card, Cecil Harvey Card, Firion Card, or Tidus Card, and 140,000 MGP. |
| 2nd | Lightning Card,Cecil Harvey Card, Firion Card, or Tidus Card, and MGP based on rank. |
| 3rd | Lightning Card, Cecil Harvey Card, Firion Card, or Tidus Card, and MGP based on rank. |
| 4th-10th | 1 Platinum Triad Card, and MGP based on rank |
| 11th-20th | 10,000 MGP |
| Others | 1,000 MGP |
Battlehall
Edit
Patch 3.4 added a Triple Triad Battlehall lobby to facilitate cross-server Triple Triad matches. In addition to challenging other players and NPCs directly in the Battlehall, players can also choose to be matched at random by speaking with the Hall Assistant NPCs located in each corner of the room. There is no waiting period after a match facilitated by the Hall Assistant has ended, so players may continue to register as often as they desire.
Any given Battlehall will remain open for four hours. This four hour period starts with the first person to enter the Battlehall instance. Please note that players will be unable to challenge other players or NPCs to play when there are five minutes remaining in the Battlehall.
Musical themes
Edit
The original version of "Shuffle or Boogie" from Final Fantasy VIII plays while playing Triple Triad matches.