The Bane Touch of this vegetative critter poisons its victims, so buy lots of Antidote before you go to Mt. Koltz.
The Trillium is an enemy in Final Fantasy VI.
Final Fantasy VI enemy stats
Names
Location
Type
Other information
SNES: Trilium
PS: Trillium
GBA: Trillium
Mobile/PC: Trillium

Mt. Kolts
None
N/A
Elemental affinities
200%
100%
100%
100%
100%
Restorative
Instant Death
100%
100%
-100%

Absorbs

-100%

Absorbs

100%
Their special attack Poison Touch inflicts Poison on a character, but Terra's Poisona can cure this status, or the player can use any Antidotes they have. Besides Poison Touch, the Trillium only uses normal attacks and is not a dangerous foe.
AI script
Edit
Attack Turns:
1st Turn: Attack (66%) or Poison Touch (33%)
2nd Turn: Attack (66%) or Nothing (33%)
3rd Turn: Attack (66%) or Nothing (33%)
Other appearances
Edit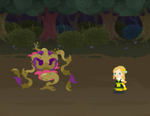 This article or section is a stub about an enemy in Final Fantasy Airborne Brigade. You can help the Final Fantasy Wiki by expanding it.

Trillium from Final Fantasy VI appears as an enemy in Final Fantasy Record Keeper.

Etymology
Edit
[view · edit · purge]Trillium is a genus of perennial flowering plants native to temperate regions of North America and Asia.
Related enemies
Edit
Ad blocker interference detected!
Wikia is a free-to-use site that makes money from advertising. We have a modified experience for viewers using ad blockers

Wikia is not accessible if you've made further modifications. Remove the custom ad blocker rule(s) and the page will load as expected.