Tri-Disaster
18,470 pages on
this wiki
Talk

16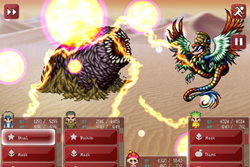 Hits enemies with fire, ice and lightning.
—Description, Final Fantasy VI.
Tri-Disaster (トライディザスター, Torai Dizasutā?), also known as Tri-Dazer or Tetra-Disaster, is a recurring attack in the Final Fantasy series. It usually deals multi-elemental damage, specifically Fire, Ice and Lightning.
Appearances
Edit
Tri-disaster is a Band ability in Final Fantasy IV: The After Years. The three black mages, Rydia, Palom, and Leonora cast a succession of powerful black magic.
Tri-Disaster, known as Tri-Dazer in the SNES release, makes its first appearance as the triple elemental attack of the Esper Valigarmanda. It costs 68 MP.
Tetra-Disaster, a mistranslation of Tri-Disaster, is the attack Kujata uses when summoned. It costs 110 MP to summon and deals Fire, Lightning, and Ice elemental damage to all targets.
Tri-Disaster is a Paradigm consisting of three Ravagers.
Tri-Disaster returns as a Paradigm in Final Fantasy XIII-2, again consisting of three Ravagers.
Tri-disaster appeared in Final Fantasy XIV from version 2.0 to 2.55, as a Summoner ability available after completing the "Shadowing the Summoner" Summoner story quest. The ability deals small non-elemental damage and causes a 20 second bind to the target and nearby enemies.
Since version 3.0 (Final Fantasy XIV: Heavensward), the old Tri-Disaster was renamed to Tri-Bind (トライバインド, Torai Baindo?) and a new Tri-Disaster skill was given to Summoners after completing the level 56 job quest. When used, the ability will instantly inflict the Bio, Bio II, and Miasma damage over time effects to an enemy. This change was done due to Naoki Yoshida believing that the original ability did not live up to skill's name.
Tri-Disaster is a summon of the Magun. Fittingly, it uses the Fire Red, Ice Blue, and Lightning Yellow Soils in order to activate.