Traveling Merchant
Talk

5
15,248 pages on
this wiki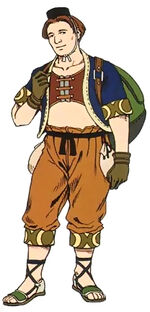 The Traveling Merchant is a recurring type of a character in the Final Fantasy series, selling the party supplies during their adventures allowing them to replenish their inventory. They usually follow the party across their adventures, or are already present in the area the party arrives to.
Appearances
Edit
In the Advance and the iOS/Android versions, The Traveling Merchant can be met for the first time in the Sealed Temple. After that he can be found throughout the world in equipment shops and he will sell the player ammunition for the Cannoneer job.
The player will meet Stiltzkin numerous times and he will always have things to sell, he will offer to sell the party three items for a set price.
O'aka XXIII is a traveling merchant, who frequently appears around Spira to sell items to the player. He sells items, weapons, and armor.
Dyce is a merchant who travels the world of Ivalice with his chocobo selling wares and is encountered in various points during the game. He sells items, ammunition, weapons, accessories, and magicks to the player.
Chocolina is a time-traveling merchant that follows Serah and Noel during their adventures through time. She sells them items, weapons, accessories, monster materials, and special items.
Tenio is a traveling merchant who runs the Black Market in Nova Chrysalia, and takes a role similar to Chocolina from the previous game. Forge (Rare) appears randomly to sell exclusive garbs and an adornment to the player.
The Traveling Merchant only appears after the party reaches Final Town. Afterwards, he'll be found loitering inside the Item Shops found across the different worlds.