Trap
Talk

10
13,973 pages on
this wiki
For the enemy in Crisis Core -Final Fantasy VII-, see Trap (Crisis Core).
Traps (トラップ, Torappu?) are a recurring element in the Final Fantasy series, most often found in dungeons, that hurt the party outside of battle, usually triggered by walking on them. Some treasure chests are actually traps in disguise, hiding monster-in-a-box along with rare treasure. Another kind of trap is a pitfall.
See also: Damage Floor and Pitfall.
Appearance
Edit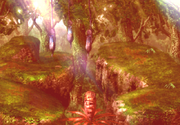 In the Ancient Forest, the large pink flowers on the ground are actually traps and snap around the party if the player steps too close. This reduces the party members' HP to critical, but cannot kill them. In fact, if a player enters one of the flower traps with a KOed party member, they are brought back to life with 1 HP. The flower traps can be neutralized by placing a beehive inside them.
A similar kind of thing can happen in the Cave of the Gi where the player can run into a wall of spikes if they run across some oil on the floor.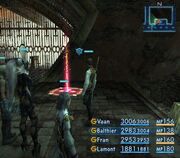 Traps appear as red circles on the ground with magically inscribed Ivalician fonts floating over them. They are initially hidden, and only appear when one of the player characters carries the Libra status or is wearing the Bangle, however, the properties they carry are not revealed. Triggering these traps affects all nearby characters.
Enemies cannot set off traps, nor are they affected by them if a nearby character steps on one. Traps can be avoided by floating over them or equipping the Steel Poleyons.
Explosion - causes minor HP damage.
Sten Needle - causes medium HP damage.
Fusillade - causes major HP damage.
Wizardbane - decreases MP.
Leech - decreases HP and MP.
Stone Gas - inflicts Petrify.
Silence Gas - inflicts Silence.
Choking Gas - inflicts Sap.
Blinding Smoke - inflicts Blind.
Swarm - inflicts Disease.
Oil Bug - inflicts Oil.
Gil Bug - decreases gil.
Rejuvenation - heals medium HP.
Manafont - restores medium MP.
Filo's skillset includes the setting of various traps, called Snares. These include the Defense Snare, Speed Snare, and Power Snare. Filo can set any of these traps a short distance away from her, and they will activate whenever an enemy unit passes over the trap, decreasing the statistics of all enemies in a small radius and deals minor damage. The traps will set off automatically when not stepped on by enemies.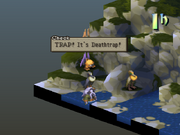 Traps are hidden tiles that contain treasure and can be found in almost all battlefields. If the character does not have the Treasure Hunter ability or a low enough Bravery stat, traps will cause negative status effects.
| Trap | Effect |
| --- | --- |
| Degenerator | Unit's level is reduce by 1. |
| Death Trap | Inflicts Doom status. |
| Sten Needle | Inflicts HP damage. |
| Mine | Inflicts HP damage and the Oil status. |
| Mossfungus | Inflicts Poison status. |
| Cursed Stone | Inflicts Undead status. |
The latter three: Mine, Mossfungus, and Cursed Stone only appear in the multiplayer Melee Mode of the Final Fantasy Tactics: The War of the Lions. Also in that version, there's a unused trap for the multiplayer Melee Mode called the Summoning Circle, which would activate a random summon magick when sprung.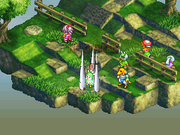 Traps exist as preset battlefield features and may also be placed by the Ranger. When a unit stops on the tile where a trap is laid, the trap will deploy. Passing over the trapped tile to another tile does not trigger the trap, nor do floating and flying units.
There are four types of traps:
Charm Trap: Charms unit.
Leech Trap: Inflicts unit with a status that drains its HP each turn.
Silence Gas Trap: Silences unit.
Sten Needle Trap: Removes half of unit's current HP. Removes ten HP if ten is greater than half HP.
Certain missions involve destroying traps as the objective; the only way to do this being either stepping directly on the trap and suffering its effects or, if done late in the game, using Vaan's Salvage ability on the trap.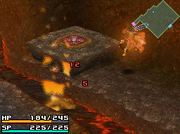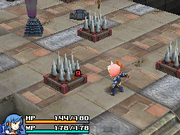 Non-Final Fantasy appearance
Edit
Traps are hidden tiles within the field that carry beneficial or harmful effects. They can only be revealed with three ways: either Ashley Riot triggers them by stepping on them, casting Eureka magick, or using the Eye of Argon item on Ashley.
Cure Panel - Cures all status effects.
Heal Panel - Restores some HP and lowers RISK.
Trap Clear - Clears all traps in the room, including itself.
Curse Panel - Inflicts Curse status.
Death Vapor - Physical-based attack against Ashley.
Diablos - Dark-based attack against Ashley.
Eruption - Fire-based attack against Ashley.
Freeze - Water-based attack against Ashley.
Gust - Air-based attack against Ashley.
Holy Light - Light-based attack against Ashley.
Poison Panel - Inflicts Poison status.
Paralysis Panel - Inflicts Paralysis status.
Terra Thrust - Earth-based attack against Ashley.
These traps will reset themselves whenever Ashley leaves the room.