Tour de Japon: Music from Final Fantasy
18,894 pages on
this wiki
Talk

1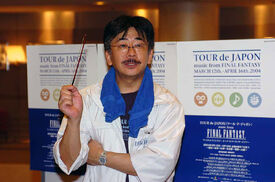 I'm supposed to learn conducting from Sakai-san of Hal Laboratory fame, but it's so difficult I give up in 20 - 30 minutes and we all go out drinking.
—Nobuo Uematsu, on making ready for the first performance of the Tour.
Tour de Japon: Music from Final Fantasy was a concert tour featuring music from the Final Fantasy series that toured Japan from March 12th to April 16th, 2004. The tour was built upon the success of 20020220 music from Final Fantasy held in 2002, and featured numerous unreleased tracks during its tour.
All tracks were composed by Nobuo Uematsu and arranged by Uematsu and Shirō Hamaguchi.
Track listing
Edit
"Aerith's Theme" - Final Fantasy VII
"Main Theme of Final Fantasy VII" - Final Fantasy VII
Final Fantasy Medley I-III 2004 - Final Fantasy, Final Fantasy II and Final Fantasy III

New Tune from FF7 Advent Children (Cloud Smiles) - Final Fantasy VII: Advent Children
"Main Theme of Final Fantasy" - Final Fantasy
Tour de Japon is French for "Tour of Japan" (although de should be du).
External links
Edit