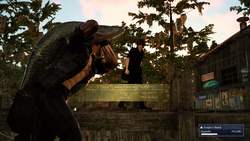 Tours are a type of sidequest in Final Fantasy XV, first introduced in the updated Final Fantasy XV Episode Duscae demo.
After camping at specific havens, Ignis, Prompto, or Gladiolus will invite Noctis for a special task at dawn. Noctis can either accept or deny the invitation. Party members have three tours each. If accepted, Noctis spends the morning "on tour" with the specified party member. Other quests cannot be progressed until the tour is completed, and Noctis must not leave the vicinity of the destination.
In Episode Duscae, if the player completed the tour's objective, a smartphone with a photo of the day's quest is shown at the end of the day. The party members who were not on tour will also find random items once Noctis and company make camp again.
List of Tours
Edit
Episode DuscaeEdit
| Tour | Character | Objective | Reward | Image |
| --- | --- | --- | --- | --- |
| It Takes Two | Gladiolus | Practice linking up with Gladio. | 5,000 EXP | |
| A Duscaean Delicacy | Prompto | Scour the wetlands for pungent fungi to add to tonight's supper. | 5,000 EXP | |
| Astronomy | Ignis | Find a good spot to catch the shooting stars. | 5,000 EXP | |
| Going for Brooch | Gladiolus | Venture into the fog-laden forest and look for the lost accessory. | 5,000 EXP | |
Final Fantasy XVEdit
Tour
Character
Location
Objective
Reward

Stirred, not Shaken

Ignis
Cotisse Haven
Don't let the stew burn.
20 AP

The Chopping Block

Ignis
Fallaughns Haven
Chop up the vegetables.
20 AP

Case of the Stolen Specs

Ignis
Petriche Haven
Retrieve Ignis' glasses.
20 AP

Up Close and Personal

Prompto
Pullmoor Haven
Lure the catoblepas close and take a photo.
20 AP;
Vintage photo filter

Strike a Pose!

Prompto
Spelcray Haven
Pose for the camera.
20 AP

The Hallowed Hill of Hammerhead

Prompto
Palmaugh Haven
Take a picture of Hammerhead. Talk Prompto through a conversation with Cindy.
20 AP

Rise and Shine and Run

Gladiolus
Lachyrte Haven
Race Gladiolus on the beach.
20 AP

Liege of the Lake

Gladiolus
Capitis Haven
Fish a legendary catch from the Vesperpool.
20 AP

A Flower for Iris

Gladiolus
Lambath Haven
Find a flower to give to Gladiolus' sister, Iris.
20 AP
Development
Edit
Tours were added so players would have an active role in developing Noctis's relationship with Ignis, Prompto, and Gladiolus. Director Hajime Tabata has said the team wants players to feel these bonds grow.[1]
References
Edit
Ad blocker interference detected!
Wikia is a free-to-use site that makes money from advertising. We have a modified experience for viewers using ad blockers

Wikia is not accessible if you've made further modifications. Remove the custom ad blocker rule(s) and the page will load as expected.