Ad blocker interference detected!
Wikia is a free-to-use site that makes money from advertising. We have a modified experience for viewers using ad blockers

Wikia is not accessible if you've made further modifications. Remove the custom ad blocker rule(s) and the page will load as expected.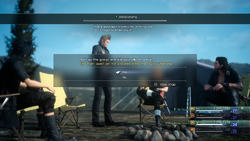 Tours are a type of sidequest in Final Fantasy XV, introduced in the updated Final Fantasy XV Episode Duscae demo. After camping a party member suggests a task to Noctis who can either oblige or reject it.
If accepted, Noctis spends the day "on tour" with the party member. Main quest cannot be progressed while on tour, as the whole party is needed for those scenes. Instead, the player can unlock specific dialogue and scenes with the touring party member, and a new quest icon specific for the tour is added on the map, which can only be completed while on tour. Resting rejoins the party with the other two party members, who will likely contribute a small amount of items or EXP as well, having supposedly done something else while Noctis and his friend were away. If the player completed the tour's objective a smartphone with a photo of the day's quest is shown at the end of the day.
List of Tours
Edit
| Tour | Objective | Reward | Image |
| --- | --- | --- | --- |
| It Takes Two | | | |
| A Duscaean Delicacy | | | |
| Astronomy | | | |
| Going for Brooch | | | |

This article or section is a stub about Final Fantasy XV. You can help the Final Fantasy Wiki by expanding it.
Development
Edit
Tours were added so players would have an active role in developing Noctis's relationship with Ignis, Prompto, and Gladiolus. The strength of their bond will depend on doing activities together, which will in turn affect the strength of combo attacks Noctis can execute with his companions. Director Hajime Tabata has said the team wants players to feel these bonds grow.[1]
References
Edit