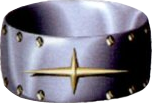 Tough Ring (タフネスリング, Tafunesu Ringu?), or Touph Ring, is a recurring accessory in the series.
Appearances
Edit
Tough Ring (localized as Touph Ring) is an accessory which provides +50 Vitality and Spirit. It can be stolen from Turks:Reno in the Sunken Gelinka and during the Midgar raid in the subway.
Tough Ring is an armor for Yuna which can be obtained by having any ring with HP +20% or HP +30%.