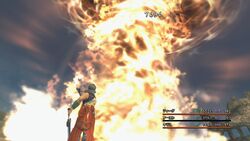 Tornado (陣風, Jinpū?, lit. Gale) is a recurring ability in the series. It is an ability most commonly associated with Auron as it was his ultimate Limit Break.
Appearances
Edit
X Tornado is the final Overdrive for Auron, obtained by finding and watching all Jecht Spheres. It is inputted by putting in


, and if input correctly, will have Auron toss his jug of alcohol into the tornado for more damage (two hits in the International version). It is a Rank 7 ability that deals heavy non-elemental damage to all enemies.
Non-Final Fantasy guest appearancesEdit
Ad blocker interference detected!
Wikia is a free-to-use site that makes money from advertising. We have a modified experience for viewers using ad blockers

Wikia is not accessible if you've made further modifications. Remove the custom ad blocker rule(s) and the page will load as expected.