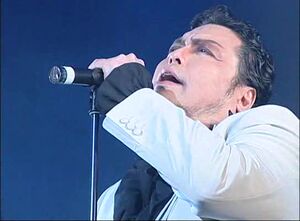 Tomoaki Watanabe (also known as "Mr. Goo") is a Japanese tenor notable in the Final Fantasy community for his performances in the Black Mages' arranged song "The Skies Above" and the live versions of Final Fantasy VI's opera Maria and Draco (as well as in the Black Mages' rock arrangement of the theme, "Darkness and Starlight"), singing the part of Draco.
Ad blocker interference detected!
Wikia is a free-to-use site that makes money from advertising. We have a modified experience for viewers using ad blockers

Wikia is not accessible if you've made further modifications. Remove the custom ad blocker rule(s) and the page will load as expected.